"Success is no accident. It is hard work, perseverance,
learning, studying, sacrifice and most of all,
love of what you are doing or learning to do."
– Pele
One of the most anticipated features in Windows 10 is Sets. This feature allows you to be able to mix apps together in one window. This can be very useful when working on a project or even planning a family vacation. Sets increase the productivity of users by more than a 100%. It can be very frustrating to look for opened windows on your desktop. Also, when there are many opened windows, your desktop looks really messy. It is usually time-consuming to minimize one window and to open another one looking for information.
Microsoft has solved all of these issues with Sets
This feature will let you organize all your web pages, files, documents, and apps within one window so that they are easy to access or just one click away. Note that when a set is closed, you will be able to see the tabs which it contained the next time you open it. This feature is perfect for keeping your important things in one place. Within sets, you will be able to search your PC and the internet. And when you open a new tab within sets, you will be able to see frequently used websites. You will also get suggestions based on the apps, websites, and files you have recently opened.
Just thinking about the opportunities this feature is going to provide to the user is very exciting. It cancels out most of the crap Microsoft has been providing to users these few recent years. It also rejuvenates the hope of many people that Microsoft has started using the data they collect from users to do something useful. This feature can be helpful in many ways, and it eases the way you navigate around your desktop to find the files you are working on. It keeps your desktop neat and free from the congestion of different windows. This feature closes the gap between your Windows 10 apps and websites.
Unlike with what Apple did with macOS Sierra, Microsoft is not just using Sets to group individual apps
Sets act as a universal platform for all the Microsoft apps on your system and the internet.  Sets will also be integrated into Microsoft's Timelines Tool, which was introduced in 2017. This gives users the option to continue their work on any of their devices that support Windows 10.
The Sets feature was anticipated to be released with the Windows 10 Redstone 5 update
They have begun working on it since Redstone 4 and have received feedback from users to make it better. We are sure that you can't wait to start using this feature. It is available in the Windows Insider preview build for testing.
Microsoft has made our mouths water with this feature long enough. But we have some sad news for you! Windows 10 Sets won't be ready in Redstone 5. Many Windows 10 users will be very disappointed at this news. Microsoft just announced that they will not be releasing Sets with the latest Windows update scheduled for later this year (2018).
Dona Sarkar, who is the chief for Microsoft's Windows Insider program, thanked the users for all their support in testing the program and urged them to continue providing valuable feedback so that Microsoft is able to make Sets better. She also said that the Sets feature will be taken off the Windows Insider program so that they can continue working on it.
Here are some of the things that, as she noted, need to be improved on:
The visual design of Sets.

How to further integrate Microsoft Office and Edge into Sets to make the workflow smoother.
She also promised that Sets will definitely return, but she did not give the fixed date or version of Windows 10 when that will happen. So, all we can do is wait and hope it does not take too long for Sets to be finally completed and released. So, you should not be wondering where the Sets in the Redstone 5 update are when it is finally released. It is not always a bad thing for features to be delayed. You would be more pissed off if Microsoft released a half-baked product. Even Microsoft does not want that because it tarnishes the image of the company even more and it is bad for business. That is why they have to take time to make Sets even better so that both parties are satisfied.
Recommendation: When your drivers are outdated or missing, your system devices are not able to communicate with your operating system
This makes it difficult for anything to work on your PC. You will start experiencing bugs, crashes, or Blue Screen of Death. To keep all your drivers installed and up to date, we recommend you to download and install Auslogics Driver Updater. This tool is super easy to use, and you can update or install all your drivers in just one click. It scans your PC for all the outdated or missing drives and installs the latest manufacturer-recommended versions.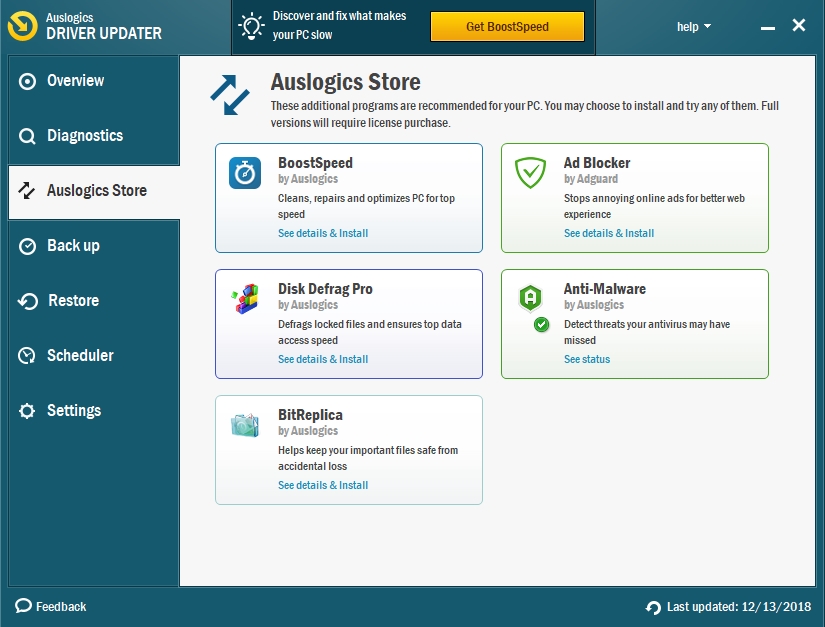 We hope that this article has given you the information you need. Share it with others who need similar info.
We appreciate your ideas and comments, and we are ready to answer all your questions regarding the above topic.