What is jucheck.exe?
Jucheck.exe is the Sun Java UpdateChecker Module.

This file is part of Java(TM) 2 Platform Standard Edition 5.0 Update and is developed by Sun Microsystems, Inc and is now owned by Oracle. Jucheck.exe is usually located in the %PROGRAM_FILES% sub-folder and its usual size is 325,008 bytes. If a file with the same name is located in the System32 folder, then most likely it's a virus pretending to be the legitimate Java UpdateChecker.

Important: SCRIMGE.O can mask itself as jucheck.exe. If jucheck.exe is not located in a %PROGRAM_FILES% subfolder, your computer could be infected by a virus. Scan your PC with Auslogics Antivirus to make sure it's not infected.
This process is used by Java update for verification purposes. This process checks for available Java software updates. When it locates available updates, jucheck.exe notifies the user and/or manages the download and installation of the updates. This process needs to be enabled and running in order to ensure automatic Java updates.

When jucheck.exe finds an update, it displays an update prompt:

The user needs to click on the update prompt to download and install the updates.

Users running Windows Vista or Windows 7 will get a UAC consent prompt to install Java updates, which appears after the user tries to perform an action that requires administrative privileges. Click Continue to install the latest Java update.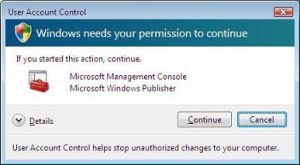 How to Disable jucheck.exe
Jucheck is not an essential process and wastes system resources by checking for Java updates once a month. Critical Java security updates are not distributed via this process, which means that permanently disabling it will not harm your computer in any way. You can always manually check for Java updates.
Disabling jucheck.exe is easy:
Click on Start and go to the Control Panel.
In the Control Panel, double-click on the Java icon (XP) or Additional Options – Java (Vista and 7).
In the new window, go to the Update tab.
Uncheck the Check for Updates Automatically checkbox. You will then get a warning that you should leave automatic updates enabled.
Click on Never Check and that's it.
How to remove the jucheck.exe Trojan
There is a nasty Trojan that pretends to be the legitimate Java update checker. This file uses the same name (jucheck.exe), but runs from either from the Temp folder (for example, C:\Users\AppData\Local\Temp\jucheck.exe) or from the Windows directory (for example, C:\Windows\jucheck.exe). Sometimes it can also be located in the System32 directory. If you see jucheck.exe located in one of these folders, don't allow it to run and delete it immediately. If you get a UAC prompt to allow jucheck.exe from an Unknown published to run and make changes to your computer, deny it any access and scan your PC with legitimate antivirus software.