Few things are as frustrating as an under-performing Windows computer. You would expect a PC with medium to high-end hardware to run without glitches, but at a certain point even the best systems may start experiencing sluggishness.
That's when you can give your PC an extra boost by performing routine maintenance like updating your operating system and freeing up storage space. However, those steps might sometimes not be enough.
So, what if you've taken all the necessary steps to boost your computer but  the issue is still there? This is when experienced users turn to PC optimizers.
As it turns out, keeping up with the routine to maintain and optimize your PC's performance is not enough. You can't just free up storage once and expect your computer to continue running smoothly.
For example, temporary files build up over time and background processes can overburden your CPU.
Dealing manually with these kinds of issues soon becomes tiresome, especially on a regular basis. That's where optimization tools come in.
There are different PC optimization tools you can download. While they perform similar tasks, they come with various features that set them apart.
So, what is the best software program to fix PC issues and improve performance?
In this article, we'll review Outbyte PC Repair and cover its features, uses, and functionality.
Is your computer running slow or suffering system glitches? If so, it may need maintenance. Try running a dedicated
PC optimization tool
to check the health of your PC and apply the necessary fixes.
What is Outbyte PC Repair?
Outbyte PC Repair is a Windows optimizer that boosts PC performance by fixing system issues, securing the computer, clearing junk files, and freeing up disk space.
The program is developed to eliminate the stress of PC maintenance. For example, you don't have to manually modify settings one after the other to increase your system's speed whenever you notice a lag. The app also deals with issues you may not be familiar with.
Is Outbyte PC Repair Safe?
The program has been thoroughly tested and verified to be safe. It is compatible with Windows 11, 10, 8, and 7, and is designed not to cause conflicts or glitches.
Outbyte PC Repair's distribution files are also verified and safe. Their modules are installed strictly in your operating system's program directory. Your antivirus should also not flag it as suspicious, since the tool is designed to work with third-party and native Windows security apps. However, keep in mind that false positive detection is quite common with computer optimization software products, since such apps handle system folders and files, among other things.
Outbyte stores additional application files in one user folder, which means that all its components can be fully removed when uninstalled.
It will also be comforting to know that the app has gone through AppEsteem's thorough certification process. AppEsteem was founded by Microsoft cybersecurity veterans and is the leading Consumer Online Protection body. Outbyte is also a running member of CleanApps.org, an American organization that helps its members adhere to security compliance and understand laws and regulations.
In addition, you get to choose how to install the program. Preferences during the installation process include tasks to execute, privacy settings, launch options, and shortcut creation. You can also change these preferences in the program's Settings interface.
While the installer requires advanced privileges to extract the application, it will not alter your system files or settings.
Outbyte PC Repair Review
The program comes with different features that allow you to perform various maintenance tasks. That said, its primary functions include:
Boosting system speed
Privacy protection
Battery enhancement
Pop-up prevention
We'll explain the program's features and tools as we navigate its interface. Let's start with downloading and installing Outbyte PC Repair.
Downloading Outbyte PC Repair
The download process is straightforward. Once you go to the Download page and click on 'Download PC Repair', your browser downloads the 22 MB installer. Run the installer and click on the 'Click to install' button. After clicking the 'Finish' button, the tool will launch automatically (you can prevent it from launching by unticking the 'Launch automatically at Windows startup' box).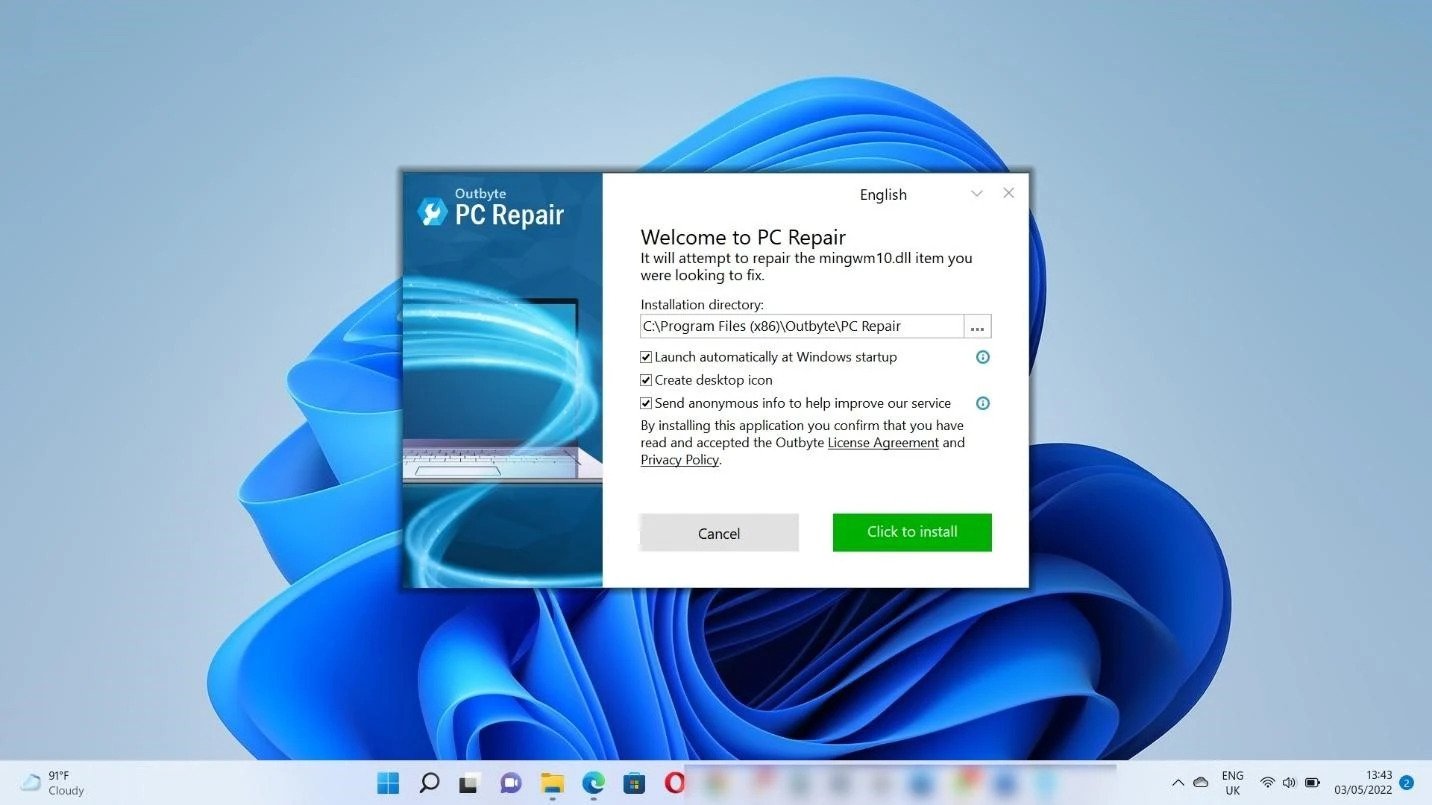 The Program Interface
Once you start Outbyte PC Repair for the first time, you'll find the Status page. It's an overview of the system's speed, privacy state, and battery health. You can easily switch between these tabs to check their individual status.
The left pane of the program window allows you to navigate different areas. They include:
The Action Center
Status
Scan
Power Tools
Settings
Help
The Action Center
The Action Center shows you additional tools that can further fix specific PC issues, tighten security, and safeguard privacy.
Scan
This is where the main business happens. Once you hit the "Scan Now" button, PC Repair starts checking your entire computer for problems.
The scan result displays the following: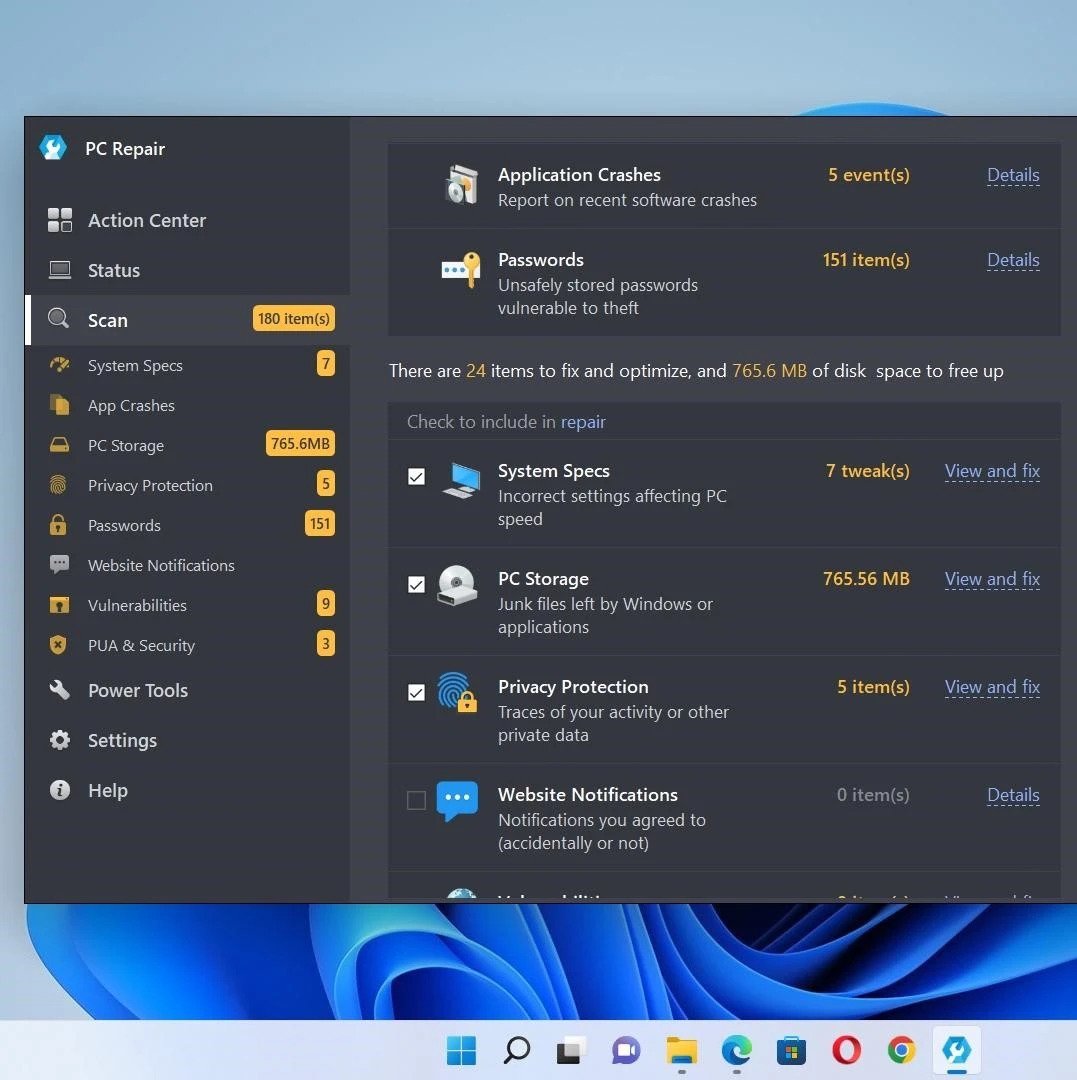 Your system's specs: Your operating system, PC's make and model, and detailed info on your CPU, video card, hard drives, motherboard, and memory. It also provides a report on your CPU, RAM, and hard drive speed and load.
App Crashes: Shows system logs of app crashes.
PC Storage: After the scan, the program shows different file categories using your disk space with options to view and fix them.
Privacy Protection: Helps you to avoid targeted advertisements by disabling your system's advertising ID. You'll find the Real-Time Privacy Protection tool that helps you stop apps from collecting and sending your data, shreds temporary files, and shuts down popup subscriptions while browsing.
Passwords: The tool checks passwords stored in your browsers and other places against a local database. It doesn't know the contents of the passwords or send any info outside your computer. What it does is show if you have any passwords that have been compromised, or that are weak or duplicated.
Vulnerabilities: This scan section helps you identify services that may not be functioning properly and shows you other tweaks you can perform to optimize your computer.
PUA & Security: Potentially Unwanted Programs & Security advises you about apps you may need to get rid of as well as viruses and malware that might be running on your PC.
Scan Summary: You'll see the scan Summary under PUA & Security. You can click on details to see more information.
Power Tools
The Power Tools section allows you to access Outbyte PC Repair's powerful advanced features. They include:
Uninstaller
The uninstaller is not your run-of-the-mill package that simply removes applications like the native Windows uninstaller does. Outbyte's advanced tool comes with extra perks.
For example, it shows you leftover files from previous uninstallations and allows you to remove them. This way, you're getting rid of files you never knew about and freeing up significant system space.
The tool can also detect programs the native Windows uninstaller may not be able to find and remove.
Stop Popups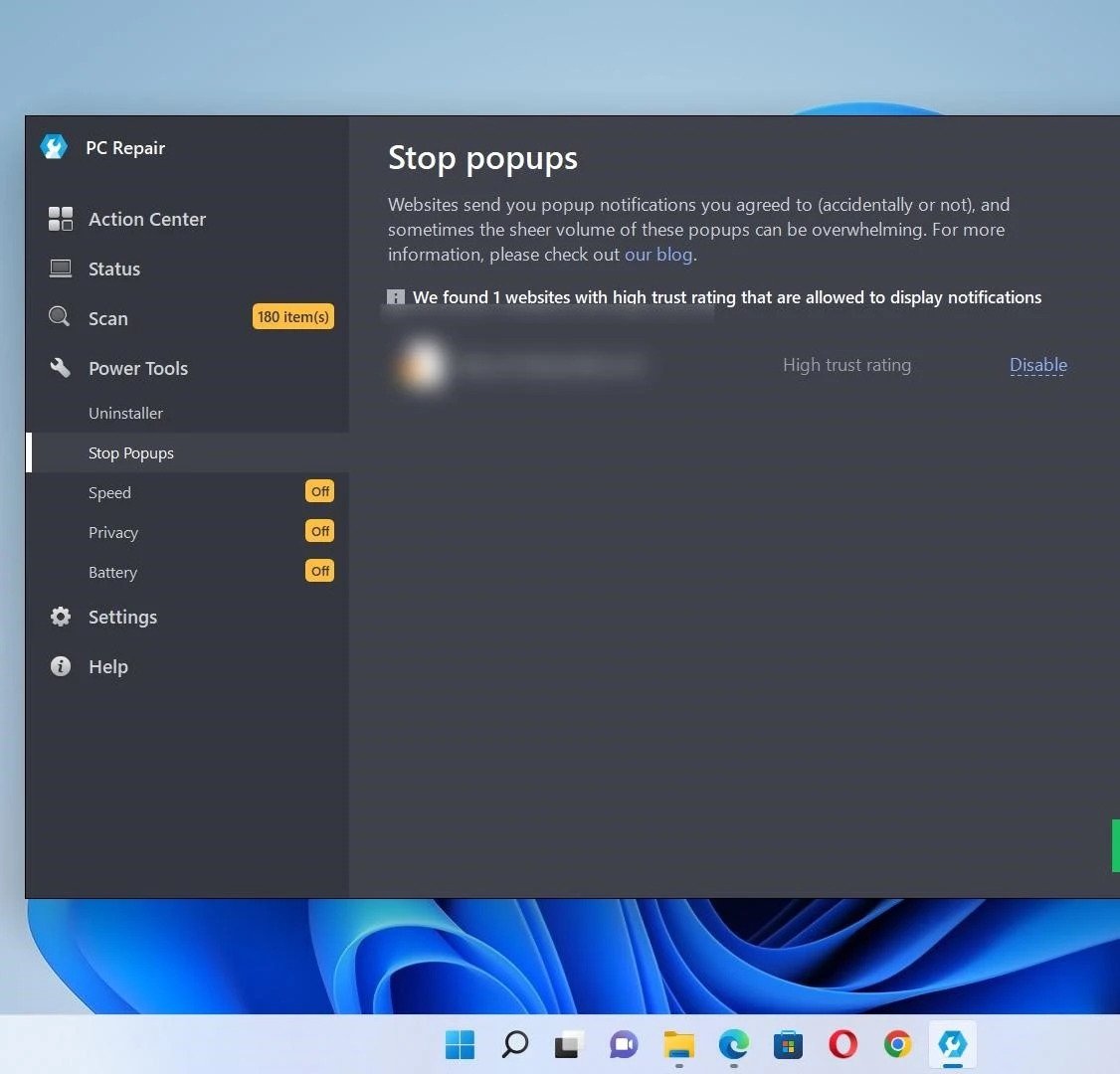 Popups are annoying and can disrupt workflow. The Stop Pop-ups tool allows you to view and disable the different pop-ups from websites and applications you activated. It will show the name of the website, its trust rating, and an option to disable.
Speed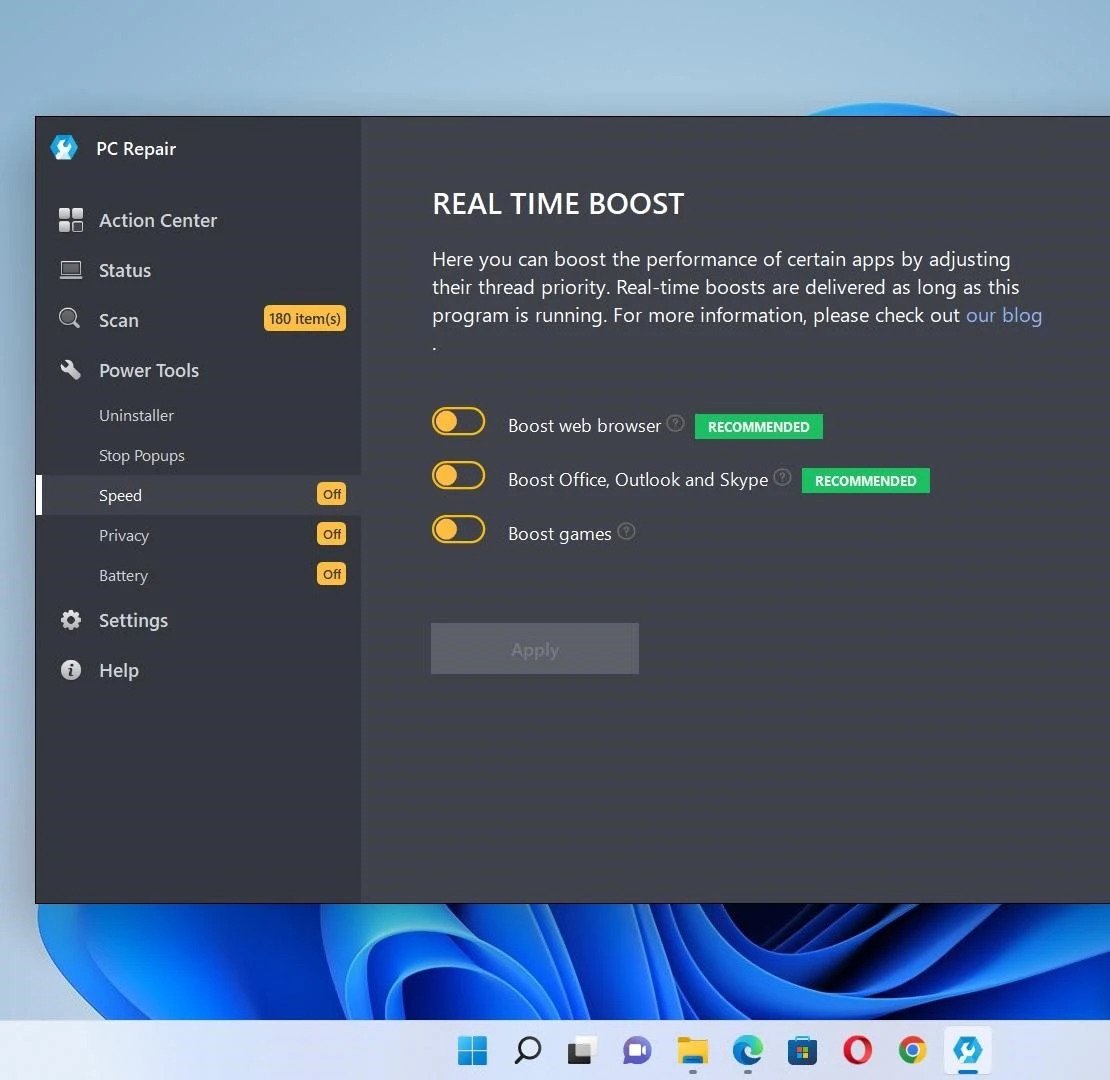 The Speed tool allows you to boost the performance of specific applications such as Skype, Outlook, MS Office, web browsers, and games. Since these are the basic applications that you likely use daily, it'll be great to get a leg up on them.
This feature has many perks that we'll describe in further detail. After activating these options, we tried out a few applications to test the Speed tool's effectiveness.
At first, we ran Mozilla Firefox. We noticed that websites had slightly faster load times with reduced delays than before, and videos on YouTube showed satisfactory loading speeds. We also ran multiple tabs in Google Chrome and found similar results.
Next, we ran GTA V to check if the game would run without the lags the system exhibited prior to installing PC Repair. Now, we can't tell for sure if the earlier scan process eliminated the game's issues. However, it ran fine after turning on the 'Boost games' toggle.
After that, we ran Outlook. We noticed a slight boost to inbox load times. There was no noticeable difference in Microsoft Word or Skype, as both apps had always worked excellently before installing Outbyte PC Repair.
Privacy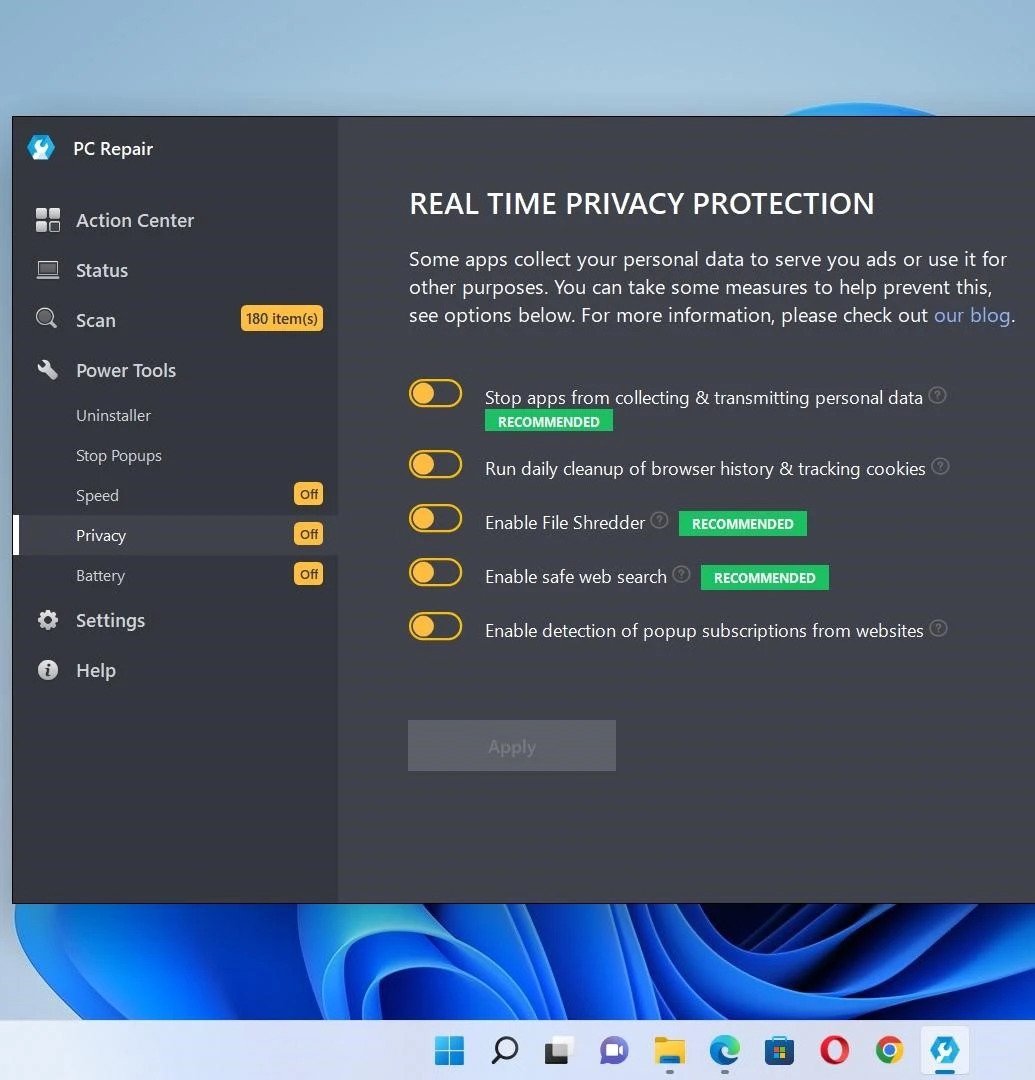 The Privacy tool offers different options for protecting personal data and securing the computer. These features include:
Stop apps from collecting and transmitting personal data: Allows you to control how Windows and third-party apps collect and transmit your data for advertisement. It can prevent services such as 'DiagTrack', 'WMPNwtworkSvc', and dmwappushswrvice, from launching at startup. It checks these services each day and deactivates them, as your operating system always tries to enable them after startup.
Run daily cleanup of browser history and tracking cookies: In some cases, cookies can help you personalize your browsing experience. However, they can be potentially dangerous if they fall into the wrong hands. You can set this tool to clear out cookies that are older than 7 days every day.
Enable file shredder: This tool allows you to permanently wipe deleted files to prevent recovery programs from resurrecting them.
Enable safe web search: Shows a warning whenever you visit an untrusted website.
Enable detection of pop-up subscriptions from websites: Shows you websites you may have subscribed to by mistake and allows you to disable the subscriptions.
Battery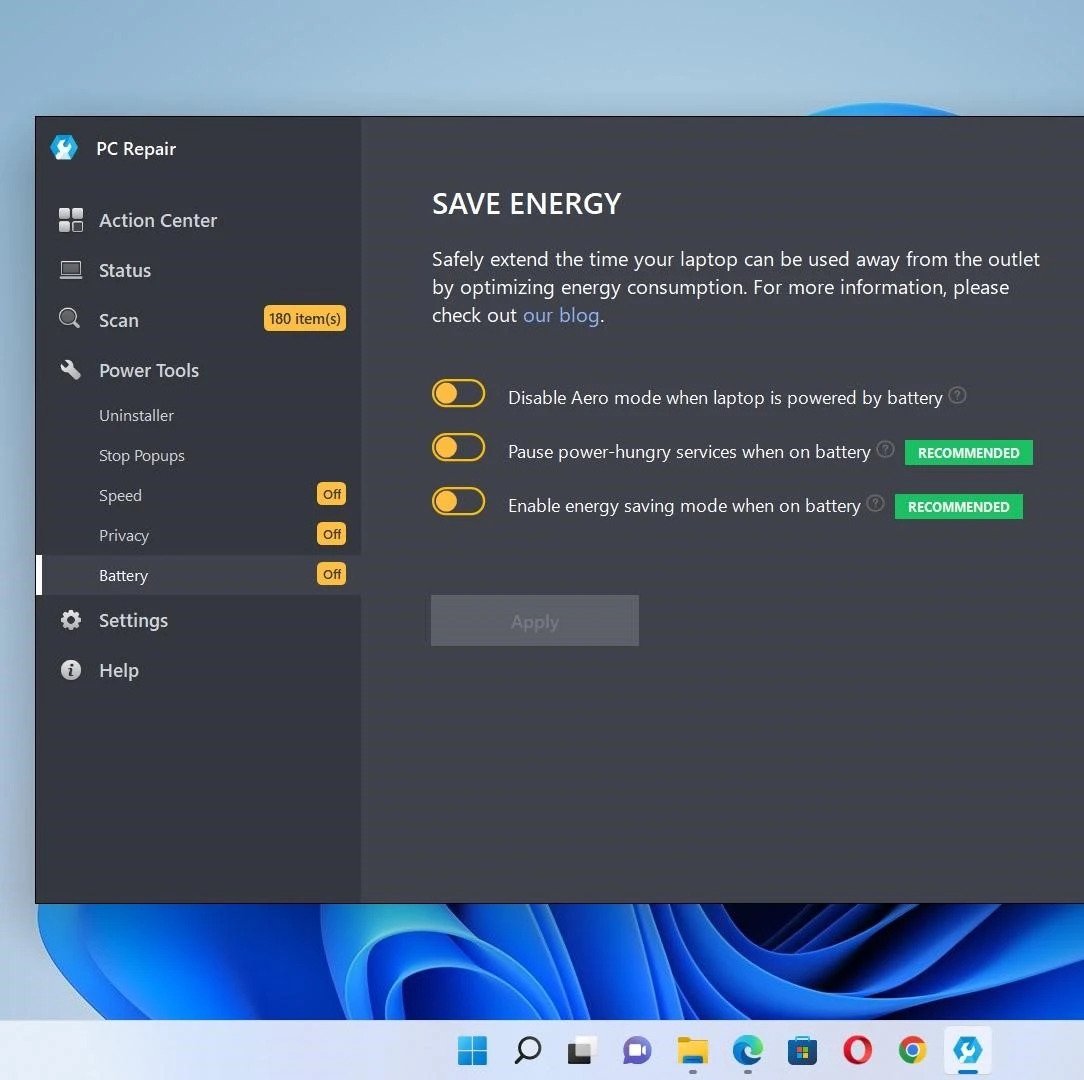 The fifth and last power tool is the battery optimizer. It helps you extend your battery time and improve overall battery health. It does that by stopping unnecessary services, disabling aero animations, and reducing CPU power when your battery is low.
Settings
The Settings interface has different sections, including General, File Shredder and Ignore List sections.
The General section helps you choose how the application operates: from interface language and interface scaling to automatic scanning and launching at Windows startup.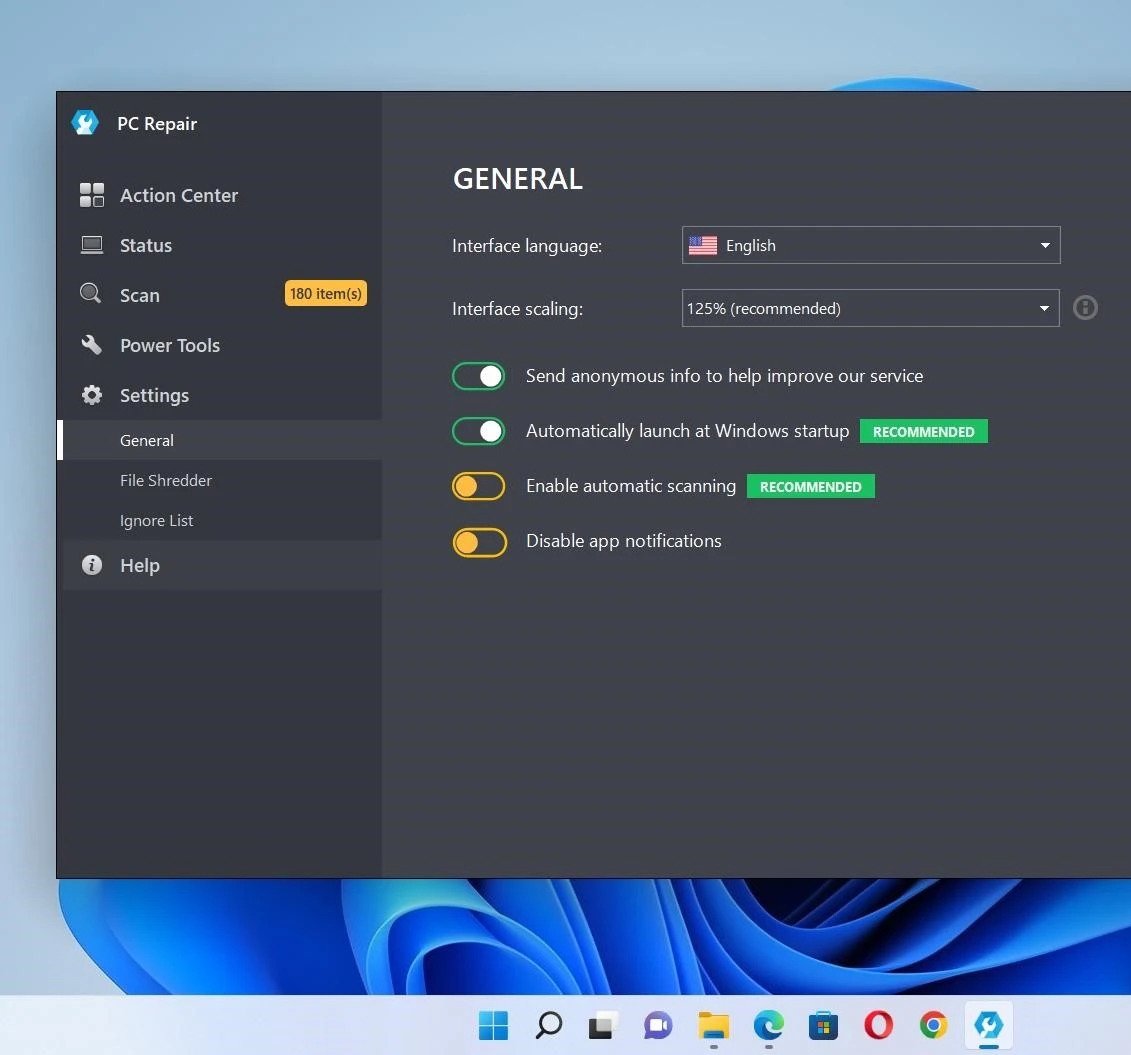 The File Shredder section helps you determine how the app wipes data from the hard drive.
Finally, you can use the Ignore List to add websites you don't want to prevent from sending pop-up notifications, or whose cookies and other data you don't want to delete.
Outbyte Live Assist
Outbyte Live Assist is another great feature that gives customers access to real-time assistance from the Outbyte support team. Thus, you can always reach out whenever you experience any issues or need clarification regarding any feature.
Is Outbyte PC Repair Worth It?
As we mentioned, Outbyte PC Repair is completely safe and supports Windows 11, 10, 8, and 7. It's a comprehensive optimizer equipped with advanced features that allows you to get rid of system-slowing elements and protect your privacy.
Additional features, such as Battery Optimizer, are also nice to have.
What's more, you have control over individual features and tools, which means you determine what to stop.
Pricing
You can try out and enjoy Outbyte for free for 7 days. After that, you'll be required to go for the full version, which costs $29.95.