"It's Not Whether You Get Knocked Down, It's Whether You Get Up."
– Vince Lombardi
The transfer of files and connection between devices has been facilitated ever since the creation of Bluetooth.  A device should be compatible with a certain set of Bluetooth profiles or services which are needed to use the desired Bluetooth profiles for it to be able to use Bluetooth technology. Bluetooth profiles or services are the requirements and additional protocols that are needed to add on to the basic Bluetooth standard that defines clearly the type of data transmitted by a Bluetooth module. The Bluetooth specification determines how the technology functions while the profiles determine how the technology is used. The Bluetooth profiles provide guidelines for manufacturers to follow when creating devices which use Bluetooth technology.
After the Windows 10 April Update, Microsoft listed all the Bluetooth profiles which are compatible with the latest update on their support page. You can check there to see what devices it supports before you decide to buy a Bluetooth device for your Windows 10.
In this article, we are going to provide you with the list of Bluetooth profiles which are compatible with the latest update for Windows 10:
Advanced Audio Distribution Profile (A2DP) – This Bluetooth profile is also called Bluetooth Audio Streaming. It determines how audio should be streamed between devices using Bluetooth connections. For example, from your mobile phone or laptop to a wireless headset
Audio/Video Control Transport Protocol Target (AVCTP) – This profile shows how Audio/Video devices are controlled using transport mechanisms of exchange messages
Audio/Video Distribution Transport Protocol (AVDTP) – This profile shows the establishment and transmission of procedures which take place during an Audio/Video stream negotiation
Audio/Video Remote Control Profile (AVRCP) – This profile allows the user to have control over the streaming media like Pause, Play, Volume control, etc.
Batter Service over GATT Profile
Bluetooth LE Generic Attribute (GATT) Client
Bluetooth LE Generic Attribute (GATT) Server
Bluetooth Network Encapsulation Protocol (BNEP 1.0)
Device ID Profile (DID) – This profile is needed for the computer to identify and download the drivers of the Bluetooth device. It also identifies the manufacturer and product ID
Device Information Service over GATT Profile (DIS)
Dial-up Networking Profile (DUN) – This gives users the guidelines to connect to the internet and other dial-up services using Bluetooth
Generic Access Profile (GAP) – This profile gives us the information of how Bluetooth devices connect with each other. It also provides general information on all other profiles
Generic Audio/Video Distribution Profile (GAVDP)
Hands-Free Profile (HFP) – This profile is commonly used in cars, which permits the hands-free kit of the car to connect with the user's mobile phone
Hard Copy Cable Replacement Profile (HCRP) – This profile allows a wireless connection between a printer and a device. Drivers for the specific printer are needed for this connection to take place
HID over GATT Profile (HOGP) – This profile enables a Device to be recognised as a Human Interface Device, and it must have one of the following services: HID, Battery, Device information
Human Interface Device (HID) – This profile enables devices such as joysticks, mice, keyboards, etc. to connect easily to other devices
Human interface Device Services (HIDS)
Interoperability (IOP) – This Bluetooth profile helps Bluetooth devices function together in an organised way without conflict. It is also able to make different profiles compatible with each other
Logical Link Control and Adaptation Protocol (L2CAP)
Object Push Profile (OPP) – This profile enables users to send information such as Virtual business cards, pictures, or appointments. This transfer is always initiated by the client and not the server
Personal Area Networking Profile (PAN) – This profile allows a Layer 3 protocol to use Bluetooth Network Encapsulation Protocol for transport using a Bluetooth link
Radio Frequency Communication (RFCOMM) – This is just a set group of transport protocols derived from the L2CAP protocol which distributes emulated RS-232 serial ports. It is also referred to as Serial Port Emulation
Scan Parameters Profile Client over GATT Profile (ScPP)
Security Manager Protocol (SMP)
Serial Port Profile (SPP) – This profile is derived from the ETSI and RFCOMM protocol. It provides guidelines on how to build up virtual serial ports and connect Bluetooth devices
Service Discovery Protocol (SDP) – This profile helps to devices to determine the services they support and the settings used to connect to them
Note that Bluetooth 5.0 is also supported in Windows 10 April Update. This update has provided lots of improvements and advantages to the way you connect to your Bluetooth devices. For example, data transfer using Bluetooth is faster, the range of connectivity between the devices has increased, and the size of data transferred has increased more than 8 times the preview version.
Recommendation: if you are facing any driver issues on your PC, we recommend that you download and install Auslogics Driver Updater. This tool will scan your computer for missing or outdated drivers and install the latest manufacturer-recommended versions. You do not need to be a professional to use this tool. It saves you a lot of time, as you can download all your missing drivers with just one click.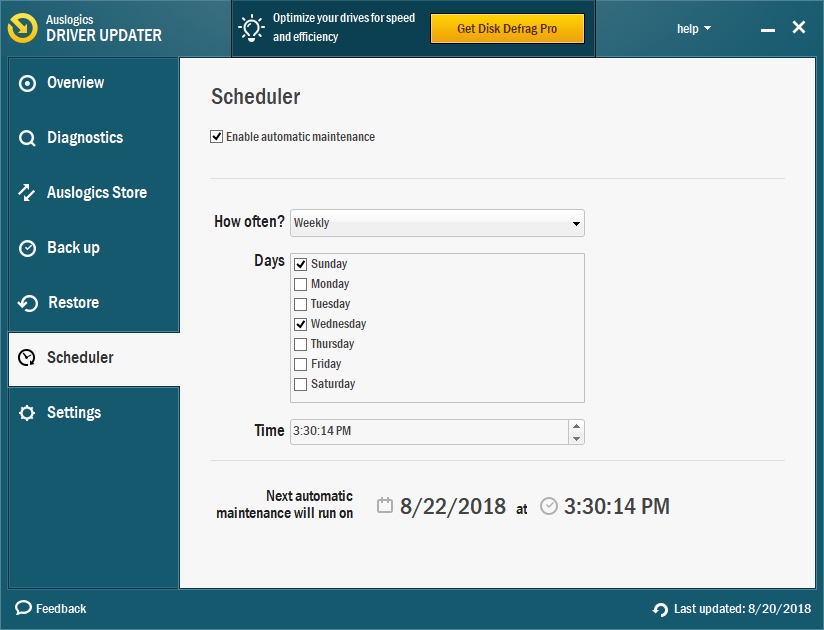 We hope that this article has provided you with the information you needed on Bluetooth profiles. Share it with others who need similar information.
We appreciate your ideas and comments.
We are ready to answer any of your questions regarding the above topic.