"What you get by achieving your goals is not as important
 as what you become by achieving your goals."
— Henry David Thoreau
Cyber security breaches are very common in our society today. Unfortunately, many users have no clue that they are being hacked and only notice that when their money has been stolen from their accounts. The thing is, hackers are not only after the money in your accounts – they can also use your computer as a botnet, which is a network of compromised computers controlled by the hacker. One of the ways in which they try to infect your PC is by using the popup message "Warning! Critical update!" In fact, there is nothing critical about this update: this pop-up is a malicious program created by hackers to install various viruses on your PC. When naïve users see this message, they think that their system needs a very important update, so they install it on their computer. It looks like a normal system update, but as a matter of fact, it is a malicious program. Furthermore, it is a technique used by cybercriminals to install adware and generate traffic for other sites. When the virus gets into your system, it disables your firewall and other security tools. If you do not act fast, it will eventually corrupt most of your system files.
There are several ways through which the windows critical update virus is distributed. It could be via fake websites, legitimate sites which have been compromised, spam emails containing links to malicious sites. Users could also encounter this malware on sites that provide illegally acquired software for download.
This infection is principally a money-making scheme for dubious websites. It will post advertisements and links on your browser. Once you get on an infected page, it is very difficult to get out because of the loop command on which the page is running. Most often, they place links on the close button of the page, and every time the user wants to close the page, it redirects them to another malicious site and the cycle continues.
You should be very attentive when installing third-party software, as it may include optional installs such as "Warning! Critical update!" adware. To prevent this from happening, always use custom installation in which you can select which additional software is installed on your system. Make sure you uncheck the products you do not need. When you receive any critical update message, always cross-check the official site of the developer.
In this article, we are going to be talking about the following:
How to get rid of Windows 7 critical update virus.
Fixing Windows 10 critical update infection.
First, you need to reset the settings of your browser to remove any changes that the virus made to it as well as the toolbars and addons of the malware. Your course of action will depend on the browser you are using:
Chrome:
Click on the Chrome menu.
Select Show advanced settings and navigate to the Reset browser settings section.
Click on Reset browser settings.
Now click Reset in the dialog box that appears.
Internet explorer:
Open the Tools menu in Internet explorer and select Internet options.
Navigate to the Advanced tab.
Click Reset.
Mozilla Firefox:
Click the Mozilla menu button in the upper right corner of the window.
Click on the Help icon at the bottom of the menu.
Select Troubleshooting Information from the Help menu.
Now, select Refresh Firefox.
When a new window opens again, click on Refresh Firefox for confirmation.
Firefox will shut down and return to its default settings.
Alternatively, you can install Auslogics Browser Care. This tool will help in the fight against unwanted toolbars and addons. It manages the main browser installed on your PC. It will save you lots of time and money because it is totally free.
There are also manual ways to remove the "Warning! Critical update!" virus. This is recommended only for professionals that have experience in dealing with such infections:
Restart your computer into Safe Mode (Windows 8/10):
Click on the Start menu and then the Settings icon.
Go to Update and Security.
In the left pane, select Recovery.
Under the Advanced startup option, select Restart now.
Your system will restart into the Choose an option screen.
Go to Troubleshoot > Advanced options > Startup Settings.
Click on Restart.
The computer will restart into the Startup Setting screen. Press F4 or F5 to boot in Safe Mode.
For Windows 7, press F8 before the Windows logo appears. It will show you a list of Advanced options. Choose Safe Mode.
Once in Safe Mode, open the task manager, using these steps:
Press Ctrl + Alt + Del on your keyboard. Select Task Manager at the bottom of the list that appears.
Navigate to the Processes tab and delete the following malicious process: %AppData%\[RANDOM CHARACTERS]\[RANDOM CHARACTERS].exe
Installing an anti-malware tool on your system will help you fight against this type of attacks.
There are many antiviruses available on the internet today. It is very important for you to get the one that updates its virus database very often. This is because hackers continually create new software which can easily get pass the security of outdated antiviruses. Cybercriminals always try to stay a step ahead of your computer's security. That is why I recommend you to download and install Auslogics Anti-Malware. It will also help prevent all types of cyber attacks and protect the information on your PC. Here are some of the advantages in using Auslogics Anti-malware tool:
It scans your computer memory for harmful programs.
It also checks your system for security.
It prevents data leaks by scanning your browser extensions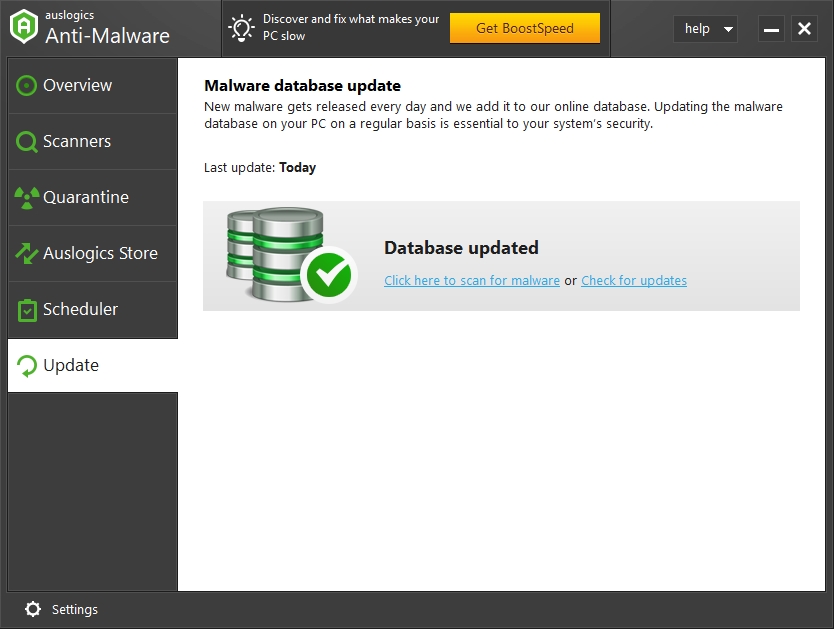 I hope that this article has helped you with the Critical Update virus. Make sure you share it with others who encounter the similar problem.
We appreciate your ideas and comments.
We are also ready to answer all your questions regarding this topic.