You probably tried to print a document, but you got an error message containing these terms: Spoolsv.exe – Application Error. Depending on the system's model in use, the itineration of a Windows operating system and the nature of the problem that occurred, the error message tends to be in one of these forms:
Spoolsv.exe – Application Error. The instruction at "AxAAAAAAAA" referenced memory at "AxAAAAAAAA". The memory could not be "written."
Spoolsv.exe – Application Error The instruction at "AxAAAAAAAA" referenced memory at "AxAAAAAAAA". The memory could not be "read". Click on OK to terminate the program
Note the letter "A" in the error messages above represents actual digits.
Other error messages include descriptions stating that a file has not been found or that a device failed to recognize a missing spoolsv.exe file.
What is spoolsv.exe?
Spoolsv.exe is an executable file that is in charge of printing and faxing tasks on computers running the Windows operating system. Spooler SubSystem App or Print Spooler sometimes represents this executable file on various PCs.
This file works to provide essential data to the printer and sets the printing tasks in a queue. When you execute a print command, Windows sends the print task involved to the print spooler, which is responsible for delivering it to its final destination: the printer.
If at the time there is no connection to the printer or it is busy handling other printing jobs, the printer spooler service retains the print tasks until the printer becomes free to execute the required operation.
This process allows users to continue to do work involving printing without them having to bother or wait for the completion of printing jobs one after the other.
Spoolsv.exe is a system file, and by default, Windows launches its process automatically during system startup. This process continues to run in the background until you shut down your system. When your printer is in use, Windows runs the executable file, which is visible in the task manager.
Also, some frameworks of this process handle your printer settings and other forms of interaction with your printing device.
Causes of spoolsv.exe errors
The process used by Spoolsv.exe runs in the background. In theory, it should not use too many of your system's resources. However, when you are printing, it tends to consume much more system resources than usual. You should know that this change of behavior is standard and expected in most scenarios.
Regardless of this, there are cases in which this process uses far too many system resources because it is not working as it is supposed to. This results in error messages, printing operation failures and even system crashes in extreme scenarios. We can narrow the causes of these unfortunate events to the following:
Excessive data or an overwhelming number of files contained in the spool directory
Corrupted or invalid entries in system registry
Presence of viruses or malware
How to fix spoolsv.exe errors?
Remove unnecessary or unwanted files:
The unnecessary files in the spool directory are usually .SHD and SPL files. To delete these files, follow these instructions carefully:
For users running Windows Vista, Windows XP, Windows 98, Windows 95, and so on:
Press the Windows button on your keyboard or click on the Windows start icon. Click on Control Panel to launch it
After the Control Panel Window opens, double-click on Administrative tools. Double-click on Services
In the right pane of the Services window, locate Print Spooler. Right-click on it and select Stop. If this action is successful, it means you have stopped the spoolsv.exe process. Minimize the Services window
Now it is time you deleted those unwanted files. Launch the My Computer program and navigate through the following folders C:\Windows\System32\Spool\Printers. Alternatively, you can get to this folder by launching the Run app and entering this code %systemroot%\System32\Spool\Printers
Here, delete any file that ends with .SHD or SPL.
Now you have to restart the process that you stopped earlier, and this is the final step. Return to the Services window that you minimized before your current activity and right-click on Print Spooler once more. Select Start this time to re-enable the service.
For users running Windows 10, Windows 8.1, Windows 8, and Windows 7
Right-click on the Windows icon and select Computer Management
Click on Services. It is located in the left pane under Services and Applications
Find Print Spooler service in the right pane. Right-click on this service and select Stop. Do not close this window for now because you will return to it
Right-click on the Windows icon once again but select the Run app this time to launch it. You can also start the Run app by pressing the Windows and letter R key on your keyboard together
Input the following code into the available box in the Run program: %systemroot%\system32\spool\printers
Press the Enter key. A folder should open. Enable all the hidden files in this folder by opening Control Panel and navigating through Folder Options > View > Show Hidden Files.
After you have ensured that all files contained in that folder have become visible to you, delete everything you see
Now return to that Services window that you minimized earlier. Locate the Print Spooler Service again. Right-click on it and select Start to re-enable the service you ended.
If you had trouble in executing any of the operations described above, restart your system in Safe Mode and follow the instructions again.
Fix your system registry:
If the removal of the unnecessary data contained in the spool directory failed to resolve your spoolsv.exe application error, then fixing your registry is the next logical procedure. After all, your registry is the critical part of your system responsible for storing settings or preferences for various third-party applications and even for system programs.
An extremely high level of technical expertise, not possessed by the vast majority of Windows PC owners, is required to work with the registry. This fact explains why excellent applications like registry cleaners are recommended to fix corruption and other registry-related issues. Registry cleaners work by deleting entries composed of redundant, invalid and old references, fonts, uninstalled programs' data, and other junk files.
Auslogics Registry Cleaner is a FREE and powerful registry cleaner that you should download and run to clean, repair and optimize your PC registry. The effect of this clean-up is the elimination of error messages (like spoolsv.exe – application error)  and crashes that have been troubling you. Auslogics Registry cleaner is an entirely safe tool to use.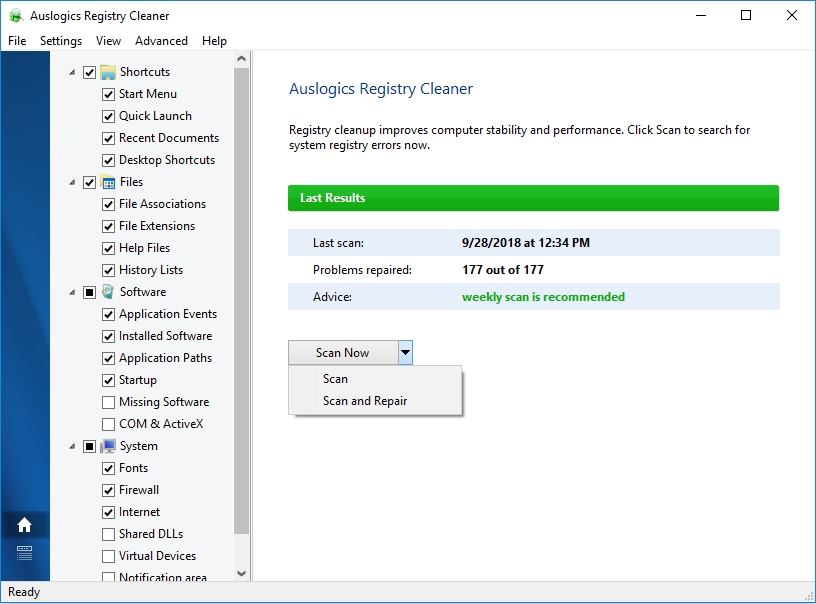 Check your system for viruses and malware:
A good number of application and system errors are the result of the work of malicious programs or viruses. Heck, such harmful programs tend to attack the registry and do some severe damage to its contents.
Some bad programs are even capable of cloaking or disguising themselves to appear as legitimate Windows processes. This action makes it difficult for your antivirus or security program to detect them. Try to ensure yourself that no harmful program is disguising itself as the spoolsv.exe by following these instructions:
Press the CTRL, ALT and delete buttons together to launch the Task Manager app
Under the Processes tab, find the Spooler SubSystem App process. Right-click on it and select Open file location
You should be directed to this folder: C:\Windows\System32. You should see the spoolsv.exe file in this particular folder.
If you found the spoolsv.exe file in a different location, then it is likely that a virus or malicious program is acting in disguise and taking advantage of a weak program.
Perform a thorough scan of PC, using your antivirus. It does not hurt to download and run an extra security program like Auslogics Anti-Malware to detect even more threats. This particular program is designed to work in tandem with your primary antivirus without issues. This setup brings you a step closer to the maximum security that you desire.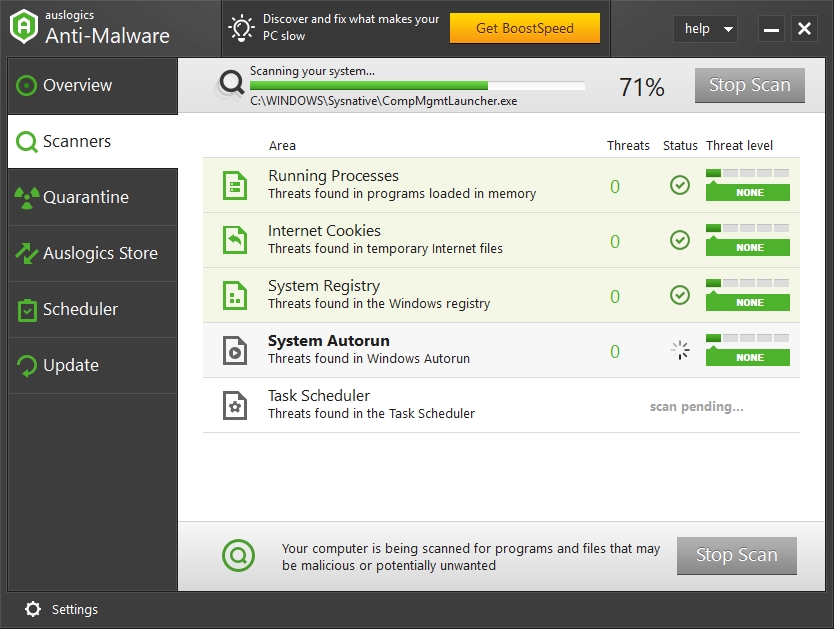 Update your operating system and device drivers:
If your Windows operating system is old, then downloading and installing Microsoft certified updates might be the solution to your problem involving spoolsv.exe application errors. Some users reported that they were able to get rid of this error by merely installing specific Windows service packs and restarting their systems.
If your problems persist even after you have installed all the recommended updates, then it is time we considered the possibility of your drivers being the cause of the issues you are experiencing. You can uninstall and reinstall the drivers for your printing devices. You can also update your printer's driver and other drivers.
Updating a single driver is not even a straightforward task, as you will need to carefully identify the driver device involved and thoroughly search for the updated version. You might not find the latest version, and there is always the chance that you could download and install outdated, invalid or incompatible versions. Such errors could be costly because they result in even more significant problems for you.
We have just outlined the procedure involved in updating a single driver. Now if you consider the process involved in updating several drivers, you might realize that it is just not economical because the entire task is exceptionally demanding. Spare yourself from all trouble and headache by merely using Auslogics Driver Updater to update all your device drivers in a single click or operation.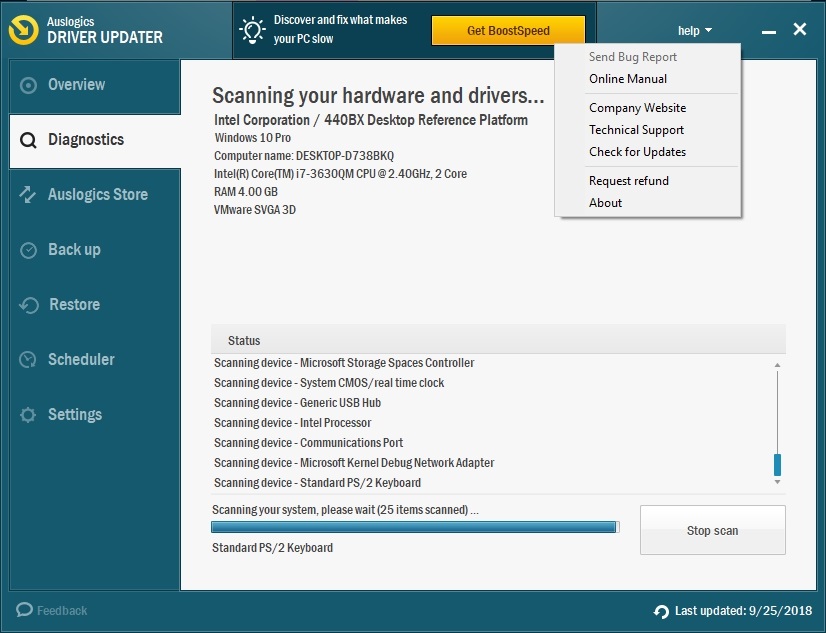 If you have tried all the above fixes, but none of them proved capable of solving your issue, then you should restore your system to a previous working date. This option is for users who did not experience errors involving spoolsv.exe in the past.
If the above fix fails or you just could not use it, then you should use the nuclear option: installation of a fresh copy of Windows.