"Hardships often prepare ordinary people for an extraordinary destiny."
– C.S. Lewis
How's it going, guys? I'm sure many of you are holdouts who have not yet upgraded to Windows 10. Or you have upgraded and want to return to the previous version. Maybe you're using Windows 7, or Windows 8.1, or I hope you are not using Windows XP. Now, there are a lot of reasons why you might not be upgrading to Windows 10, but I'm going to give you some reasons why you should at this point because it is the latest operating system and I think you will get some benefits out of it. There are some things you can't do with current operating systems, so here are about seven reasons that we can go over and that might convince you that you should upgrade at this time. Even if you do not like some of the features on Windows 10, we are going to show you how to get back the classic ones we all love.
So, first of all, one reason to upgrade is that Windows 10 is still actually free to upgrade to for now. They have said that you can't upgrade for free anymore. But there is one way to do it, and that is through Microsoft's accessibility page because they are still offering Win 10 free to people who have issues with hearing or need additional accessibility features. So, even if you don't technically have those issues, you can still get the upgrade for free from their page – however, that is going to end soon.
That was a little loophole
Even though they said you have to now pay to upgrade, you can still upgrade for free up until now, but if you've been reluctant to upgrade to Windows 10 because you thought you'll be able to get it for free forever, that is going to end soon, and you are going pay to upgrade Windows eventually. So, you may as well just get it for free while you still can. One reason why you probably will have to use Windows 10 as opposed to another version is that Microsoft has pretty much said that Windows 10 is going to be the last version of Windows. What they mean by that is, instead of releasing a big Windows Update and a new version every few years, they basically made Window modular, meaning that they built it in a way that they could make major upgrades to individual components independently within Windows.
So, they can release major updates every six months and just upgrade the operating system in parts instead of the whole thing. So, even though it's called Windows 10, they'll probably just rename it to be called Windows at some point.
In five or six years, they will have made so many updates to different parts that it will actually have completely different software than it has right now. So, it is technically the last version of Windows because they're just going to be continuously upgrading it, and that's kind of the reason why, if you get it now, you won't have to really upgrade it in the future.
Another big reason why I think you should upgrade is for security reasons
There's really no doubt that Windows 10 does have better security than previous versions. It's newer, and they have integrated a lot of security features that were not available in previous versions. One specific example is Exploit Protection that used to be part of what was called the Enhanced Mitigation Experience Toolkit, and this was a piece of advanced software that you probably have never heard of before. You may not know this, but it did actually allow power users to prevent exploits in software running on the computer. But now they appreciated that software and integrated it directly into Windows 10 in a major update which was the Fall creators update.
So, on top of all the other security features, you're going to get stuff like Exploit Protection. So that, for example, if you open a PDF that has an exploit built in, then your operating system itself can protect that from being malicious, not to mention the fact that because Microsoft is continuously working on Windows 10, they're a lot more likely to discover issues with it in terms of security. Meaning they will patch it. If they're not actively making new features in Windows 7 or Windows 8, then they are less likely to figure out their issues. They might rely on security researchers to report these issues, and some might be discovered by hackers. So, the more actively an operating system is being used, the more secure it is.
Now number three is kind of related to the previous one, and it is that support for previous operating systems is going to be dropped. In case you didn't know, Windows 7 mainstream support was revoked in 2015. They stopped doing mainstream support, and they're now just doing extended support until 2020, and that means they're just going to do security patches. But they might not be effective because of the reasons we just mentioned, and for Windows 8.1, mainstream support is going to end. They're not going to be developing any new features, and they already stopped doing that for Windows 7, and they will stop extended support in another three years for Windows 7. So, you've got to keep in mind that if you are using an older version of Windows, you're not going to get any new features, which is kind of a bummer.
Windows 10 now supports DirectX 12 which is very good for gaming
If you're not familiar with what DirectX is, it is basically an API that allows game developers to better assess the hardware on a computer. You can literally run games better, and run them more efficiently, and be able to do more stuff. The new versions of DirectX obviously allow more features for developers, which means they can create better games, and if they're exclusives, you're only going to be able to run them on Windows 10. If you're running a game on Windows 10, you can try to run it in DirectX 12, and it might run even better than it would on previous versions.
The Windows App Store is where you get apps, it is a very useful tool when using Window 10. Specifically, because a universal Windows app is going to be able to run on any device that uses Windows 10. This cool feature is also important when it comes to gaming, where if you buy an Xbox game, you can also run it on your computer, using the Xbox app because it's all the same platform. It's like running it on a very similar system. You would be able to play even with the Xbox controller. One good thing is, it's a lot easier to keep such apps up to date because Windows should be able to update them automatically instead of forcing you to do it manually.
Windows 10 obviously has more features
One example is the cool nightlight feature on computers, which basically dims the screen and makes it a little bit more orange at night, so it's just easier on your eyes. It is less likely to keep you up at night. They have also made some additional changes from the previous versions of Windows. Examples of such changes include better customization of the Start menu. If you absolutely hated the Windows 8 Start menu, they kind of improved that. It's kind of a combination between the Windows 7 Start menu and the Windows 8 Start menu. So, you basically do get the list of apps, but you still have the tiles which can be resized or moved around. It is a little bit better.
Another cool, quick feature is virtual desktops, which allows you to have multiple desktops for different purposes. Also, another little change is that the Task Manager has been improved. You can see how your computer uses its resources on it now. So, even if you want to look at stuff like bandwidth being used, GPU utilization and GPU memory, it is all found in the Task Manager. You're not going to get this in previous versions.
We touched on this before, but another reason to get Windows 10 is that it will be majorly updated every six months; at least, that's the schedule Microsoft has said they want to stick to. Unlike having to wait for major updates every few years, you're going to get a lot of new features every six months. Some examples of these are: they did the Anniversary update, they did the Creators update, then they did the Fall Creators update, which was the most recent.
Here's another kind of cool little feature for gamers, in which they actually introduced a new anti-cheat client called True-play. So, games in the future might require you to enable this anti-cheat client, so you won't have to worry about so many cheaters playing games and if someone gets caught cheating, they could be banned from playing any games on that computer, which would be awesome for legitimate players.
Now, users are able to see the different features in the previous versions of Windows and Windows 10
Sometimes, the new feature does not necessarily mean that it is the better one. We can clearly see this in the Add or Remove programs panel. Microsoft is doing their best to make the operating system better by providing updates every 6 months. Microsoft has changed a lot of things in the operating system, and some users are finding it difficult to adapt.
Nonetheless, there are lots of features that users did not want Microsoft to change. That is why we are making this article to show you a way you can get back all the features. In this article, we are going to show you how to access the old Add or Remove programs panel on Windows 10 and other features old classic view features.
We will begin first with the add All remove programs panel. Many users did not know that they can still access this feature in Windows 10. After lots of research, we found that you could be able to bring back this feature.
This feature is no longer present in the Start Menu, and searching for it would yield no results, so use the following steps to enable this feature:
Press the Windows logo key + R on your keyboard to open the Run dialog box. Input appwiz.cpl in the search box and press Enter
This should give you access to the old Add or Remove Programs panel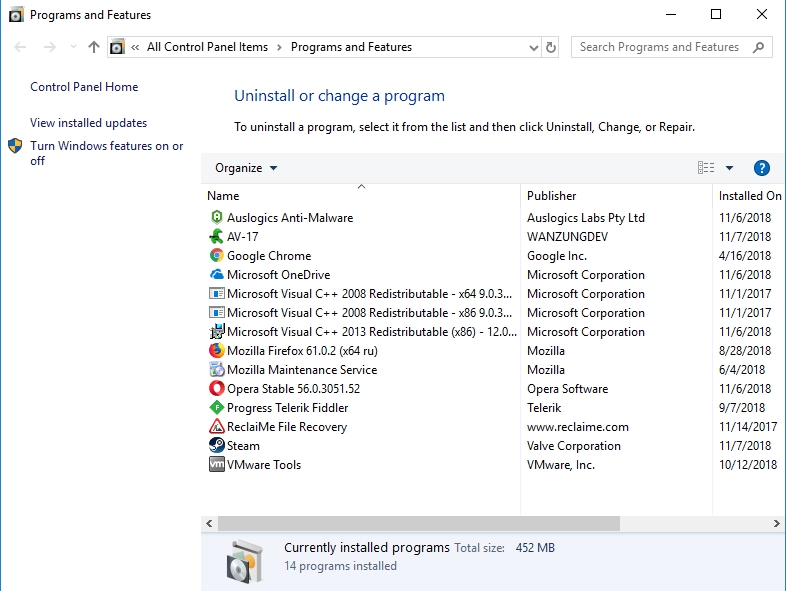 Now you will be able to uninstall an app like before. Note that the Universal Windows Platform apps which were installed from the Windows Store will not be able to be uninstalled from here. You must remove them using Apps and Features.
You do not have to use the Run command line every time you want to access the old Add or Remove Programs panel. You can simply create a shortcut which will give you easy access.
Right-click anywhere on the free space on your desktop, navigate to New and select Shortcut
In the next dialog box, input appwiz.cpl in the Type the location of the item box and click Next
Click Finish in the next window
Now, you will be able to access the old Add or Remove Programs panel, using this shortcut
Other classic features which you may want to change if you are interested:
Control panel
I am sure that most of you have been wondering where the Control Panel has gone to. Usually, in the previous versions of Windows, you just have to open the Start menu, and you will find it there. But now, in Windows 10, it is nowhere to be found. The Control Panel is a very important tool which is used to change various settings and configurations of your computer. In Windows 10, what you will find in the Settings option.
It is quite easy to bring up the Control Panel. All you have to do is search for it in the Start menu search box. If you want to access it quicker, you should pin it to the taskbar or Start menu. From the Control Panel, it is also easy to access the Add or Remove Programs panel.
Internet Explorer
Windows 10 came with a new browser called Microsoft Edge. It has its pros and cons. But if you are interested in knowing how to get back the old Internet Explorer, you can also search for it using the Start search menu. This browser has not been updated for a very long time, so many features and web pages will not function properly.
Desktop icons
Have you noticed that when you freshly install Windows 10, it comes with almost an empty desktop? That was not the case in Windows 7 and XP. These icons help users to easily access important settings on their PC. Use these steps to get them back:
Right-click on the Start or Home button and select Settings
Choose Personalization from the list of options which are present, then go to the Themes tab
Under the Related Settings option, click Desktop icon settings
Select the icons you want to put on the desktop, then click Apply and OK to confirm the changes
Classic Paint
Even though Windows 10 originally came with the classic version of Paint, it was later replaced with the Paint 3D app when Microsoft released the Creators Update. If you want to open the older version, simply search for Paint in the Start menu search box. You can also run the mspaint.exe command, using the Run tool to access it.
Classic Volume Slider
If you want to get back the good old days' classic volume slider, you will need to change some settings in your registry. It is always advisable to back up your registry before making any changes to it. This is because any mistakes here can cause permanent damage to your operating system.
Press the Windows logo key + R on your keyboard to bring up the Run dialog box
Input regedit in the search box and press Enter. This will open the Registry Editor
Now, navigate to the following location: HKEY_LOCAL_MACHINE\SOFTWARE\Microsoft\Windows NT\CurrentVersion
Right-click the CurrentVersion folder and go to New > Key
This will create a new folder in the CurrentVersion folder. Name the new folder MTCUVC and open it
Right-click on the empty space in the folder and go to New > DWORD (32-bit) Value
Rename the DWORD value as EnableMtvUvc
Now close the Registry Editor, and your classic volume bar will be running
Recommendation: if you are witnessing unnecessary lags on your PC, your games are crashing, lagging, or not opening, or your PC has become considerably slower than when you bought it, then we recommend you to download and install Auslogics BoostSpeed. This tool will rectify all those issues and make your computer to work with any errors or lags. This tool removes all the junk and unnecessary files which have accumulated on your PC over the years. This also frees up a large amount of space on your PC and gives your system a very clean look.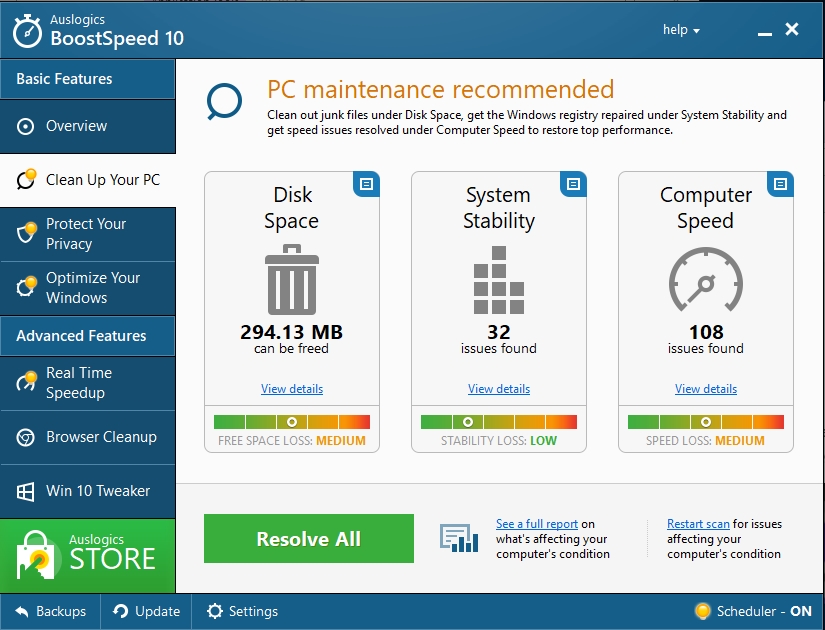 We hope that this article has given you the information you are looking for. Share it with others who are in need of such info.
We appreciate your ideas and comments.
We are ready to answer all your questions regarding the above topic.