Say, you are a diligent user and you have updated to the new version of Windows 10. Now, you may experience some issues with your screen resolution. Unfortunately, this is a very common problem, but it's not unique to Windows 10. Windows 8.1 and Windows 8 have had the same issue, and luckily, we are now more equipped to do some basic troubleshooting to resolve the issue.
If you are an advanced user, you may have already looked into the matter in Device Manager and saw that your graphics card is no longer listed in the devices, but replaced with Microsoft Basic Display Driver, which is a stand-in for the not-connected graphics card.  So, how to upgrade Microsoft Basic Display Driver?
If your Intel Graphics card shows as Microsoft Basic Display Adapter – it's a sign that your computer has experienced some overlap with the update and you will need to tweak its settings to get things running smoothly again.
There are 4 main methods to resolve the issue that we have for you
Whereas you don't have to use all of them, we suggest you skim through them before picking the one that seems right for your particular case.
Solution 1. Use Windows Update to find out what went wrong.

Solution 2. Update your graphics card driver.
Solution 3. Replace your graphics card.
Solution 4. Roll back to the previous version of the operating system.
The first solution we advise is the least time-consuming one. Keep in mind that it's actually your operating system's job to maintain the status of all necessary updates of hardware and drivers. So, one of the reasons that you have Microsoft Basic Display Driver instead of your actual video card is that Windows has to provide you with the right kind of driver updates after you have updated the operating system. This doesn't always happen automatically and can result in the blurry screen. Follow this guide to check if this is the case for you:
Step 1. Press the Windows key and I key at the same time to open Update and Security.

Step 2. Opt for Check for updates. 
Step 3. This should take over the process of troubleshooting, and you will be able to use your screen as always in no time. If this doesn't help, see other solutions below.
The second solution is not recommended for those who are not professional engineers. The process of the manual update of the graphics card driver may seem easy, but in reality, there are a lot of things that may go wrong. So, we advise installing a tool like Auslogics Driver Updater to get the update done easily and professionally. This software will help you stay on track with all your driver updates, should the need arise. The application performs check-ups and scans to get the status of all working programs and will perform necessary updates in background mode. You won't have to worry about a thing!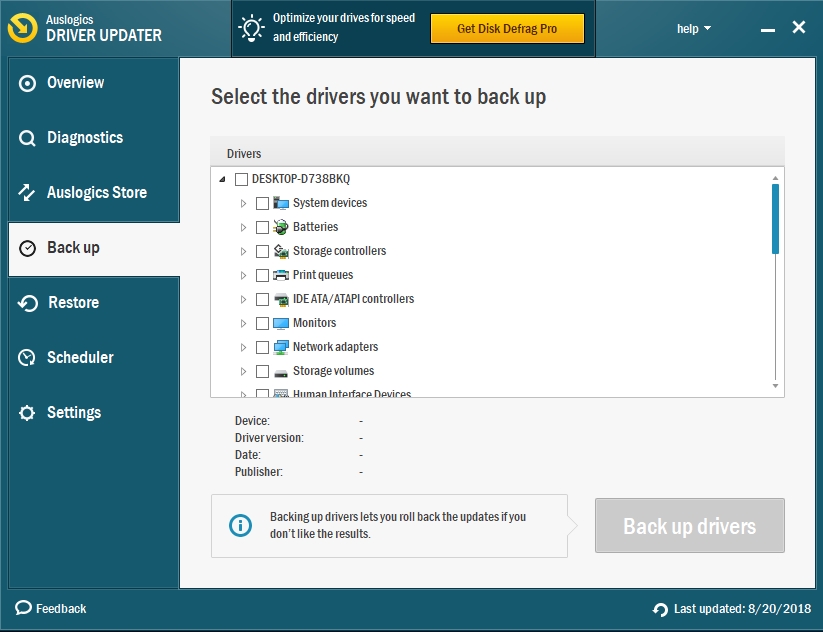 The third option pertains to the overall age of the parts of your computer that you are using. If the update of the graphics card driver didn't help, you might be facing a faulty graphics card. Unfortunately, there is no other option than to replace this corrupted piece of equipment and move on. You should beware that certain series of display cards are simply not certified to support the Windows Display Driver Model 1.2 or higher, and as a result, they will not work with Windows 10.
The fourth solution is one that you can try if nothing else works. You can roll your operating system to the previous version so that the problem that you are having with your graphics card does not present itself. This is, however, not advisable in the long run. All parts of your computer should work at their best to ensure high performance, but if you cannot invest in a new graphics card at the moment, it's a temporary workaround.