If you use the Internet Explorer program or the Edge browser to surf the web, then you probably ended up on this page because you encountered an error like this:
There is a problem connecting securely to this website. The security certificate presented by this website is not secure…
From the statement above, we can infer that your browser realized that the certificate that came attached with the webpage is invalid or corrupted. The message you saw might differ slightly from this one, depending on how things played out. Nevertheless, all the notifications point to the same thing or problem—something is wrong with the certificate.
Unsurprisingly, the effects of such certificate problems are consistent well enough. If your browser cannot verify the authenticity of a certificate or confirm that it is secure, you will remain unable to reach the site. Well, at least until you decide to explore advanced options (which might not be available in all cases).
Why am I experiencing this problem?
For now, we would try to assume that the problem is at your end. The affected website actually using an insecure certificate is the other possibility we could consider, but it is obviously of no use if we discuss why you came here.
Incorrect Time and Date settings often give rise to the most basic form of the problems involving web certificates. In relatively complicated cases, your antivirus might be responsible, but in more obscure scenarios, it is incredibly difficult to figure out why or how the problem came to be.
In this guide, we will explore practical solutions you can apply to solve the certificate issues so that you can finally stop seeing the There is a problem connecting securely to this website message.
How to fix the There is a problem connecting securely to this website issue?
We understand that users can encounter the problem in view while using any of the major browser apps like Google Chrome, Mozilla Firefox, Opera, and so on. However, as we cannot provide direct instructions to carry out operations on each application, we will use the Internet Explorer app as our reference browser if the need arises.
Start your work with the first fix on the list. If it fails to work for you, you are free to move to another. Continue things this way until you arrive at the solution that proves perfect regarding the variables or conditions involved in your case.
Check your Date and Time settings:
We have included this procedure as the first thing on the list for a good reason. If your system is using incorrect Time and Date settings, then the errors affecting web certificates are merely consequences of a more profound disorder. To be fair, such erroneous setups are responsible for a wide range of issues.
Most sites employ web certificates (SSL, for example) to prove their credibility or genuineness. Your browser reads them to confirm that things are in order. Most licenses are valid for a specified period after which they expire.
Therefore, if the Date and Time values on your computer are incorrect, then your system might believe that a specific web certificate has expired or might consider it invalid. Subsequently, you will see the error message and start struggling with the issue.
All you need to do is adjust your Date and Time settings to make things right. Follow these instructions:
Right-click on the clock icon that is visible on your Taskbar. From the list of options that appear, click on Adjust Date/Time
After the Settings program window comes up, you will see some options available under the Date & Time menu. On the right pane, toggle on the button for Set time automatically (the first option on the list)
Windows should resynchronize your Date and Time values now, and the issue should be resolved. You must move on to check if you can now access the webpage. Launch your browser, then visit the affected site
If you realize that the problem persists even after you corrected your Date and Time settings, then you must restart your PC and check again.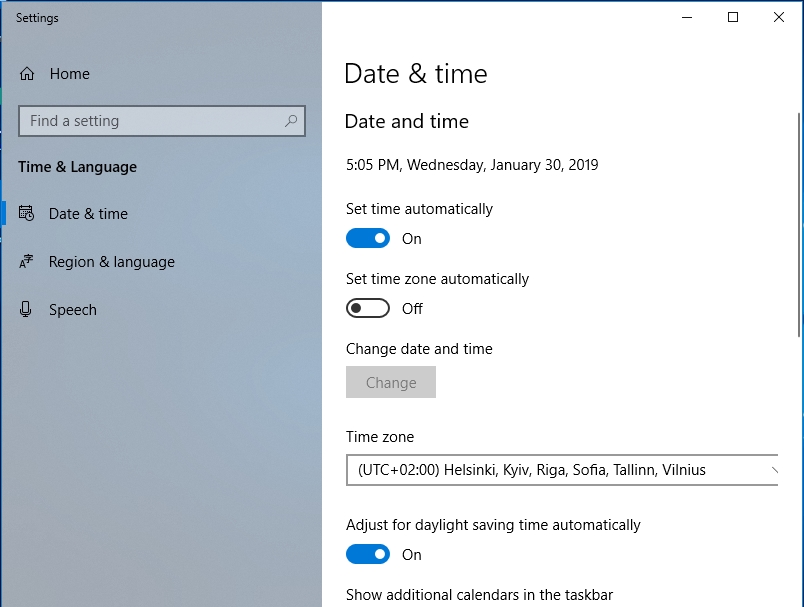 Fix issue involving antivirus:
Security solutions like antiviruses work hard to keep your system safe from threats, and they do a decent job for the most part. However, sometimes, they take things too far when they go beyond their limits by interfering unnecessarily with essential operations or disturbing non-threatening activities.
We would like to assume that you have an antivirus running as your primary security program. Now, you are going to find out if it has something to do with your problem. We cannot say much about the state of your PC or claim to know other roles your antivirus plays, so we would prefer you to avoid getting rid of it if there are other things you could do to stop it from causing the web certificate issues.
You will carry out the necessary tasks in stages. Follow these instructions:
Launch your antivirus. Go into its settings menu or control panel. Locate the top features or functionalities it employs (Real-time protection, for example). Disable them
Close the program, reboot your PC and check if things are now in order regarding web certificates. If your struggles continue unabated, then you must open your antivirus once more, but this time, you must disable it completely (if the option to do this is available), exit the app, restart your PC, and finally, you must verify that things have gotten better
If you got to this point, then it is fair to assume that the previous operations failed to deliver the result you were expecting probably because your antivirus still has sufficient powers to cause trouble. Well, you are left with one last option—uninstallation of your antivirus. After you go through with it, you must reboot your system and verify the state of things as usual.
If at any point you discover or realize that the web certificate problems went away after you moved against your antivirus, then it is time you moved on to deal with the issue that resulted from the fix you applied. Well, you just uninstalled your antivirus or took away its primary powers, so we figured out that your system is not as protected as it used to be.
We advise you download and run Auslogics Anti-Malware, which is a first-class security solution that goes about its job of keeping your computer safe from threats without disturbing or interfering with the activities of other programs or processes. With the recommended app running, you make no compromises on the security of your device while you get to avoid certificate problems simultaneously.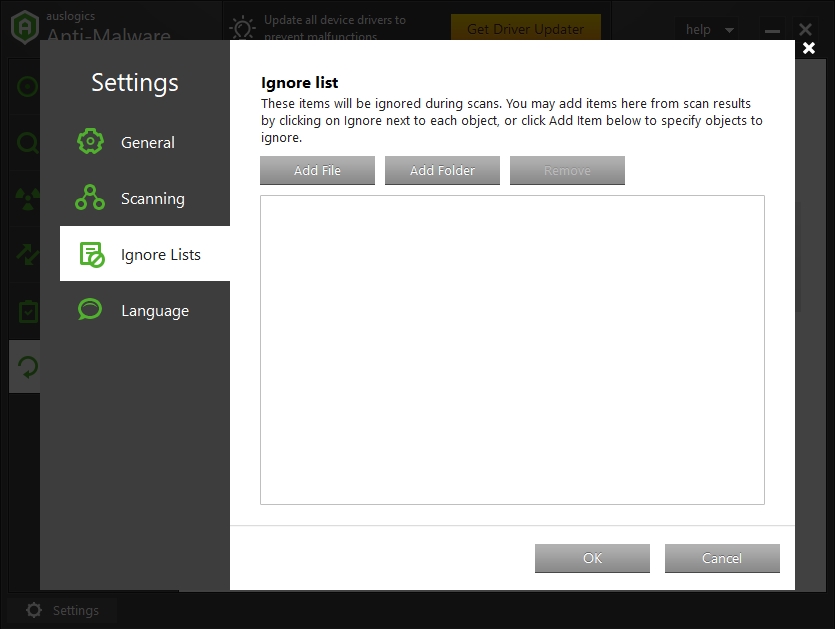 Add the affected website to the Trusted list:
This procedure is hardly a direct fix for the problem in view, but as a workaround, it is as good as it gets. If you are trying to visit a site, but the There is a problem connecting securely to this websiteerror message keeps coming up to prevent you from doing so, then the Trusted websites list available on Windows might provide you with a lifeline you can take advantage of to bypass the issue.
Nevertheless, you must take extra precautions before you move on to carry out the needed operation. Certainty is the top priority here. Try to verify that the website you are trying to visit is safe.
Maybe, the affected webpage has been hacked or hijacked by attackers who are now trying to steal your information. Or perhaps, your internet connection is being tampered with, and the error is a merely a warning that appeared in good faith.
Generally, you are supposed to add only safe and trusted websites to the Trusted list. Fishy or suspicious sites are not welcome. You might have figured this out already. Well, if you are ready to do the job (since you have verified the things we asked of you), go through these steps:
Press the Windows button on your keyboard or click on the Windows Start icon that is always visible on your desktop screen. Input the following keywords into the text field present to do a quick search for them: internet options
From the list of results that appear, click on Internet Options (Control Panel)
The Internet Properties program window should be up and running by now. Navigate to the Security tab. Click on the Sites button. In the text field you see, you must input the URL for the site you struggled to reach due to the certificate problems
Click on the Add button. Save the changes you just made, then exit the program windows you opened. Launch your browser and check if the certificate error message has stopped appearing.
Clear your SSL cache:
SSL certificates make up the most widely used security protocols on the web. Therefore, if the cache that handles the SSL data becomes corrupted, then a certificate error message like the one you saw is just the beginning of your troubles.
Fortunately, you can resolve most issues affecting the SSL cache (especially the corruption of its contents) by simply wiping it clean. Follow these instructions:
Press the Windows button on your keyboard, then tap the letter R key. The small Run program window should come up now. Type in the following code into the text box present: inetcpl.cpl
Click on the OK button or tap the Enter key to run the code
After the Internet Properties program window appears, you must navigate to the Content tab. There, you have to click on the Clear SSL state button under the Certificates menu. Click on the OK button, close the program windows you opened, then check if your struggles involving web certificates are over.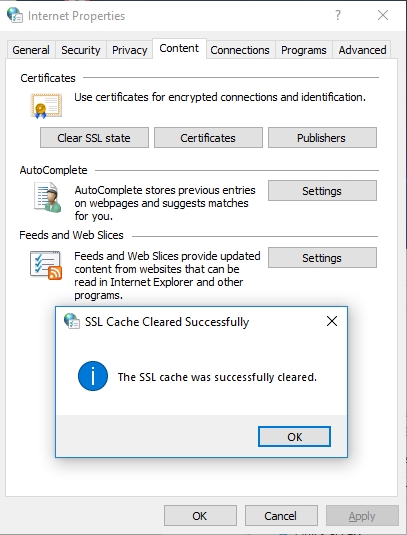 Other things you could try to fix The certificate presented by this website is not secure >problem and similar issues.
If you still cannot access the affected site after going through the fixes above because the certificate problems persist, then you surely will want to go through these additional fixes we provided. They consist of direct solutions to the issue and workarounds whose approaches you might prefer.
Update the root certificate:
In theory, Windows downloads and installs updates for its built-in root certificates without any input from you to spare you the problem of having to update them manually from time to time. This setup works well consistently, but if you are struggling with issues that have something to do with web certificates, then it is advisable you check everything.
If you realize that Windows is using outdated certificates, then you must download the required updates from Microsoft Update Catalog, install them, and finally restart your PC to let the new changes become effective.
Get rid of OpenDNS:
This fix is only applicable to users who encountered the certificate errors when they tried accessing the internet on corporate networks. OpenDNS has its uses (enhancement of the Domain Name System on private networks, for example), but its unfettered ability to block specific websites is what is of interest to us here. Disable OpenDNS on your PC (if you know what you are doing), and things might get better.
Try out a different browser:
Perhaps, you have been attempting fixes for issues that are not there when there is an underlying problem with your browser. The There is a problem connecting securely to this websitenotification might not have appeared if you used other browsers to visit the affected webpage or reach the internet in general.
Well, you can find out quickly if your browser was responsible for your headache all along. Launch a different browser app, then try to access the affected webpage. If the site loads fine without issues, then you can draw a reasonable conclusion from any of the outcomes.
At this point, with the help of the solutions we provided, we would like to assume that you have dealt with the issues that caused the certificate errors to appear. To take your browsing experience to the next level, you will need to improve the overall performance of your system, and to this end, we implore you to download and run Auslogics BoostSpeed.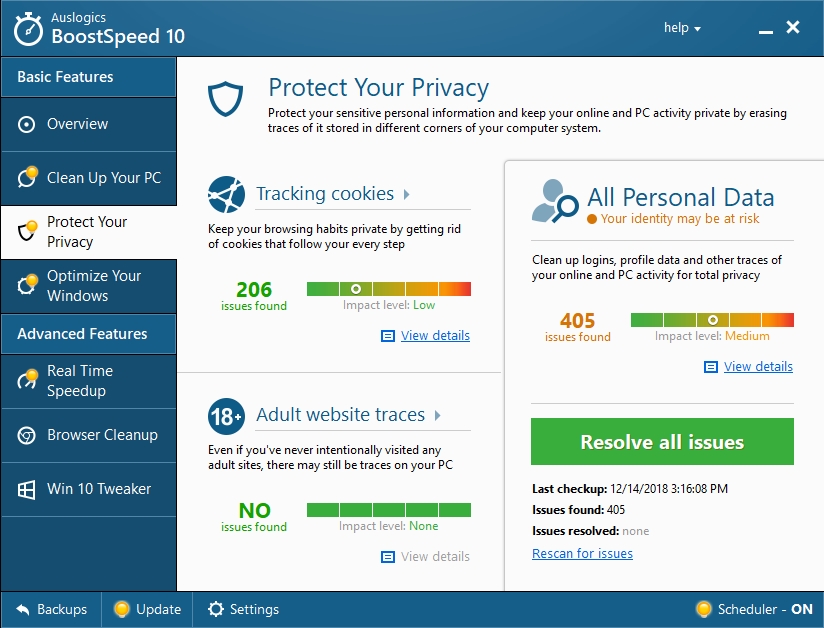 The recommended app is a superb program which will help you execute numerous optimization procedures (usually the most effective ones) to enhance the performance level of your computer. Surely, you can see all the positives waiting to come into play.