"Don't be pushed around by the fears in your mind.
Be led by the dreams in your heart."
― Roy T. Bennett
Since the introduction of the Microsoft Store, Microsoft has been encouraging users to use the platform more
Now, we may be moving to an era where Microsoft wants to eliminate Win32 applications and replace them with UWP ones. From a business view, it will be great for Microsoft, but for users, it will be a nightmare. Microsoft is trying to create an ecosystem similar to that of Apple and Android. This is somewhat challenging because unlike Apple, Microsoft has opened Windows to third-party apps from the beginning. Note some of these third-party apps are way better than the ones which are designed by Microsoft, which makes it more difficult to convince users to abandon better apps and switch to using their apps. For example, the Microsoft Edge browser is a good browser, but people do not use it as compared to other better third-party browsers out there, like Google Chrome and Firefox, which have better options. The reason users stick to the Apple ecosystem is Apple devices work in sync and compliment each other so well, and they have a large base of quality apps which can compete with apps from other platforms. If the competition between the apps designed by Microsoft and the third-party apps were close, users would comfortably switch the platforms. This is because they will have more advantages within the ecosystem.
The only difference is not the quality of the apps, but also the quantity
We have noted the Windows Store has little apps to offer its users
If you were to rely only on the Microsoft Store for your apps, you would be limited in so many ways.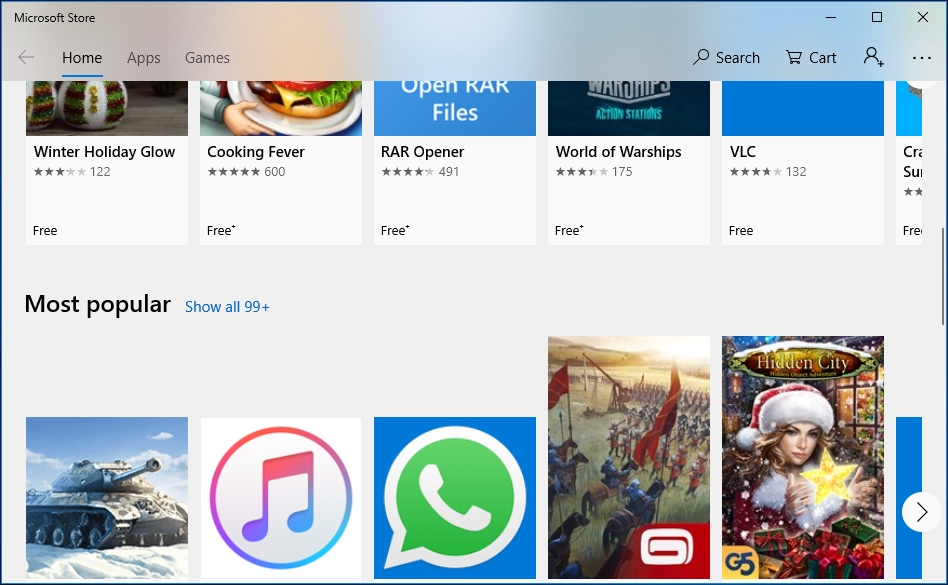 Microsoft introduced a new option in the Windows 10 Creators Update which allows users to install only apps from the Windows Store. This implies that classic Win32 or third-party apps won't work on Windows 10. In their defense, they said they are trying to limit the amount of bloatware and malware that can get into your system, which will be good for both the users and the enterprise.
In this article, we are going to show you how to allow standard Win32 desktop applications to install in Windows 10. We are also going to talk about the current Windows Store and if users can comfortably use it in 2018.
When you are trying to install any third-party app, and you are prompted with the message "You can only install apps from the Microsoft Store" in Windows 10, this implies that the option to install apps from the Store only has been activated.
To fix this, use the following steps:
Click on the Start or Home button and select the gear icon. This will open the Setting app.
Click on Apps from the available options.
In the next window, select the Apps & feature tab from the left panel, then under Installing apps, choose the Allow apps from anywhere option from the drop-down menu.
With this option enabled, you can install any app you want. Most of the time, you still have to run the third-party apps as an administrator for them to work properly.
Can you use Windows 10 independent of third-party apps?
The Microsoft App Store has a long and complicated history. The Windows Phone died due to its lack of compelling apps, and many users have criticized the Store on Windows 10 for the same reason. Many casual users don't even know there is a store on Windows 10 PCs. But is all this criticism still valid in 2018? Is the store still that bad? Now, let's find out more.
Last year the Store received a new logo and was renamed from Windows store to Microsoft store. This is supposed to signify Microsoft no longer thinks of it as just an app store, rather a store for much more. You can now download or buy the following things in the Microsoft Store: Apps of course, games, e-books, Movies and TV shows, extensions for Microsoft Edge, the default Windows 10 web browser (Edge), themes that let you customize the look and feel of Windows, Windows version upgrades, fonts, and even Microsoft hardware, like Surface devices. All these are available depending on your region.
Microsoft has added many categories now, but is the store any good for them, and if it is, why should or shouldn't you use it? Let's start with apps. The Microsoft store now actually has many top-tier apps. Of course, Microsoft's apps, like Skype, Mail, and To-Do, as well as Office are now in the store. Music is well covered with third-party apps from Spotify, Amazon Prime Music, Deezer and even iTunes. Yes, Apple of all companies moved their most used Windows app to the Windows store. Many top-tier productivity apps like Slack, Dropbox, Paint.net and the Affinity apps are present and so are most of the big social apps as well. Although Facebook's apps seem a little half-baked still, this is a big increase in both the quantity and quality of apps and it's in part thanks to Microsoft opening up the store to new types of apps. So, the store first launched with only so-called UWP, or Universal Windows Platform apps, which are native apps written for Windows 10, which, other than Microsoft, only a handful of high-profile app makers adopted. But since then Microsoft made special bridges that let both traditional desktop apps, as well as progressive web apps, come to the store, which, unlike UWP are on both platforms with healthy adoption rates.
There are still things missing
Stores within the Store like Steam, are not allowed, and neither are browsers that don't use the Edge rendering engine. As of now, that covers pretty much all browsers. Firefox or Chrome could technically start using the Edge engine, but that is unlikely to happen on Windows. So, these are missing due to Microsoft's restrictions. But there are also two major companies voluntarily missing from the store. Google as a competitor of Microsoft, has long tried very hard to have all Microsoft's efforts to build an ecosystem fail. Instead, Google is building up Chrome as their platform, while Adobe, the leader in creative software has so far chosen to keep their creative cloud apps, like Photoshop out of the store, as it chooses to have its little store to bundle its apps in instead. Either way though, while the selection isn't perfect, it has improved a lot over time.
But if you are wondering why should you use the store at all, instead of just downloading stuff from the web as you've always done, then the answer is that the Store makes things a little cleaner. Apps from the web usually have annoying updaters that launch on startup, making your boot time longer; they run in the background slowing your PC down and update your programs when you open them. That's annoying! Store apps don't have this and update automatically in the background. Store apps also run in a sort of container, which means it's much harder for them to have malware that accesses the rest of your system and they are easier to uninstall – Just right click, uninstall, and they are gone. No silly wizard and no junk left behind. Either way, if an app you want is actually in the store, and you aren't likely to switch to Mac or Linux any time soon, in which case your purchases would get lost, then I recommend getting stuff from the store.
When it comes to games though, there is a little more mixed feeling
This is because Microsoft goes up against established stores like Steam or GOG, and Microsoft's offerings are a little weak in comparison. On the good side, you have first-party Microsoft games, like Minecraft, Halo, and Sea of Thieves, plus some benefits from Microsoft owning Xbox. Xbox play anywhere titles let you buy a game on a PC and also play it on the Xbox, or the other way around. There is the Xbox game pass where you can pay a monthly subscription fee and get a bunch of games for "free." You will find that using the Microsoft Store in Windows Mixed Reality is a little more convenient from a strictly UX perspective than using Steam. So, if you are heavily invested in either Microsoft's games, consoles or VR solutions, then, the store brings some value.
It is also annoying when developers insist on you having to download a downloader just so you can download a game, like Blizzard. It would be preferable if they just used a standard store instead. But Steam and GOG are hard to compete with on a PC. They have the games most of us want to play, have more social features, usually also better sales. Even though the Steam UI is a little overly complicated, they are more mature platforms.
Movies and TV have a reasonable catalog of stuff to both rent and buy and apparently if you are in the US, they even have over 200 movies in 4K. Sadly, 4K content isn't available in most other regions, and Microsoft hasn't joined Disney's Movies Anywhere initiative yet either. The service works well, other than the fact it only runs on Windows 10 devices. But we are still a little worried Microsoft will one day just decide to cancel this category like they recently did with Music, and in that case, you would lose your whole catalog. So, renting movies it is recommended, but for buying stuff, maybe not yet.
It is hard to imagine that tons of people read E-books on their Windows PCs in their spare time, especially since the catalog isn't as great as it is on other platforms like Amazon. But e-books should be interesting for education, since many schools use Windows devices in class, and Edge is a nice reader by now, with inking and other advanced capabilities.
Themes are cool if you are into personalization, there are actually many nice ones with pretty wallpapers, plus most of them are free, so check them out. The store also makes it easy to upgrade from one Windows version to another, which is cool, and Edge extensions. If you use Edge you don't have an alternative so; you must use the Store to get extensions. Fonts are also available in the store now although this seems like a basic implementation with a limited selection. It would be cool to have the option for custom fonts to sync between your Windows devices. So, let us hope Microsoft builds this further in the future.
Finally, there is hardware
You can now buy hardware from Microsoft and their partners for thousands of dollars through the store. Why would you do it here instead of going to the Microsoft website? Apparently, there is no difference. Maybe Microsoft is just using the Store for advertisements.
So, the selection of products has improved significantly, but there are still a few issues left. First of all, the amount of crap apps that surfaces on the Microsoft store is a little higher than on other platforms like the Google Play store or the Apple App store. There are also a few random bugs and glitches now and then especially around downloads, and we have even noticed a few cases of fake reviews. The China Daily app for example, which is the official English language paper of the Chinese Communist party was released in the store and within a few days received over 600 reviews. The point is the store still doesn't feel polished. So, Microsoft launched the store in a rough state, and many people decided it is a terrible product they don't want to use. Microsoft did improve the store significantly, to the point where we recommend using it for some things, like Music apps or productivity tools, but that came a little too late because getting rid of a bad reputation is a very, very difficult thing.
Recommendation: Have you ever been curious why over time your computer becomes slower?
Well, that is because as you use your PC, unnecessary files accumulate in your system, takes up space in your hard drive, and can eventually be infected by a virus. This significantly decreases the performance of your PC. To fix this problem, there is no better tool than Auslogics BoostSpeed. This tool will free your system of all the junk files and have your computer start working at peak performance.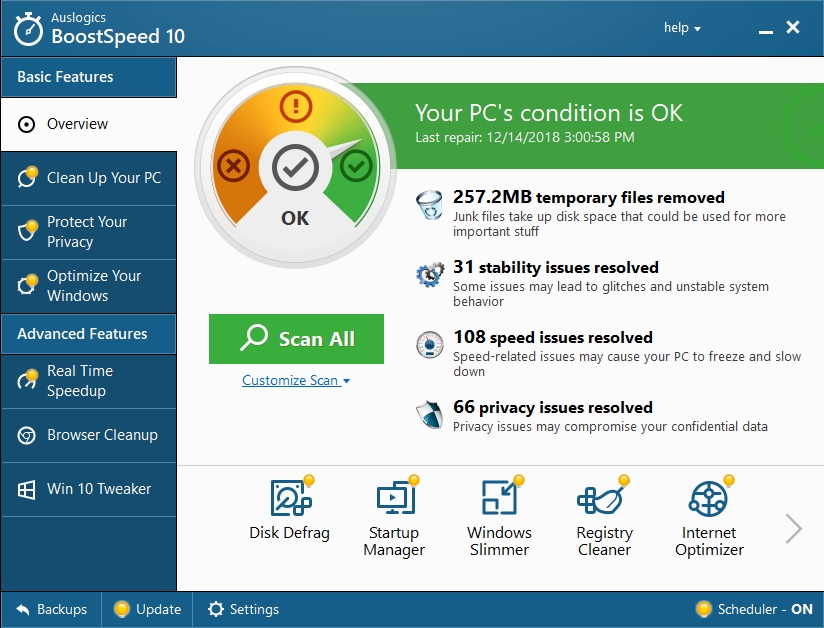 We hope that this article has shown you how to fix "you can only install apps from the Microsoft store" on windows 10. Share it with others who need such info.
We appreciate your ideas and comments, and we are ready to answer all your questions regarding the above topic.