"Success is not how high you have climbed,
but how you make a positive difference to the world."
― Roy T. Bennett
The world today has become a global village thanks to the internet.
It connects millions of people and computers together, making the transfer of information very easy. The scary part about this is that all the sensitive information we store on the internet can be accessed without our permission. Hackers use this information to access our bank accounts, social media accounts or just to connect our computer to their network. Cybercrime is a very popular practice in our society today. Thousands of people or companies are hacked every day. Hackers are looking for every possible way to get sensitive or important data from your computer. They usually infect computers when users are surfing the internet and trick them to download malicious programs into their computers. They can also spam your email with messages or install unwanted ads on your computer's browser. All these techniques are ways for them to breach your computer's defenses without being noticed or even if they are noticed, it would have already been late and the damage has already been done.
Today, we are going to be talking about a strange but common way hackers get access to your computer. Skype is one of the first platforms produced by Microsoft which supports messages, audio and video calling. It is still very popular among users today. Millions of people around the world use this application. This is because it is integrated with your Microsoft account, and if you are using any version of Windows, the possibility that you are using Skype is very high. That is one of the reasons why hackers chose this platform. Skype has been reported to be vulnerable to a nasty exploit by hackers. You are vulnerable to hacking if you install the desktop version of Skype on your Windows computer. Hackers could gain full access to your system due to a flaw in Skype's update tool. This flaw won't be fixed anytime soon by Microsoft.
Sometimes you will receive strange messages from an unknown contact on Skype or even from one of your contacts whose account has been hacked. The message usually contains random numbers and symbols. When you see this type of message, you should start suspecting that your account is not safe or has already been hacked. Also, your account can be used to send spam to other users. Hackers use illegally obtained usernames and passwords to hack into your account.
Luckily, this can be prevented completely by switching from the desktop version of Skype to the version available on the Microsoft Store. Microsoft is one of the largest IT companies in the world, and this sort of basic loophole should not be found in any of its software.
In this article, we are going to be discussing on 2 main topics:
How to switch from classic Skype version to Microsoft store Skype?
How to stay safe on Skype?
One of the main reasons for updating software is to keep it safe and fix previous bugs, especially if they can lead to a security breach. Unfortunately, it has been the opposite with Skype. Updating it has instead increased the loopholes in its security system. The reason for this is because the flaw comes from the tool Skype uses to search for and install its updates but not with Skype itself. Hackers exploit the vulnerability of the update tool for Dynamic Link Library (DLL) hijacking. A DLL file is a library which consists of a set of codes and information needed to perform a particular task in Windows. Skype runs DLLs which are found in the Temp folder, and users without administrator rights can access it. This paves the way for hackers to gain full control of your PC. Microsoft has always emphasized that developers should avoid this sort of errors, but for some reason, the development team of Skype missed out this particular instruction.
The update or patch for this error has been produced, but Microsoft does not intend to provide it to users. Instead, they want to eliminate this problem with the next major release of Skype, which we do not yet have information on when it will be out.
Thankfully, there is another alternative, which is to use the Windows Store version of Skype. There are 2 versions of Skype provided by Microsoft: the first is the desktop version which we have always known and the second is the version available in the Windows store which was just introduced with Windows 8. Just the desktop version is susceptible to this exploit because it uses its own update tool.
If you have the desktop version of Skype, we advise you to uninstall it and download the Windows store version.
You can do this, using the following steps:
Click on the Start or Home button.
Type control panel in the search box and press Enter.
This will open the Control Panel window.
Navigate to Programs > Uninstall programs.
This will open a dialog box with the list of the programs installed on your PC.
Go to Skype and select Uninstall.
Follow the instructions to remove Skype from your computer.
Note that now the download link or page for Skype directs users to the Windows store. This means that Microsoft is persuading users to use the store version for their own safety because only the desktop version has this exploit.
Most users ask 'How do you know which version is currently installed on your PC?' The easiest way to check is to type Skype in the start search box. If you see "Trusted Microsoft Store app" under Skype's name, then you are using the version which is safe.
We just have to wait longer for a permanent fix for this exploit. I don't think that the Windows store version of Skype is a bad option, but it has its pros and cons. It provides users with fewer options, and the plus side to it is that it has a better-looking interface and there are no ads.
This is the reason that we recommend that you download and install the Auslogics Anti-Malware tool. It increases significantly the level of security of the data on your PC. It will scan your files for any suspicious activities and eliminate all the threats. It also performs regular updates of the virus database, making it possible to detect and eliminate newly created viruses.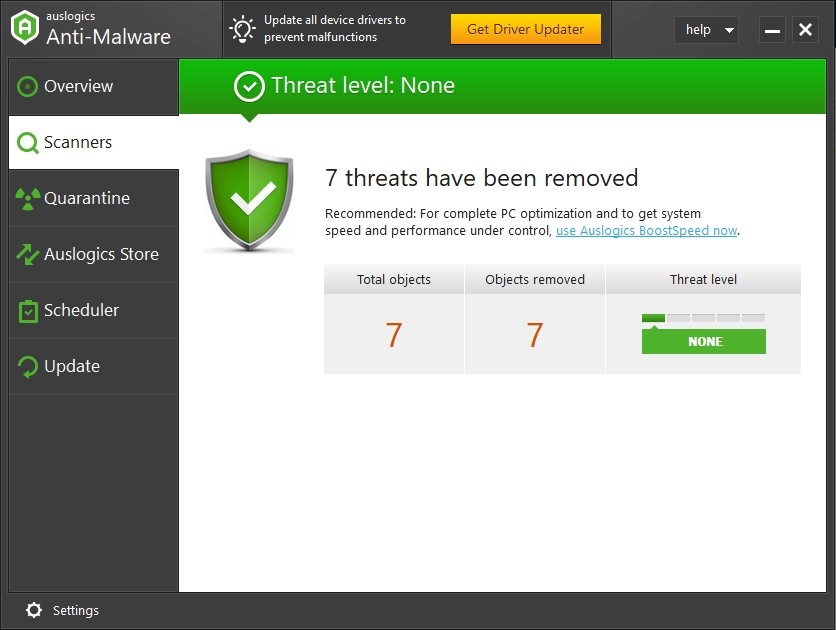 We hope that this article has solved your Skype issues. Share it with others who encounter similar problems
We appreciate your ideas and comments.
We are ready to answer all your questions regarding the above topic.