"I find that the harder I work, the more luck I seem to have."
— Thomas Jefferson
Everybody hates slow Wi-Fi, and they will call the support service at every opportunity to ask the question "why my internet speed is slow?" In this article, we are going to give you tips and tricks to use when your internet connection is slow or not responding:
1. Restart the router.
This works in many situations, and this is the first procedure that the support service will ask you to do when you call them. All you have to do is to turn off the router for about 30 seconds and then turn it back on. Most routers have a turn-off switch at the back, but you can also just unplug the adapter to cut the power, and then it will turn off. Once it is enabled, wait at least one minute, and then you can start using it again and see if the wi-fi is still slow. While you are at it, you can also restart the device that you are using the wi-fi on. Sometimes the device connected to the wi-fi could be the cause of the issue as well.
2. Disable any bandwidth-heavy content.
A wi-fi network's total bandwidth is shared among all the devices connected to it, and any bandwidth on one device will affect the internet connection of all the other devices. Normally, tasks like browsing the web do not have a major effect, but when someone is playing games, watching videos or even downloading heavy files on one device, it could drastically affect the network bandwidth of the other devices, so make sure that no one is using the Wi-Fi for bandwidth-heavy content.
3. Disable background app using bandwidth.
There is a chance that a background process may be using bandwidth without your knowledge. For example, Windows Update might be downloading updates in the background or other background programs might be using the internet. Even a virus can do this. If you are using a Windows PC, you can see the active background process from the Windows Task Manager. Press Ctrl + Alt + Delete to open up the Task Manager or right-click on the taskbar and select Task Manager. Move to the Processes tab: here both Windows and third-party software processes are listed. Now look for any third-party applications that you didn't start and click on End process. Just try not to close processes which include words such as Windows, Microsoft, explorer.exe, etc. If you are not sure of any process, search the internet for it and see what it does.
4. Change the device and router location.
Your router's location plays an important role in ensuring the wi-fi signals properly reach your device and offer optimum speed. Wi-Fi signals are sent in a spherical manner, and any obstacles between the router and your device could affect their speed. If you want to send the signals everywhere in the house, then it is best to place your router at the central location and at a higher point. However, the main problem is the objects in between your device and the Wi-Fi signals. Although wi-fi signals will pass through most objects without losing their speed, there are some objects that are really hard or impossible for the Wi-Fi signal to pierce through, for example, metal, cement or concrete. Your distance from the router also affects the Wi-Fi signal. The further you are, the weaker the signals will get. So, try to stay close or get an ethernet cable.
5. Change the Wi-Fi channel.
Wireless signals work similar to radio signals, and all routers around you are connected to these channels. If there are many routers connected to one channel, they may interfere with each other's signals. Thankfully, you can manage these channels and choose the one that has the least amount of load. For this purpose, there are many tools you can use on the internet.
6. Disable the adapter power saving option.
If you have the Windows in Power saving mode to save power and increase battery time, then there is a good chance that it is saving power on your network adapter as well. Windows attributes less energy to the network adapter to save power while sacrificing performance in your internet. To set it to maximum, go to Control Panel from the Start menu and click on System and Security. From here, click on Power options and then click on Change advanced power settings, and Power options should show up. Click on Wireless adapter settings and set them to Maximum performance.
7. Fix network drivers.
Sometimes, corrupt or outdated drivers can lead to slow internet speed on your PC. To find and fix problems with drivers, use the following steps:
Is your computer running slow or suffering system glitches? If so, it may need maintenance. Try running a dedicated
PC optimization tool
to check the health of your PC and apply the necessary fixes.
This is a very easy method to update your drivers, this tool will automatically detect all the outdated and corrupt drivers and download the manufacturer-recommended versions.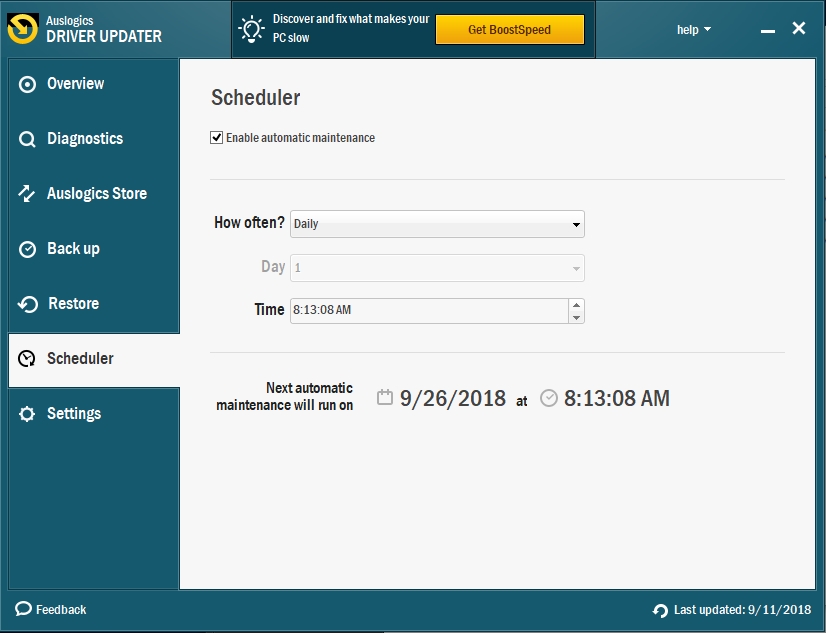 You can also update your drivers from the Device Manager panel, using the following steps:
Press the Windows key + R on your keyboard. This will open the Run dialog box
Type device devmgmt.msc in the search box and press Enter on your keyboard. This will open the Device Manager.
Navigate to your Network adapters. A driver with a yellow triangle beside it indicates that it is outdated or corrupted.
Right-click on the device and select Update driver.
You will be prompted if you wish to download the driver online or from a location in your computer. Choose the option to download form the internet.
The best drivers for your device will be download and installed.
Alternatively, you can download the drivers for your device through the manufacturer's site.
You need to know the exact name for your driver. Usually the site will guide you to download the driver you are looking for. If you download something different, it will cause your device to malfunction.
8. Reset your router.
If everything else fails, you can also completely reset your router to the factory settings. That should revert any wrong changes that may be affecting the wi-fi. To reset the router, you will find a tiny reset button inside a hole on the back of your router. It is easier to use a paper clip to press this button. Press and hold the Reset button for ten seconds and the router will restart. Once this is done, you will have to make new changes and set up a new wi-fi password. Make sure to notify others who share the network with you.
9. Disable any VPN.
If you use any VPN to browse anonymously, then you should know that all VPNs slow down the internet speed.
10. Contact your Internet Service Provider.
If nothing is working out for you, then you should contact your ISP. It could be a problem on their end, and they may be able to provide the right instructions to solve your issue.
We hope that this article has helped you improve your internet connection. Share it with others experiencing similar issues.
We appreciate your ideas and comments.
We are ready to answer any questions regarding the above topic.