How to fix error code 0x80004005 for Windows 7 and 10?
"Practice like you've never won. Perform like you've never lost."
–Bernard F. Asuncion
Error codes are a way for computers to express problems within their system. So, we should take them seriously. As a Windows user, you will encounter lots of these error codes, and you should be familiar with how to approach them. They usually vary in severity. Some of them may actually cause your computer to crash and you will experience data loss while some may just indicate on the screen as a warning for you to take action.
In this article, we are going to be talking about how to fix error code 0x80004005
It is not a very common error which occurs in Windows computers, but you will encounter it nonetheless. It may ruin your Windows experience because it takes some time to actually figure out what the problem is. Most often, users do not know what to do when they encounter such errors. That is why we are here to guide you through this problem. Also, most of the solutions we will provide in this article will also help fix some other issues, and your computer will be able to run smoothly.
Microsoft controls the majority of the market when it comes to computer operating systems. In 2016, Windows 7 and 10 had the highest percentage on the market, which made them the cornerstone of this company's success. To be sincere, Windows 7 and 10 have been very user-friendly and unique from a personal point of view.
Unfortunately, Microsoft is not very helpful when it comes to troubleshooting problems encountered by their customers.  But this seems to be improving with Windows 10.
Microsoft provides little or no help with the error codes on their website
Also, the errors are just listed on their support page with no solutions. Instead, you need to visit their answer page. This is like a forum where it is other users who have encountered issues similar to yours and solved them provide answers to your questions. But you will also find professional help from Microsoft there.
There are concrete reasons for the error code 0x80004005. The user is supposed to figure what exactly is the cause. This can prove to be very changelling in some cases because the error will affect multiple programs at the same time. But in some cases, it can be very obvious. That is why we recommend that you try all the solutions provided in this guide until you find what works for you.
Before we begin talking about how to fix error code 0x80004005 in Windows 10, we need to first know what the error 0x80004005 is.
This error is usually displayed as "Unspecified Error". This means that it is very difficult to point out exactly what is causing the error. This could be very frustrating. The user should first of all try to identify the cause of the error because this is a key step to the solution. Luckily, this error has the same origin in Windows 7 and 10. We have provided you with the causes below:
Windows 10 update: This usually occurs when you are trying to download an update. It occurs specifically in Windows 10. The reason for this error here is corrupted update files. Microsoft will fix the problem automatically when they notice it. But if you want it fixed earlier, then you should follow our solutions.
Microsoft Outlook Error: This cause is common for both Windows 7 and 10. This frequently happens when a new message is received via the Outlook app. The error message says "Sending and receiving reported error 0x80004005: The operation failed." With this error, you won't be able to receive or send emails.
Registry Key Error: This is the most unspecific cause on this list. Problems with the registry key could affect a wide variety of programs, making it hard to determine the cause. A virtual machine is the frequent culprit. The issue also occurs when you are trying to open shared files or folders.
Corrupt .dll file: DLL stands for dynamic link library. It contains data and code which are used by many programs at once. If this error is affecting a DLL file, then multiple programs will be affected.
Solution 1
Windows update errors usually cause lots of problems. In this case, the Windows update files are corrupted. This is not a huge problem because the error can be fixed easily. The error comes from Windows Update Control Panel. Many users have identified the KB3087040 update as the culprit. This update was released in 2015 to fix bugs with the Windows 10 operating system. If you have noticed, updates are mandatory for Windows 10 users. This makes it difficult to avoid this update. It was provided to fix Internet Explorer Flash player security issues. This update is reported to constantly fail when you are trying to download and or install it.
So, to fix this problem, you can download the Windows 10 update directly from the Microsoft's website. It may take lots of time to go through the entire process again, but it will prevent errors popping up when you are trying to update.
You can also run the automatic troubleshooter. Do this, using the steps provided below:
Right-click on the Start or Home button and select Settings.
Select Update and Security.
Click on Troubleshoot on the left panel of the window.
Now, click on Windows Update under the Get up and running option.
Select Run the troubleshooter.
Windows will now check for errors with Windows Update and try to repair them.
Another method is to delete everything in the download folder and try downloading it again. This will help if the downloaded Windows update file is corrupted:
Click on the folder icon on the taskbar to open File Explorer.
Go to: C:\Windows\SoftwareDistribution\Download
Delete all the files found in this folder.
Now, try to download the update again.
Solution 2
If Microsoft Outlook is your main app for messaging, then you will want to fix this problem ASAP, because you won't be able to receive or send messages. Here are some methods to fix this issue:
Disable the anti-malware blocking feature. Sometimes, your anti-virus may send a false positive report, and it will identify normal programs as threats to your computer. This is a common scenario. If you encounter this, try disabling your anti-virus and check if the problem is resolved. If this fixes the problem, then you need to report this to the developers of your anti-virus or change the software completely. Note that operating without an anti-virus could cause more harm than good.
Disable new mail notification. If the problem is not with your anti-virus, then you will want to try this step:
Double-click Outlook on the desktop to open it, then click on Tools from the Menu bar.
Select Option and then choose Preferences.
Now, click Email Options and uncheck the Display a notification message when new mail arrives
Click OK to confirm the changes.
Solution 3
A registry key error. Errors with the Registry keys will cause problems in multiple programs in your computer. To fix this, follow the instructions below:
Press Windows key + R on the keyboard to open the Run dialog box.
Type regedit in the search area and hit Enter.
This will open the Registry Editor.
Now, navigate to the following location: HKEY_LOCAL_MACHINE\SOFTWARE\Microsoft\Windows NT\ CurrentVersion\AppCompatFlags\Layers
If you find that the C:\Program Files\Oracle\VirtualBox\VirtualBox.exe"="DISABLEUSERCALLBACKEXCEPTION' registry key is present, we advise you to delete it and check if the error is resolved. This should fix the error in most cases. If the Registry key is not present, then it is not the culprit.
You can also add  a new registry value in Registry Editor. This will be helpful if the error originated from Shared Folder. Fix it, using the steps below:
Use the above method to open the Registry Editor.
Navigate to the following location: HKLM\SOFTWARE\Microsoft\ Windows\ CurrentVersion\ Policies\ System
If you are using a 32-bit operating system, then create a new DWORD value and name it LocalAccountTokenFilterPolicy. Create a new QWORD value if your machine is running a 64-bit operating system and name it LocalAccountTokenFilterPolicy. Now, set the value to 1 and click OK to save the changes.
Restart your computer and check if the problem has been resolved.
Solution 4
A corrupt .dll file. The 0x80004005 error code will occur if a DLL operating system file is damaged or missing. This is one of the most popular reasons. Hackers could easily corrupt this file to get access into your computer. Here are some steps to follow to fix it:
Click on the Start or Home button.
Go to All Programs and click System Tools under the Accessories option.
Click Disk Cleanup to open a dialog box where you will be able to delete files, which will free up some disk space.
Check the Temporary Internet Files box and click Clean up system files.
You can also do this manually by:
Clicking on the Start or Home button and typing %temp% in the search box and press Enter.
You will find a list of files in the temp folder.
Delete all the files in this folder and also delete them from the Recycle bin.
Now, you should note that data loss is a very common result of the error code 0x80004005. It is important to scan your data after you encounter this error to check if you have lost anything or not.
If you have lost some data, then you can get data recovery software from the internet. We recommend you to download and install Auslogics File Recovery tool.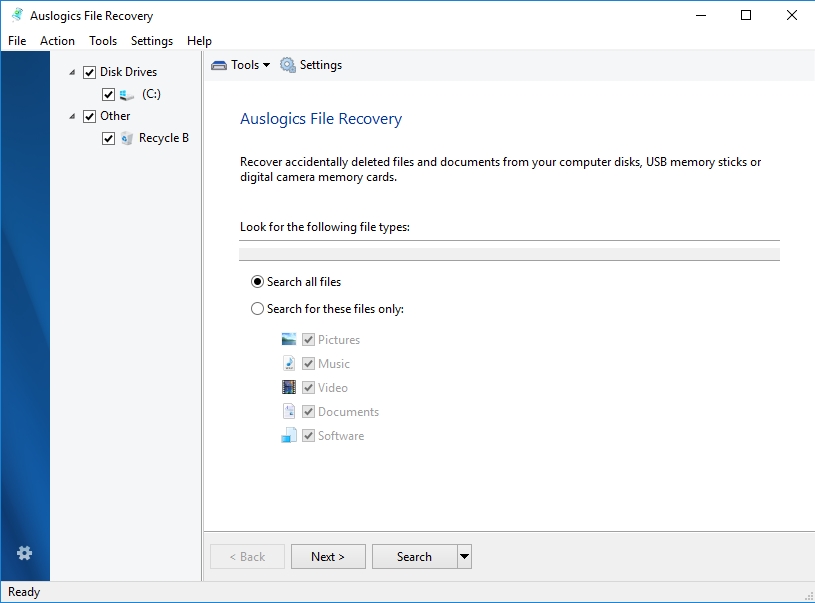 From the above solutions, you should have a broad idea of how and why the error code 0x080005 can affect your computer. Do not be alarmed. Make sure you go through all the fixes.
Recommendation: if you are encountering driver problems on your PC, we recommend you to download Auslogics Driver Updater. This tool will update all you drivers just in one click. It will also provide you with the manufacturer-recommended versions of all your outdated or missing drivers. This will save you a lot of time.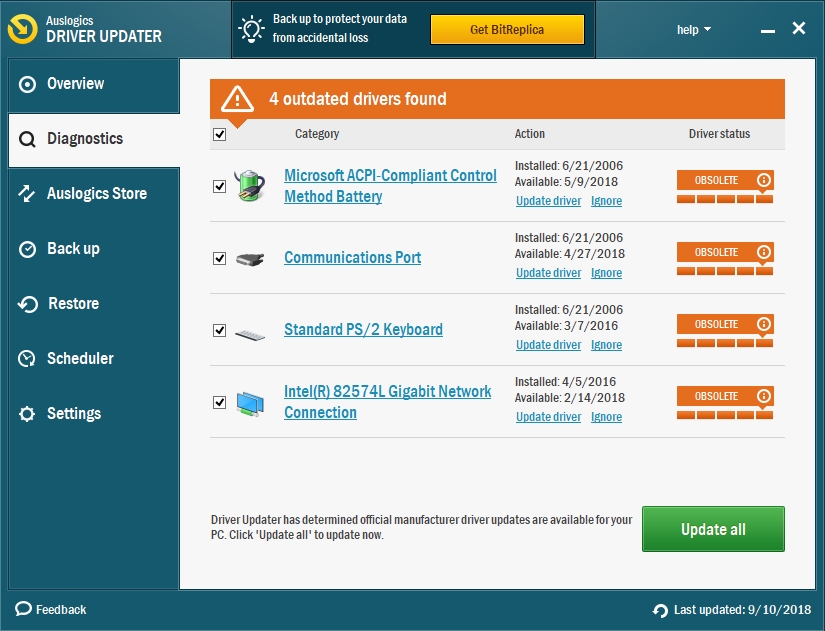 We hope that this article helped you solve the error code 0x80004005. Share it with others who encounter similar problems.
We appreciate your ideas and comments.
We are ready to answer all your questions regarding the above topic.