"How much RAM do I need on Windows 10?" has a special place in the list of the most critical questions you should ask yourself before you purchase a PC. If you bought your device already, then you might be wondering if you have to upgrade its RAM.
In this guide, you will get the answers to almost every question that has something to with RAM, how much of it you need on Windows 10 depending on what you do, and so on.
What is RAM?
A basic understanding of the hardware unit in view should prove useful in our discussions about it. RAM (an acronym for Random Access Memory), also commonly referred to as Temporary Memory, is an essential component that computers employ to store temporary data. The data stored is often quickly accessible by software, and this setup helps speed up various processes and operations.
Look at it this way—the more RAM your device possesses, the more operations you can work on or the more processes Windows can handle without having to compromise on speed and stability. With this knowledge in mind, it is relatively easy to see that the amount of RAM users need on their computers depends on what they intend doing.
To summarize things, if you use your PC to carry out basic operations with limited demands, then you probably do not need that much RAM in relative terms. That is if you spend most of your time watching movies, doing light browsing and executing similar minor tasks.
On the other hand, if you engage in multiple activities at once or carry out intensive operations, then you a need a higher RAM figure than most users. Here, we are referring to people who play a lot of games (graphics-intensive titles) or those involved in other demanding tasks like video editing, and so on.
It is time we moved on and went through the critical variables in specific terms. We will go through some important things you have to consider before you purchase a RAM. We will also find out how much RAM you have (if you do not know the amount already). We will also look at the benefits of upgrading your RAM. We also help you look closer into your usual computing activities to find out if an upgrade is a necessity or just a luxury for you.
Find out your PC's RAM configuration
Before you consider purchasing a new RAM stick, you have to find out and confirm certain things with regards to your current RAM module. You have to identify what configuration is present on your PC (this variable is usually dependent on your PC's motherboard).
If you are lucky, then you might find four dual inline memory module (DIMM) slots for RAM. In other cases, you might see only two. Powerful devices might have a lot more slots than the figures stated.
You also need to find out how much RAM you currently have and identify the kind of RAM that will be compatible with your PC.
How to check the amount of RAM your computer has on Windows 10?
Go through these steps:
Press the Windows button on your keyboard or click on the Windows Start icon, which is always visible on your desktop screen. Click on System from the list of programs and options you see.
You will see how much RAM your system possesses on the Installed memory RAM line.
You can also find out how much RAM is on your device through the Task Manager program and view extra information about the job it does at the moment.
Is your computer running slow or suffering system glitches? If so, it may need maintenance. Try running a dedicated
PC optimization tool
to check the health of your PC and apply the necessary fixes.
Open the Task Manager program through whatever means you are comfortable with. After the program window shows up, you must navigate to the Performance tab.
From the list of items on the left pane, you should see Memory. Click on it to highlight it. Now, you will see the full details about how much RAM your device possesses, the amount in use, and so on.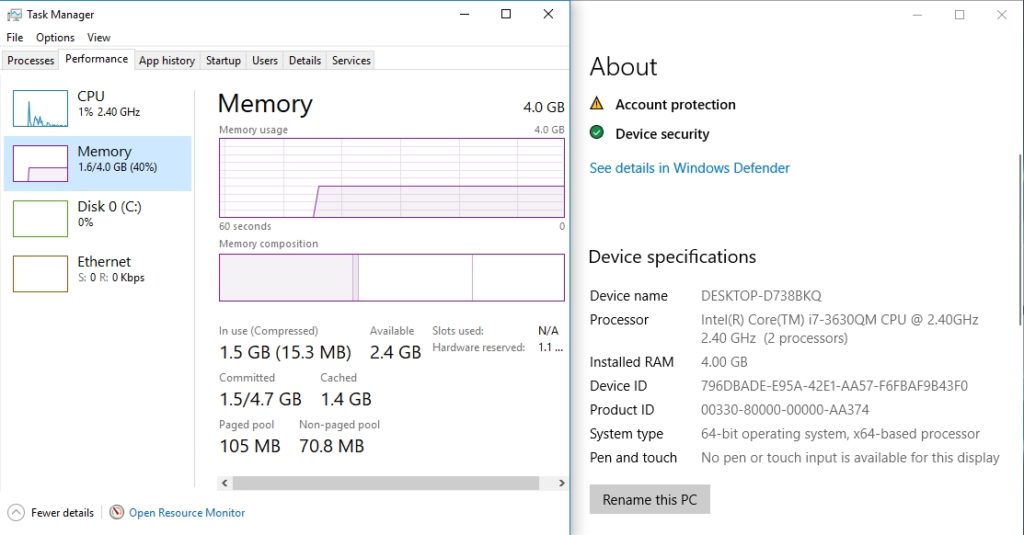 How much RAM is necessary for a Windows 10 PC
?
1GB of RAM:

This amount of memory is the minimum system requirement for the 32-bit version of Windows 10. If you have just 1GB of RAM, then your system has enough space to handle only basic operations like web browsing (with a small number of tabs), word processing, and so on. It will struggle to manage all of them at once, though.

2GB of RAM:

Microsoft set the minimum system requirement for the 64-bit version of its operating system at 2GB of RAM. With this amount of RAM, we can expect you to do pretty much everything at a decent level in most cases. It is difficult to multitask effectively though—you cannot perform a large number of operations at once or you would struggle to switch seamlessly between them once they are up and running.
Nevertheless, you could ignore this guideline from the OS maker and install the operating system build in view on a computer with a lower amount of memory (like 1GB). Then again, in such a scenario, everything would become so slow even when you are just doing routine work or simple activities, so your efforts might prove worthless.
4GB of RAM:

If you plan to use the 32-bit version of Windows 10, then you must avoid buying a system with 4GB of RAM. It is a poor idea because your device (due to memory limitations on such a build of the Windows operating system) would be able to access and use only roughly 3.2GB.
On the other hand, if you are going with the 64-bit version of Windows, then it is all good because your PC will get full access to all the space available on this iteration of the operating system. We consider 4GB of RAM to be an absolute necessity for all categories of users who plan to use their PCs for a prolonged period (like 8 hours).
8GB of RAM:

This amount of RAM is the starting level for users who care about performance for different reasons.

16GB of RAM:

Professionals and people with unique performance demands would consider this territory home for their needs.

Greater than 16GB

: This range is reserved for a person who needs a PC that is capable of handling anything thrown at it in any scenario. Nevertheless, there is a limit to how far such an individual can go.
The Home edition of Windows 10 limits users to 128GB of RAM space. Users with the Pro, Education, and Enterprise editions of Windows 10 have it a lot better. Their build of Windows can support up to 2TB of RAM.
Why should I upgrade my RAM? What do I stand to gain from an increase?
Many people hold a common misconception of what RAM does and the effect associated with an increase in its size. We have to make things clear here. Addition of RAM would not suddenly make everything you do on your computer become faster.
Nevertheless, it will make your system less prone to being slow when you are running numerous operations on it. Therefore, if you have enough RAM already to handle everything you do at an optimum level, then you probably would not notice any significant change brought about by the addition of more RAM.
The capabilities of your processor and graphics card do far more in determining the speed of your PC. If your system possesses a high-end CPU and GPU, but you observe that your system is struggling to open a large number of tabs at once, then a RAM upgrade is a good line of action.
The RAM demands on a computer were less in the past, so older devices tend to have smaller memories than the average ones being produced now. If you have an old PC that has slowed down because it is struggling to meet the demands of this present age, then you might able to get more years out of it by increasing its RAM.
Note: There are other reasons your system might slow down and some of them have nothing to do with your RAM or any other physical component. To fix such issues, we recommend that you download and run
Auslogics BoostSpeed. With the help of this excellent program, you can carry out the most effective software optimization procedures to speed up your PC.
How to determine how much RAM you need?
RAM sticks are not exactly cheap. If you are going to make a new investment, you need reasons to justify that its dividends are going to pay off. The amount of RAM you need depends on what you use your computer for regularly and how long you intend to keep using your device.
If you have plans on purchasing a new PC in the nearest future, then it is better you wait out on a RAM upgrade, get the new device first and see how things go. If you are sure that your current computer is going to remain in your use for a considerable amount of time and you need better performances from it, then that increase in RAM size would do you a whole lot of good.
Productivity:
If your system is running the latest version of Windows and for the most part you engage in activities like word processing, checking and sending of email, standard web surfing, playing basic games or titles like Solitaire, then 4GB should be enough for you. At least, this holds true if you are not performing many of the outlined operations at once. Otherwise, you might suffer performance issues.
Many manufacturers produce a good number of computers with 4GB of RAM as their base model. If you are about to purchase a PC and you plan to use it for several years along the line, then we recommend that you go with 8GB of RAM even if you have no plans on using it to perform demanding or intensive tasks.
A bigger size is the safest bet as RAM demands always increase with time and you would not want to end up in the future (which might be closer than you think) where the amount of memory your system possesses becomes a significant downside.
Gaming and streaming:
Here, we have to place less emphasis on games like Solitaire that run just fine on a budget or low-end PC. Heavy gaming is a different proposition entirely. If you want to play top titles without too many drops in performance levels, then a substantial amount of RAM is a prime requirement.
Sure, some popular titles (like DOTA 2 or Counter-Strike: Global Offensive) are not as demanding as you would expect them to be (probably because their developers made them this way to ensure that they get to as many categories of users with varying PC specs). Such games might let you get away with 4GB of RAM without putting up too much trouble.
Things become complicated with other top titles (like Fallout 4 or Witcher 3). Your computer will struggle to run such games if it does not have at least 8GB of RAM. If you are one of those folks we can refer to as "heavy gamers", then you surely must understand how important it is for your system to have enough RAM for current games or even future releases.
If you belong to the community of people who play games and stream themselves while doing it or performing other activities at the same time, then you must go with at least 8GB RAM regardless of what game you play and stream or how you go about it. After all, there is more demand on your system as it has to deal with the game running and at the same time, handle the streaming operations for your video.
We recommend that you get at least 16GB of RAM. If your pocket allows it, then you should be aiming for 32GB. Too much RAM can only be a good thing in your case.
Video and photo editing:
If you do most of your work on photos with a little bit of video stuff thrown into it, then 8GB of RAM would probably prove sufficient for you. However, if the vast majority of your editing tasks have something to do with video (especially HD video), then 16GB of RAM should be your aim. It all depends on your workload and the frequency of its peak demands.
To be fair, a good number of editing apps for media activity would probably do enough to run on systems with RAM space lower than the stated values. Regardless of this, we always expect that the user will become frustrated due to the speed of operations and poor all-around performance and start seeking an upgrade. If you are doing a one-time job, then the projected scenario may not apply to you.
Multitasking:
Multitasking is a combination of two or more activities from the ones we outlined above. Even if you tend to engage in simple individual tasks, you will need to be able to jump back and forth between programs without experiencing much trouble.
The needed flexibility is a luxury that you can afford only on systems running at least 8GB of RAM. If you plan to go beyond the fundamental limits of doing many things simultaneously, then 16GB should be your priority.
Other things to note before choosing a RAM stick:
RAM sticks are not equal in terms of their attributes or abilities. The size of a RAM is just one variable you have had to worry about before now. There are others things like the speed of the RAM, and this is also a valuable property. The maximum bandwidth obtainable from a RAM is very dependent on the frequency of that RAM.
By frequency, we meant the rate of data transfer. If you want your system to be capable of moving data back and forth swiftly at once, then you need to look out for a RAM with a high frequency.
Latency is defined in terms of how fast your RAM realizes it needs to act when your processor calls on it. As the frequency of a RAM increases, we can observe increases in some forms of latency like Column Access Strobes (CAS) latency while the value for others like True latency more or less remains the same.
Most firms that produce RAM have achieved significant improvements in all the stated capabilities with high-speed DDR4 RAM modules in place of the older DDR3 RAM sticks, which tend to have roughly half the speed of their newer counterparts. You must check out the latest RAM modules with high frequencies if you plan on doing any high-performance or incredibly demanding task on your PC.