Far Cry 5 broke some franchise records at its launch not so long ago (March 27, this year). It somehow ended up as the bestselling title in the month of its release. More impressive was how it took up the position of the bestselling game of the year 2018 (so far) because it makers released it almost at the end of the 3rd month of the year—It has not even had enough time on the market.
Apparently, the game has had an incredible journey. When users are not experiencing any problems with Far 5, they find it easy to label it an excellent title. And for the most part, this is true: The game is undoubtedly fun to play. Then again, bugs in Far Cry 5 can severely affect gameplay and distort reality to a significant extent.
User reviews of this game are somewhat mixed. Compared to the previous iteration of Far Cry (Far Cry 4), Far Cry 5 is not covering itself in glory. It is getting some negative reviews due to performance issues of which there are many. Not surprisingly, game critics (ignoring performance bugs) have rated it to be a decent piece.
Ubisoft (the game developer) itself has owned up to some of the problems, provided some workarounds and promised to do more in resolving the performance inconsistencies affecting many users. Naturally, gamers would hold them to this promise, but we believe many people might end up disappointed because not all existing game problems are due to bugs in the application itself. Some of them are a result of the varying system configurations or personal settings and differences in device hardware.
Repeatedly, we have seen such scenarios in which developers left out gamers in the cold on issues affecting only a specific group of users or customer service being clueless when trying to provide help. Therefore, users must investigate such problems themselves and apply the fixes required at an individual level.
Before you go through the fixes, you must check that your PC meets the minimum or recommended system requirements to play the game. According to Ubisoft, here is what you need or must have at least:
For the Minimum Configuration:
  

The game requires both a 64-bit processor and Windows operating system

  

The specific operating system required: Windows 7 Service Pack 1, Windows 8.1, Windows 10 (64-bit versions only)

  

CPU or processor: Intel Core i5-2400 @ 3.1 GHz or AMD FX-6300 @ 3.5 GHz or equivalent

  

Random Access Memory (RAM): 8 GB

  

Graphics card: NVIDIA GeForce GTX 670 or AMD R9 270 (2GB VRAM with Shader Model 5.0 or better)

  

DirectX support:  DirectX Version 9.0c and later

  

Network or connectivity: Broadband Internet connection

  

Storage: 40 GB free space
For the recommended configuration:
  

The game requires both a 64-bit processor and Windows operating system

  

The specific operating system required: Windows 7 Service Pack 1, Windows 8.1, Windows 10 (64-bit versions only)

  

CPU or processor: Intel Core i7-4770 @ 3.4 GHz or AMD Ryzen 5 1600 @ 3.2 GHz or equivalent

  

Random Access Memory (RAM): 8 GB

  

Graphics card (GPU): NVIDIA GeForce GTX 970 or AMD R9 290X (4GB VRAM with Shader Model 5.0 or better)

  

DirectX support: DirectX Version 9.0c and later

  

Network or connectivity: Broadband Internet connection

  

Storage: 40 GB free space
For the advanced configuration (4K 30 FPS CONFIGURATION):
  

The operating system must be the latest Windows 10 (64-bit version only)

  

CPU or processor: Intel Core i7-6700 @ 3.4 GHz or AMD Ryzen 5 1600X @ 3.6 GHz or equivalent

  

Graphics card (GPU): NVIDIA GeForce GTX 1070 or AMD RX Vega 56 (8GB VRAM with Shader Model 5.0 or better)

  

Random Access Memory (RAM): 16GB

  

Resolution: 2160p

  

Video Preset: High
For the other advanced configuration (4K 60 FPS CONFIGURATION):
  

The operating system must be the latest Windows 10 (64-bit version only)

  

CPU or PROCESSOR: Intel Core i7-6700K @ 4.0 GHz or AMD Ryzen 7 1700X @ 3.4 GHz or equivalent

  

Graphics card (GPU): NVIDIA GeForce GTX 1080 SLI or AMD RX Vega 56 CFX (8GB VRAM with Shader Model 5.0 or better)

  

Graphics card (GPU): 16GB

  

Resolution: 2160p

  

Video Preset: High/Ultra
In theory, the Far Cry 5 application is supposed to detect your system specifications and calibrate its settings for you. If your system is not in its best state, you should download and run the ultimate performance boosting application Auslogics BoostSpeed. This remarkable application would carry out series of operations necessary to tune up your PC for optimal level performance.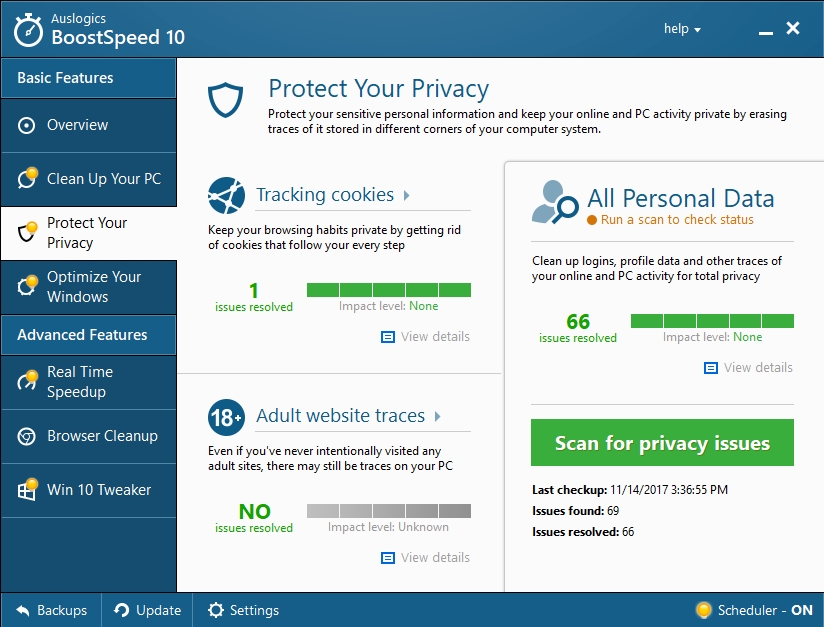 If your computer does not meet the stated minimum requirements at any level, the fixes in this guide might struggle to help you because your issues are probably self-generated.
Since Far Cry 5 is still fresh, Ubisoft regularly releases updates for it. Always check for the latest version of the game and install it. The game developer might have patched up your issue already in the newest releases.
Now, we would try examining almost every known Far Cry 5 bug and explore some fixes to the presented problems. You are probably experiencing at least one of the issues below if not more.
How to fix System does not meet the minimum requirement error:
First, are you undoubtedly sure that your computer is up to the task? Check your hardware thoroughly. In fact, your PC specification is just one part of what the game needs. Check that the software your system is running corresponds to the requested version of Windows.
If your system meets or exceeds the stated requirements, then you have received this message in error, and you have every right to be mad at it. The game is apparently not reading your system's hardware and software correctly.
Running the game in some compatibility mode might be a quick way of working around the issue:
Press and hold the Windows button on your keyboard, then hit the letter E key to open File Explorer

Once the window opens, navigate through your system disk to the folder containing Far Cry 5 files
Locate its executable file, right-click on it and select Properties. A new window should pop up
Navigate to the Compatibility tab, tick the checkbox for Run this program in compatibility mode for, and select Windows 7
Click on OK to save the changes you just made and exit the open window
Now try to launch the game and see if things work out well this time
How to fix Far Cry 5 crashes:
Game crashes belong to the most troublesome group of problems people can experience. Far Cry 5 crashes are no exception to this rule.
Users reported experiencing the issue in different scenarios and to varying degrees. Thus, a wide variety of fixes is available for multiple users. A good number of users need to know how to fix Far Cry 5 crashes on launch; others need instructions on what to do when the crash occurs long after they have started playing the game.
Some users stated that Far Cry 5 crashes every 5 minutes after they open it. Others reported that they had been able to manage 30 minutes of gameplay.
Almost all categories of users said that Windows returned to the desktop screen after the issue occurred. Nevertheless, at times, the crash might be more severe and ends up forcing a restart on some computers without even program warnings or error messages on Windows.
 If your system has an AMD Phenom processor, then you, unfortunately, belong to the select group of users with CPUs which cannot run Far Cry 5. As at now, there is no fix or workaround for the issue. If you already bought the game, you should request a refund.

 Ubisoft has bundled a fix for several issues like this in a recent Far Cry 5 release. Download the update and see if your problem stops bothering you. If you currently cannot see the update, restart Steam.

 For users still experiencing issues, right-click on the Windows start icon and open Device Manager. Find your Graphics drivers from the list and revert to the old drivers. Restart your system when prompted and try to play the game

 Some users confirmed that the latest game ready drivers their GPU makers provided had been the cause of Far Cry 5 crashes and they had solved their problems by bringing back the old drivers. For example, users with an NVIDIA card returned to 391.01 or 391.24 versions of their drivers because version 391.35 was affecting them.
If the rollback to the previous driver fails to help you, then an update of your GPU drivers is in order. In fact, we recommend that you update all your device drivers to ensure flawless interactions between Windows and your hardware devices. Since there are so many items to upgrade, the manual process of updating drivers is far from being a feasible option in this case.
We recommend that you download and run Auslogics Driver Updater to upgrade all your device drivers conveniently and safely. This method is as easy as it gets when it comes to ensuring that your system has the latest manufacturer-recommended versions of the necessary drivers.
 Ensure that Far Cry 5 is running with your dedicated graphics card. Disable your integrated GPU if need be.

 Perform a fresh installation of Far Cry 5 and the platform on which you are trying to play it (Steam or Uplay). This action might help to clear up any significant errors or corrupt data on your drive.

 You should consider cleaning your registry, using an excellent tool like 

Auslogics Registry Cleaner

, which is FREE to use. 

 Run the game in compatibility mode. We provided Instructions on doing this earlier in the article (First problem). Perform a similar operation on Farcry5 Launcher and ArcardeEditor.
How to fix Far Cry 5 black screen problem:
Some users were unable to play the game after successfully downloading and installing it. They see a black screen each time they open Far Cry 5. There have been reports of this exact issue involving other games, so some experienced gamers might be used to working around it.
 If you are running an updated Windows, using the latest device drivers and your system possesses all the necessary libraries, then the conflict between and within programs is the likely cause of your issue. Close all open programs. Do not run even performance monitoring software. For example, frame rate counter.

 Disable your Antivirus if possible. Create exceptions for Far Cry 5, its executable file, Steam and other necessary programs in your security software. Add them to any whitelist applicable to ensure that robust applications do not interfere with the operations of your game.
How to fix Far Cry 5 lags and performances issues:
Ubisoft claimed they had optimized the game excellently, so they do not expect you to observe Far Cry 5 FPS drops or stuttering if you are doing everything right. But we know better.
Far Cry 5 is a top title with high demands, which most PCs can barely meet. Even if your system has a ridiculously powerful graphics card, you might experience glitches for unknown reasons. It is due to no fault of yours. After all, the game is still relatively new. Do not be blinded by its success and great acclaim. Many bugs and performance setbacks would be absent in future releases.
 Currently, you might want to consider lowering your current settings and see if the issues are no more. Better graphics is not worth the trouble if you cannot even enjoy the game. Compromise a bit. Alter the in-game settings as much you can until you stumble on the appropriate configuration for your device. Turn off VSync in fact.

 You might be able to get more juice from your system for your game by increasing the priority of the program:
Open Far Cry 5 and minimize its window. Right-click on the Windows start icon and select Task Manager from the list of useful applications or options

Once the required window opens, navigate to the Details tab. Locate Far Cry 5 or its important executable file. Right-click on it and select Set Priority from the available options
Choose Above normal or High. Whatever you do, do not choose Real time
 In Task Manager, you can also check for other programs or unnecessary processes that are currently consuming precious system resources. Close such applications or kill any unwanted tasks ongoing to free up your system juice for Far Cry 5.
How to fix controller issues on Far Cry 5:
Some users connected a controller to play the game but discovered that it was not working at all or the game responded very poorly to actions. Do this:
Remove the controller, try to reconnect it to your device through the USB connector or try another port. Perform all these actions while the game is running

If the above failed to work, force close the game, connect the controller and finally, you are free to start the game now.
 If you are still experiencing problems with the controller, check that your system has the necessary drivers for this input device. If the required software is missing, you will have to search for it, download and run it. We would instead you allowed

Auslogics Driver Updater

do the job for you in an efficient and risk-free manner

 If your issues persist even after you have updated your drivers, then an underlying problem is likely. Note that some gamepads or controllers are not compatible with specific video games. You cannot do much in such a scenario.
Here is a list of gamepads or controllers that should work well with Far Cry 5:
  

Microsoft Xbox 360 controller

  

Microsoft Xbox One controller

  

Xbox One Elite Controller

  

PlayStation 4 Controller

  

Steam Сontroller
The list above is not necessarily an exhaustive one though. Some unknown or unbranded controllers might play your game fine. All you have to do is go into Steam settings (and the game settings itself) to adjust the necessary variables.
 Some users were able to solve their controller issues by opening Steam settings, unchecking all the controllers there, exiting the Steam application and running the game from Uplay.
How to resolve Unable to connect to Uplay problem:
This bug is apparently a connectivity problem. You might want to look into the strength of your internet connection. Do a speed test if possible. High download and upload speeds coupled with low ping values are nice properties which indicate that you have an excellent internet connection.
 If you use a Firewall or a similar setup, try disabling it and see if the game can reach the necessary servers. If issues persist, consider restarting your router.

 If you are sure there is no problem with the internet on your end, you can wait and try again later. There is a good chance that Ubisoft servers themselves might be to blame for the connectivity problems, which they will undoubtedly resolve eventually.

 Some third-party applications are always running in the background unknown to you. Some of these programs use your internet connection and limit your bandwidth when you are trying to play Far Cry 5. Go to Task Manager, identify these apps and disable or uninstall them.

 We can label Windows 10 a culprit these days. It has a bad habit of downloading updates unexpectedly. Open the Windows update menu and check if there is an ongoing activity. If you find out that Windows is fetching updates, you can either delay this operation and return to play Far Cry 5 or wait for its completion before you continue with your game.



How to fix Far Cry 5 not launching problem:
This problem springs up unexpectedly, especially for other games running on the Steam platform. You must ensure that you are running updated versions of the necessary device drivers.
 Check that you have no open windows or resource-hungry programs running that can disturb Far Cry 5 operations. For example, your antivirus or antimalware application.

 Run the game as an administrator. Far Cry 5 might not be opening because it lacks administrative rights to execute necessary actions. Running the game as an administrator is a step in the right direction. Open File Explorer. Navigate to the game folder. Locate the game or its executable file. Right-click on it and select Run as administrator

 You can try running the game in Windowed mode too and see what happens.
How to fix Far Cry 5 Upc.exe Error:
We have no idea on the causes of this error message, but we know things that you can attempt to stop seeing it:
  

Verify the game files

  

Reinstall Uplay or run the game from Steam instead
How to get rid of Far Cry 5 audio problem:
Audio issues have been a reoccurring disturbance on Far Cry titles (as far back as Far Cry 3).
 Ensure that you have the latest drivers for your audio devices

 Force close the game and restart it. Check if your audio works fine now

 Open your system settings menu: right-click on the Windows start icon and select Control Panel from the list of programs and options. Navigate through the display and sound options. Click on Audio output. Select Stereo uncompressed. Save the changes you have just made. Exit your current window. Return to the game and see if the sound problems persist

 If your audio is out of sync in cutscenes and dialog, try switching to borderless window mode and see if this fix works for you.
How to fix Disk write errors on Far Cry 5:
Of course, the obvious fix to this issue is you deleting some files to create space on your hard drive. However, not all is as it seems. Some users still get this error message even when their computer is not lacking free space. Therefore, our efforts given to this problem would go towards assisting individuals in such unexplainable scenarios.
 It is likely that your disk is heavily fragmented. You can attempt using the built-in system defragmenter, but it might not deliver the result you are expecting because it is a simple program. Consider downloading and running an advanced defragmenting tool like 

Auslogics Disk Defrag

. This application is FREE.
How to fix Far Cry 5 game security violation:
The fixes for this problem are similar to the ones we outlined for the issue of Far Cry 5 not launching.
 Check for conflicting applications and processes. Verify the integrity of game files: carry out this operation for the Steam or Uplay application.

 Clear the Uplay or Steam cache.

 Add the Far Cry 5 app, Steam or Uplay program to your whitelist in security applications or create exceptions for them. Disable your antivirus or security application if need be.

 Change your system language to English, restart Windows and open the game.

 If all else fails, perform a clean boot, launch Far Cry 5 and see what happens.
How to fix Far Cry 5 crashes after cut-scenes:
Some users reported crashes after trying to avoid the cut-scene at Casualties of War Quest or Victim of war. There is no proven way of resolving this issue yet.
 Try not to skip the cut-scene and see what happens. Time or patience is likely to be all you need. This requirement also applies if Ubisoft fixes this bug in the future.
Users wrote about these other issues, which are problems occurring in the game, but unfortunately, there are no proven fixes for them yet. Regardless, we decided to include a short list of these problems to make people understand that they are not alone regards such disturbances in the game.
Ubisoft would probably help to resolve them by creating the required patches and providing them to users through updates.
  

Field of view (FOV) problem for those using multiple monitors: The field of view remains locked at a particular value ( usually 60)

  

Error messages: Bookworm-9F336D1 error, which appears in Arcade mode when users try to download a match. Bookworm-2CEA2BDC error, which accompanies a loss of connection

  

The Arcade Editor itself crashes sometimes

  

Missing mission tracker. This problem confronts users mostly after their characters die

  

Far Cry 5 getting stuck in windowed mode: Strange enough, running the game in windowed mode is the required fix for a host of problems. The only downside to this action is the fact that users have to compromise on their display resolution and worse, they might not be able to revert to the default settings.