"If you can tune into your purpose and really align with it,
setting goals so that your vision is an expression of that purpose,
then life flows much more easily."
― Jack Canfield
First of all, let us explain what an ISO file is. It is like the physical CD/DVD which is inserted inside a DVD player, a game system, or even a CD/DVD drive to start a program. A physical disk has been digitized and put inside your computer as a file. Not the files that are on the disk, but the disk itself has been converted into a file which is stored in your system. Even though this disk is now virtual, it still works the same way as the physical disk. You can't just open the file disk with any kind of File Explorer. It also needs a CD/DVD drive which is responsible for reading disks. Therefore, your operating system will need a virtual drive to run ISO files without any issues. The reverse of converting your physical disk to an ISO file is also possible, i.e., converting an ISO file to a physical disk. If you prefer to keep your files in the physical form, then you will be using this process often.
Downloading and installing Windows 10 or any other Windows operating system has been made easy by the introduction of ISO files. This solved the problem of missing disk or even scratched or broken disks. With this method, you can download your Windows 10 operating system and keep it in a safe place.
What if Windows 10 ISO file doesn't work?
In this article, we are going to show you how to fix Windows 10 ISO file not working. If your Windows 10 ISO file is not working, we suggest that you check the following:
Make sure that the Windows 10 ISO file download is completed.
Make sure that your CD/DVD drive is working normally.
Make sure that the disk you are using to burn the Windows 10 ISO file is new and compatible.
When all that is done, we suggest that you go back to Microsoft's official site and download the Media Creation tool from scratch.
First of all, you need to re-download the Windows 10 ISO file
Go to Google and search for the Windows 10 ISO file and open the first link. This will redirect you to the Windows 10 official website.
Now, under the "Do you want to install Windows 10 on your PC?" option, click Download tool now. This is a media creation tool. So, save this tool and let it finish downloading.
After the download finishes, double-click on the tool to run it.
Now, select Create installation media for another PC and then click Next to proceed. Choose your Language, Architecture, and Edition, then click Next.
In this window, select ISO file as your media to use and click Next. You will be prompted to choose the location where you want the Windows 10 ISO file to be save.
Choose the location and let the file finish downloading. This may take up some time, depending on the speed of your connection.
Once the download is done, you can use a third-party tool to burn the Windows 10 ISO file onto a CD/ DVD.
Your Windows 10 ISO file should work fine without any issues now.
Alternatively, we suggest that you use a USB bootable drive instead of trying to burn the file onto a disk
To do this, plug the USB drive into your PC, make sure that there are no important files in it because it will be formatted. Now, run the media creation tool you downloaded from Microsoft. In the process, instead of choosing ISO file as the media you want to use, select USB flash drive. While waiting for the process to complete, you can get a cup of coffee or do some other thing. Do not interrupt the process or unplug the USB drive until it is finished. Now, you have bootable media which you can use to install Windows 10 on any PC.
Pro tip: outdated or missing drivers are one of the many reasons why you encounter unknown errors in your system. Drivers play a vital function in the smooth running of your operating system, and without them, your hardware devices will not be able to communicate with Windows. To avoid this problem, we suggest that you download and install Auslogics Driver Updater. This tool is easy, fast and reliable. You will be able to install all your drivers in just one click. It will scan your system and update all the drivers to their latest versions. You do not need to be worried about downloading and installing the wrong driver.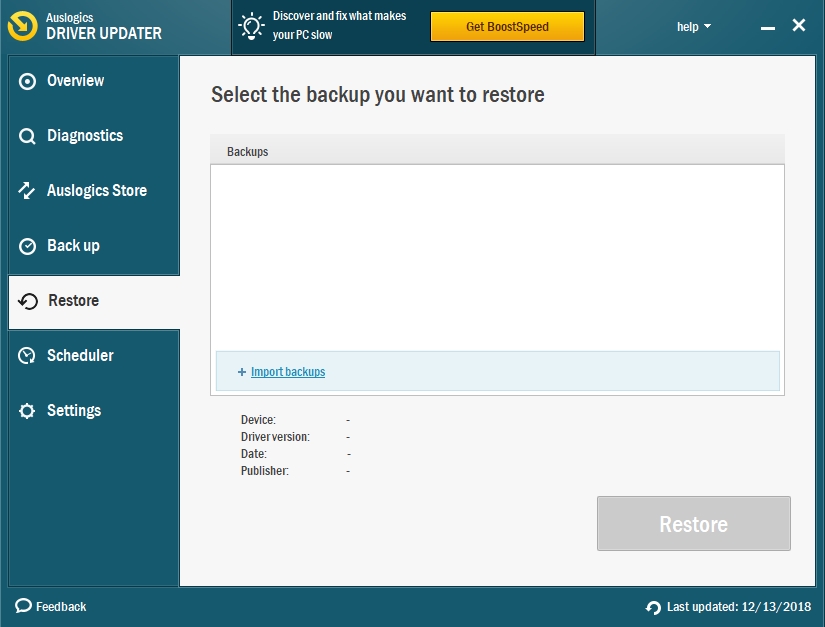 We hope that this article has solved the Windows 10 ISO file problem. Share it with others who have similar issues.
We appreciate your ideas and comments, and we are ready to answer all your questions regarding the above topic.