So, of all the available options for your browser, you have picked Opera. A great browser in many respects, and also one of the few that actually provides the user with a built-in VPN. It may seem as a prudent addition to the browser, however, in some cases, the complexity of the software can become more of a burden, especially if you are getting the message that the VPN is temporarily unavailable.
In order to understand better the issue that you are having with your Opera browser, let's dig in and figure out what a VPN is. The abbreviate stands for Virtual Private Network. And what this software does is create a secure channel for your device. This is a handy tool to protect your computer and important personal information from hackers, spying software and malware.
A VPN can also:
hide your IP address and location. If you live in a country where some content is restricted, you can still access it, after utilizing the VPN feature
encrypt your communication. This is another level of protection that is important when you are traveling and using free Wi-Fi hotspots. Your activity cannot be monitored if you are using a VPN
get access to streaming content on all of your devices. By connecting them to one network, you will be able to provide a higher-speed connection.
So, as you can see, a VPN can be very helpful. Unfortunately, Opera's VPN doesn't always work for some users. The browser's prompt box will say "VPN is temporarily unavailable" but won't offer any possible fixes. In this article, we will try to provide the means to correct this issue.
Solution 1. Try switching you VPN Off/On.
Open the browser and find the VPN button in the search box, click it to toggle the VPN off and back on again.
Solution 2. Clear the cache.
Sometimes the cache can be the issue with Opera's browser. The accumulation of numerous files in the cache folder means that one of these files could be a malicious program that has installed itself on to your computer. To avoid this scenario, always clear the cache and install a tool like Auslogics Anti-Malware. It will scan your device for malware and probably save you a lot of time when dealing with different tweaks of the system.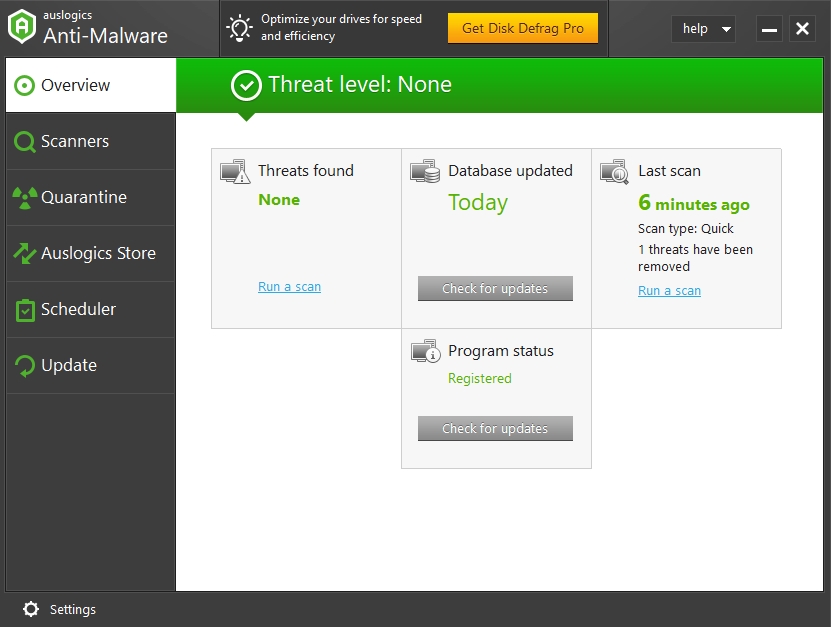 Solution 3. Turn off any extensions.
These might be helpful in your everyday routine, but they are confusing the VPN connectivity. Make sure that you are not the victim of miscommunication and temporarily turn off all Opera extensions. After you find out if they were causing the issues or not, you can make the decision to get rid of them completely. Follow these steps to turn off extensions:
Step 1. Go to Menu and select Extentions>Extentions.
Step 2. You will see a tab and extensions that can be enabled on the left side.
Step 3. Press Disable and see if your VPN works.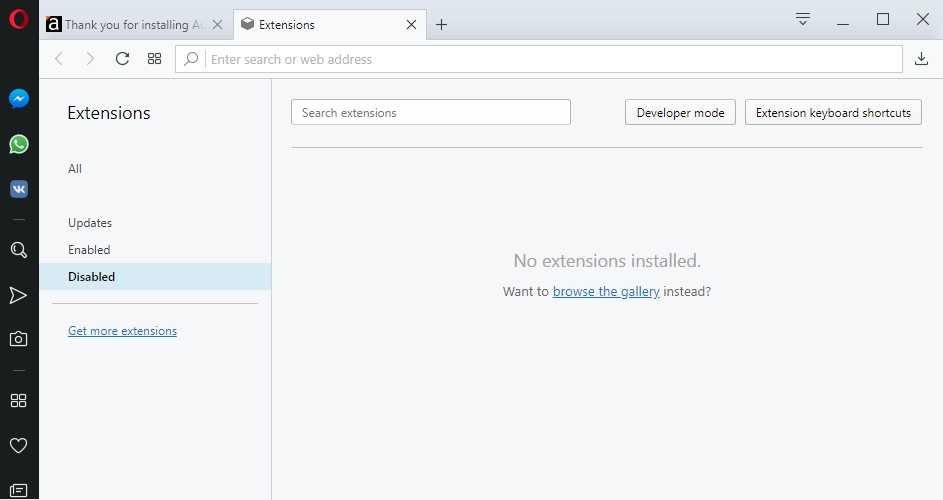 Solution 4. Switch your firewall and antivirus off.
It's a temporary solution, but if you have recently updated a version of your antivirus software, it can be colliding with Opera's VPN and causing it to crash. Check the manual for your anti-virus or firewall to learn how to disable or turn off any features.
Solution 5.
If you are not in the mood to expose your computer completely to the open web, we suggest taking a pre-emptive measure, and instead of switching the anti-virus off, add the Opera VPN to your anti-virus exceptions list. You can find the Exclusion tab in the settings of Opera and add this URL: https://www.operavpn.com to the list of exceptions.
Solution 6. Update your browser.
Some users neglect to acknowledge that their browser  is just like any part their computer and needs an update now and then. To check if you are indeed in line for an update, you should click the Menu button and open the About Opera tab. This will trigger the process of the download of available updates, and after they have been downloaded, all you need to do is press the Relaunch Now button. Chances are, the developers have already found the reason why the built-in VPN didn't work.