Believe in yourself. You are braver than you think,
more talented than you know,
and capable of more than you imagine.
― Roy T. Bennett
For Honor is the kind of game players are always anticipating to play. It brings to life medieval combat like never before. This third-person action game is very engaging, and it is a strategic complex fighting game, with its team-based and solo modes, all built on the most flexible and technically complete melee combat system you will ever play. Above all else, For Honor lives and dies as on its fighting. It has an elegant directional, attacking, and blocking system that is easy to grasp but demanding to master. You need to guard incoming attacks to the right, left, or top, and to retaliate when there is an opening. That sounds simple, right? Well, it isn't.
Each of the twelve heroes is divided evenly across three factions; Knights, Vikings, and Samurai have deep, unique moves set that all play out through a complex web of dodges, parries, counters, light or heavy attacks, combo chains, fades, recoveries, unstoppable attacks, stunts, throws, kills using the environment, and of course greasily executions. That intricacy is on full display in the 1V1 dual and 2V2 brawl modes. Some of them get lost when you crank it up to the 4V4 dominion, elimination, and skirmish modes where two teams battle over control points or just trying to murder each other. Here the balance of the combat often ends up in messy brawls, and if one team loses a player, it becomes very difficult to win, though it is possible and honestly exhilarating to overcome 3-on-1 battles with skillful use of the revenge mechanic to even the odds; the team with the greater number wins most of the time. Facilitating all this is For Honor's usually consistent net code that only occasionally gives a noticeable advantage to any one player. While the peer-to-peer structure does demand host migration when a player drops or exits from a losing game, this void is filled by an AI player. For Honor's multiplayer is not a game to get in and out of. It requires commitment and a hefty portion of patience to learn each of the heroes. And upgrading them into these awesomely armored warriors of your dreams takes an equal amount of patience because the in-game currency (Steel) is rewarded sparsely after each completed march. But there is nothing in For Honor that cannot be bought by just spending time playing the game. The other side of progression is hero leveling, where experience is slowly earned by completing matches and daily or weekly objectives. Both sides of progression are stingy, but the end result is unlikely that two heroes will be exactly alike, and it is a much-needed little tangible reward in a game where the real progression comes from the progress of getting better with a particular hero.
For Honor's single player campaign is a double-edged sword
It is a good environment to get to know your hero and learn the combat system, but you will not enjoy a second playthrough once you have completed it. On the one side, the story is largely nonsensible with characters that are totally forgettable, on the other, the gameplay streams together with the same lock-on and fighting experience found in the multiplayer mode against the AI with the exception of the boss encounters. But the settings, besieging a fort, riding a horse, scaling a wall, shooting a Ballista, fighting an elephant, or just taking out an army of soldiers with abilities, helps to mix up the roughly 5 to 8-hour campaign into an enjoyable distraction from the multiplayer mode. There are frustratingly hidden objectives to find within each mission just to fill up the time. But the added difficulty levels, including the hardest realistic mode which removes the lock-on setting, add some small degree of challenge.
With all this said, many users complain that they are unable to enjoy all the positive aspects of this game due to various reasons. Lots of gamers have sent negative reviews to the game's official Steam page because they are unable to connect to duals and different modes.
Ubisoft is one of the largest game producing companies today, and it is unlikely for them to allow this many issues with a game, especially when it comes to connecting with other players and playing online. We believe that they are working on the fix for these issues.
As we are waiting on Ubisoft to provide solutions to these problems, we advise you to look at the fixes we have listed in this article. They could help you deal with so many of the frustrating errors.
Here, we are going to show you how to stop For Honor crashes in Windows 10
These are some of the complaints that users have sent to us and other forums:
How to fix For Honor servers unreachable – This error may occur due to your antivirus. You may be able to fix this issue by disabling your antivirus or letting the game through your firewall.
How to fix For Honor matchmaking failed – This message will appear if the required ports are not forwarded. You can fix this by forwarding the required ports from your router's configuration.
For Honor 7-00000005 – This is a common error that you will encounter in For Honor. When it occurs, try resetting your hosts file to default, then check if the error has been resolved.
For Honor connection error 0006000037 – To fix this error, you need to first understand what connection error 0006000037 is. This is an error you encounter when the UPnP feature on your router is disabled. So, to fix it, you need to enable this feature.
For Honor connection error has occurred, and the session has been lost – Fix this problem with the solutions we provide to you below.
We advise our readers always to go through all the solutions until you find the one which works for you. Make sure you follow the instructions carefully.
Table of Contents
Uninstall the game, using UPlay, and delete the folder
Check your antivirus
Check your ports
Restart your router
Enable UPnP
Reset the hosts file
Flush your DNS
Make sure that third-party apps are not interfering with your game
Solution 1. Uninstall the game, using UPlay, and delete the folder
Players who have encountered this issue before suggested that reinstalling the game is one of the best solutions. You need to first uninstall the game from UPlay, then install it again. Furthermore, before reinstalling the game, you need to delete the For Honor folder too. This folder contains remnant files which were not deleted together with the game and may cause the same issues when you reinstall it. The size of the folder is about 1 GB. Once everything is complete and your game has been reinstalled, try running it again to check if the problem has been solved.
Solution 2. Check your antivirus
Some antivirus tools, in this case, can act as a two-edged sword, i.e. they protect you from viruses and block some of your game files, which makes it impossible for you to enjoy the game. First, you will have to include For Honor in the list of exceptions in your firewall and antivirus. This procedure is different for each antivirus, and you will have to consult its guide to check how it is done. If you noticed that the game is blocked by your antivirus, then you will have to disable certain features to see if it resolves the issue. If it does not, then you will have to disable the antivirus completely. If this step works, we advise you to switch to another antivirus because you cannot leave your PC unprotected. We recommend that you download and install Auslogics Anti-Malware.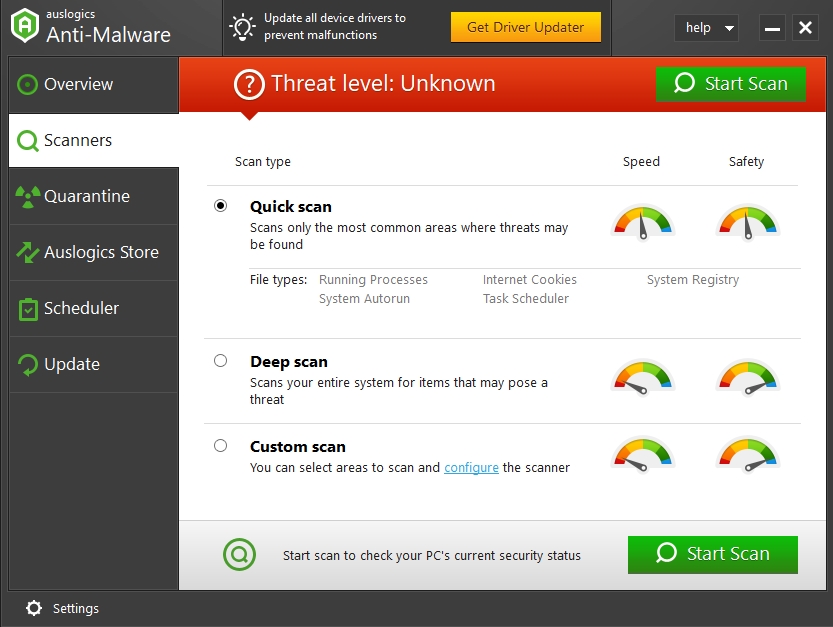 This tool will protect you from all kinds of viruses, including the most recently created ones, because its virus definition updates on a regular basis. It sets up regular scans of your PC to make sure that there are no viruses lurking around in your system. You will receive round-the-clock protection of your system files, and this tool will not interfere with your game files or settings. So, you will be able to play your games free from errors and crashes. Here is how to download and install it on your system:
Follow this link to go to the download page. Once the setup file is downloaded, run it
This will open the Auslogics Anti-Malware installer. Follow the instructions provided there to install it on your system. It will not take a lot of time to install
Once the installation is complete, the tool will automatically begin scanning your PC for infected files. When it is finished scanning, you will see the list of viruses or infected files in your system
Delete them, and your system will again be free of all sorts of infections
Solution 3. Check your ports
Forwarding ports on your modem may prove to be the method with solves this issue for you. The ports provided below have proven to be the most successful in solving issues with For Honor:
Uplay computer:
TCP: 80, 443, 13000, 13005, 13200, 14000, 14001, 14008, 14020, 14021, 14022, 14023 and 14024
Game Ports:
Inbound UDP: 3075
Solution 4. Restart your router
Since your router is involved in providing you with an internet connection, problems with an internet connection in your game may be associated with the router. To fix this, you will need to restart the router. Turn it off and wait for about 20 seconds, until all the lights on the router are switched off, then turn it on again. When your connection has been established, try to run your game again and check if the issue has been resolved.
Solution 5. Enable UPnP
Turning on the UPnP feature can help you fix the issues you are facing in For Honor. UPnP means Universal Plug and Play, and this feature helps to forward the required ports automatically. This feature can be enabled by opening your router's configuration page; look for the UPnP feature and enable it. You will find how to do it in your router's manual.
Solution 6. Reset the hosts file
The hosts file may also be the reason for the connection issues you are facing in For Honor. Sometimes third-party programs stop the hosts file from connecting to the game's server. Resetting the hosts file may fix this problem.  Once this is done, check your game if the problem persists.
Solution 7. Flush your DNS
Your DNS cache can also be the reason why you are facing the For Honor connection issues. However, cleaning your DNS cache will solve the problem for you. Use the following steps to flush your DNS cache:
Right-click on the Start or Home button and select Command Prompt (Admin) from the pop-up menu. This will let you open Command Prompt as an administrator
In the Command Prompt window, input ipconfig /flushdns and press Enter 
This command will reset your DNS cache, and you should no longer experience issues with your game
Solution 8.  Make sure that third-party apps are not interfering with your game
Sometimes, other apps can lead to the connection issues you are having with For Honor. To solve this, you will have to find and disable/uninstall the problematic app. Also, a simpler way of doing this is to use the Clean boot feature. To do this, use the following steps:
Press the Windows logo key + R to open the Run dialog box. Input msconfig and press Enter. This will open the System Configuration window
Navigate to the Services tab and check the Hide all Microsoft service box. This is to make sure that you do not disable any vital services required by your system to run smoothly 
Click the Disable button
Navigate to the Startup tab and select Open Task Manager. This will open The Task manager, and you will see the list of startup apps. Disable all of them
Close the Task Manager and return to the System Configuration window
Click Apply and OK to confirm the changes you made
Now, restart your PC and check if your For Honor issues have been solved
If yes, then enable the services you disabled one by one until you find the culprit
Uninstall or disable the problematic app completely
This should solve your issues with For Honor
We hope that this article has fixed the For Honor errors you were experiencing. Share it with others who are experiencing similar issues.
We appreciate your ideas and comments.
We are ready to answer all your questions regarding the above topic.