The FAT_File_System error that appears on computers running Windows 10 is a terrible error considering its impact on devices. The issues triggering the error force a computer to blue screen, and Blue Screen of Death errors belong to the class of severe computer crashes.
In extreme cases, when the error in view appears, users might find themselves locked in a reboot loop. The only exit in such a scenario is accessible through Safe Mode. A boot from any Windows installation media should work fine too, in theory.
As far as we know, the FAT_File_System error tends to come up on computers that have been recently updated from an older version of Windows (Windows 7, for example) to the latest iteration (Windows 10). Given the numerous events that occur during or after the updating process, it is incredibly difficult to figure out the exact cause or reason due to which the error came up.
If you encountered the error even though you had not updated the Windows on your device recently, then the problem probably got triggered by changes in the state of your system. Nevertheless, the source of the issue is not any easier to identify in your case.
At best, we can outline a few things that are capable of triggering a Blue Screen of Death error:
Problem with drivers: missing, corrupted or outdated driver software

Corruption or deletion of important system files

Faulty or damaged hard disk drive

Activities of viruses and malware
Here are some of the messages users often receive with FAT_File_System as a key term:
STOP – 0x00000023 FAT_FILE_SYSTEM fastfat.sys

Your PC ran into a problem…. We're just collecting… you can search online later for this error. FAT_FILE_SYSTEM
We expanded a bit on Blue Screen of Death errors to ensure you understand what kind of problem you are dealing with at least. It is time we moved on to show you how to get rid of FAT_file_system BSOD on Windows 10. The main part of this guide is all about this anyway.
How to fix the FAT_File_System error
on Windows 10?
To ensure everything goes well, we recommend that you begin with the first fix on the list. If your problem persists after you go through it, move on the next one. You are free to work your way down until you arrive at the perfect fix.
Disconnect all peripherals or external hardware devices:
Software conflicts resulting from the connection of faulty or incompatible hardware devices are most likely responsible for the Blue Screen of Death error you saw. Follow these instructions to verify our postulate and identify the specific hardware device involved:
Shut down Windows; turn off your PC. Disconnect every hardware device connected to your main computer body. For example, cameras, microphones, gamepads, external drives, and so on. The only hardware parts on your PC should be its boot drive, mouse, and keyboard.

Turn on your system. Check if the blue screen error comes up again.
If the error occurs even when you do not have any external hardware device connected to your computer, then you must move to the next fix.
On the other hand, if the error refuses to appear or you find out that you cannot recreate it in your current condition, then an external hardware device you connected earlier most likely had something to do with the problem. Continue with the instructions below:
Reconnect one of the hardware devices you unplugged earlier and see how things go.
If you disconnected just one device earlier, you are free to continue to the next step since you are dealing with a single item.
Other users who plugged in multiple devices must try to identify the faulty item by connecting one device at a time to their computers. In theory, the Blue Screen of Death error should appear once the problematic device has been connected or you should be able to recreate the problem.
You need to verify that all is well with the device you identified. Connect it to a different PC and see if it causes issues there too. If you confirm that something is wrong with it, then you might have to stop using it and purchase a replacement to stop seeing the blue screen errors.
Update all your device drivers:
We earlier established that problems involving drivers most times have something to do with the FAT_File_System error that appears on Windows 10. It is time we moved on to propose a fix for the issue given such a scenario.
Corruption of driver software, missing drivers, or outdated drivers are the key issues we have to deal with here. You will have to go through all your drivers to identify the problematic drivers, then you must update them to fix the problem.
Since there are so many drivers available on any PC, you can see how demanding the operations involved in the driver updating process are. If you manage to identify all the drivers with problems successfully, then you will need to search for replacements for each one of them, and this task is even more stringent than the first.
We implore you to download and run

Auslogics Driver Updater

. This superb app will help you carry out all the required operations to identify and update the missing, corrupted, or outdated drivers. With this app, you are going to end up using the automatic approach, which is the safest, fastest, and the most efficient means of getting the job done.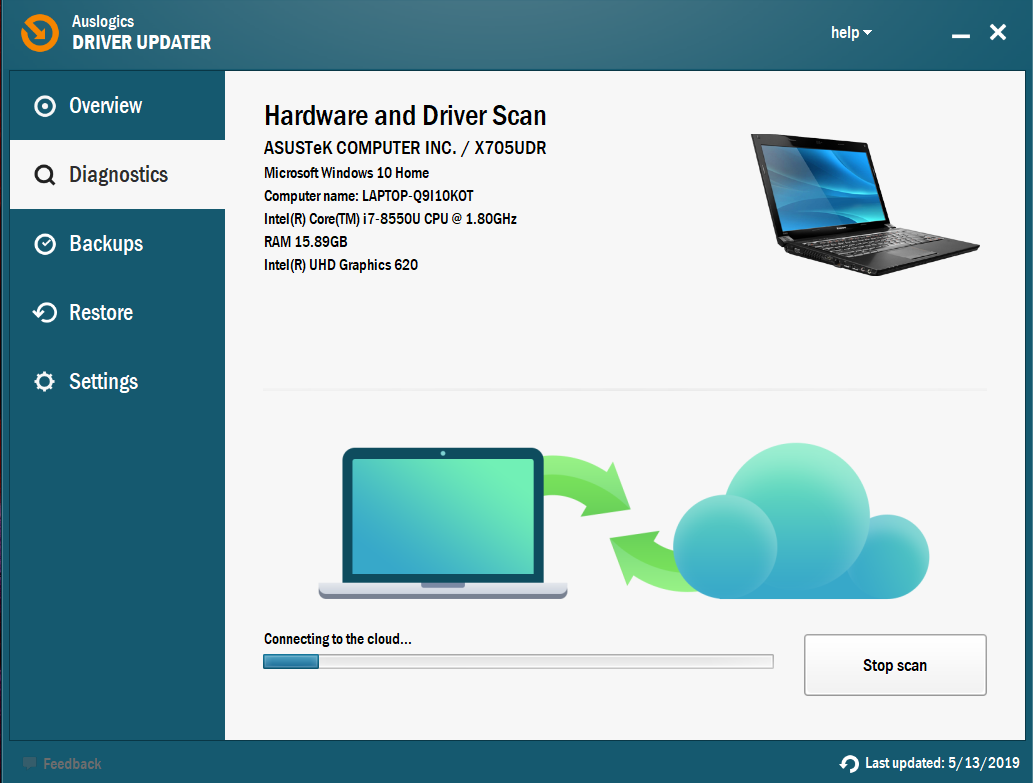 If you opt to do things yourself because you prefer the manual approach to updating of drivers, then your path will differ slightly. Take note of the missing drivers: the name of the drivers, the specific driver versions or any other information that defines them. These details will assist you in your search for their updated replacements.
You must exercise great caution in the search for the updated versions of the drivers. We advise that you download drivers only from the trusted websites or the highest-quality sources. If you fetch the necessary files from dubious or questionable sources, then you run the risk of infecting your computer with viruses or malware.
Ensure that only the correct, stable and updated versions of the needed driver are downloaded. If you download and install software that is incompatible with your PC, then you might further complicate the problem you are dealing with now, or you might end up with more issues to tackle.
After you finish installing the drivers, you must restart your computer to let the new changes become effective. The updated drivers should begin their job, and the FAT_File_System Blue Screen of Death error should no longer come up to disturb you.
Test for problems on your hard disk drive:
Your system stores data on drives, using various formats or systems (the FAT file system, for example). Invariably, if you see the FAT_File_System error on your device, you will do well to check for structural corruption on the affected disk.
Fortunately, on Windows 10, you can run the built-in utility that checks for bad sectors, file corruption, and other problems affecting drives. Third-party programs might have extensive options you can employ to carry out the same or a similar task, but the CHKDSK tool will do fine for now.
Follow these instructions to run the CHKDSK utility through Command Prompt on Windows 10:
Press (and hold) the Windows button on your keyboard, then tap the letter X key to bring up the Power User menu. From the list of options or programs you see, select Command Prompt (Admin).
User Account Control will present a small dialog box to request confirmation for your action. Click on the Yes button there and move on.
The Command Prompt: Administrator window should be up and running by now. Input the following code and hit the Enter key at once to run it:

chkdsk /f /r
(Minimize the Command Prompt window; save your work, then return to the Command Prompt program).
Press the Y key to instruct Windows to scan the drive or volume the next time your system reboots. Once you are ready to let your PC perform the scan, hit the Enter key.

Restart your computer. After your system shuts down and comes on, the CHKDSK tool will begin its work. We recommend you monitor the process. At the end of it all, if Windows fails to detect any issue, your computer will boot into Windows as usual. You are still free to check if the Blue Screen of Death error or problem persists.
On the other hand, if Windows detected bad sectors, file system corruption or similar issues, then you must carry out additional tests to confirm the result you just obtained. If other extensive checks point to the same thing, then you must try to fix the problems plaguing your disk.
Note that certain problems cannot be fixed by software operations. You might have to replace your disk in the worst-case scenarios.
Other things to try to fix the FAT_File_System error on Windows 10
Run the SFC and DISM tools to check for corruption in system files and fix them.

Scan your system for viruses and malware. The 

Auslogics Anti-Malware

app will prove very useful as it is an additional tool you can employ to increase the chances of your computer detecting threats.

Reset your PC. Reinstall Windows 10 if all else fails.