So, you have become a victim of the error message saying that the system failed to initialize unity graphics? Never fear, help is here! This article will help you find the resources you need to fix the failed to initialize unity graphics error and ensure that you will never have to deal with it again.
So, let's figure out what could have caused the 'unity3d fatal error failed to initialize unity graphics' issue in the first place. Albeit it is a common problem, most users fail to understand that many graphics systems require updated drivers to work to their full capacity.
Whenever you are installing a new piece of hardware, you should remember that you need to update drivers as well because they play an important part in communication between the hardware and the software. The same goes for whenever you are installing updates on the system. Sometimes, after an update, users get new errors, and that is because they have failed to update the drivers as well as the system.
To make sure that you do not ever miss a driver that needs an update, try Auslogics Driver Updater, a tool that was especially brought into being to care for your drivers. The scheduled scans that this tool runs provide an overview of all the essential parts of your computer and their current functionality. But more importantly, you will never get surprising errors about some system failure.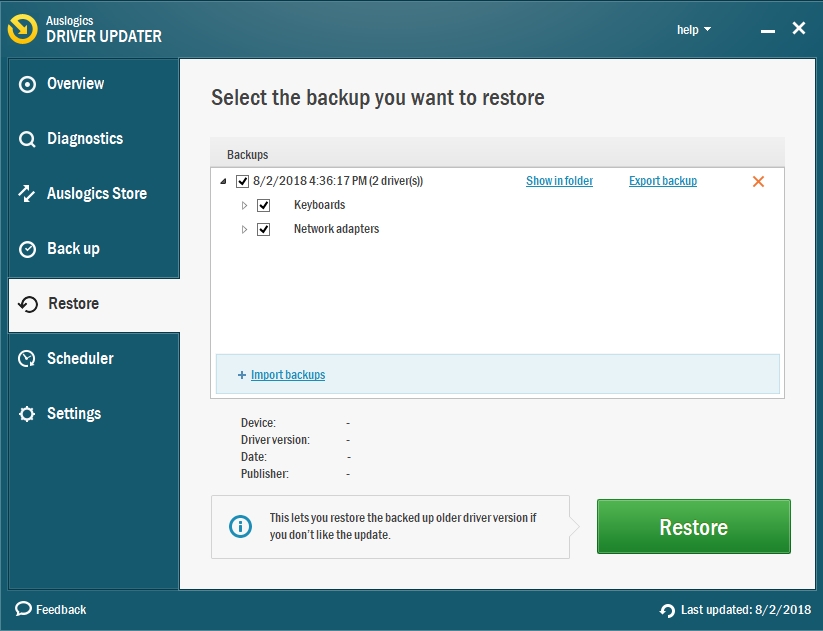 So, how to fix failed to initialize unity graphics error?
Method 1. Enable the Direct X features.
The process is easy but requires some tweaking of the settings on the part of the user:
Step 1. Open the run box by using the shortcut of the Windows key and R.
Step 2. Type in 'dxdiag' and hit Enter.
Step 3. In the DirectX Diagnostic Tool, open the Display tab.
Step 4. Find the section of the DirectX features and enable three features:
DirectDraw Acceleration
Direct3D Acceleration
AGP Texture Acceleration 
Step 5. Restart your computer.
Step 6. Check the Unity program to see if it works.
Method 2. Specifically, focus on the graphics card driver.
As described above, drivers are essential to the productivity of all software on your computer, so if you have recently installed a new graphics card, you need to update the driver as soon as possible, otherwise, the outdated driver can cause more harm. More and more errors will start to present themselves, resulting in a full system shutdown. You can download the update of the driver from your graphics card manufacturer's website and install it manually, but we do not recommend doing that unless you already have the expertise needed.
Method 3. Roll back your graphics card driver.
This is not really a fix, rather a workaround to make sure that your computer is still working. However, this temporary solution can give you some time to get the necessary supplies and restore the health of your system entirely. Before applying this fix, you should back up the important data on your computer. As a matter of fact, you should make it a habit to back up sensitive data after each 'error' message that you get. You never know what will be your downfall, especially if you are not making an effort to maintain your computer's health. We give this warning because, without extensive knowledge of your computer, you will not be able to perform a rollback of the graphics card driver. Nor should you. Again, we would entrust this procedure to a tool that was created specifically for this purpose. After you have downloaded and used Auslogics Driver Updater, remember to restart your computer so that the changes can take place.
As you can see, resolving the error failed to initialize unity graphics is all about the right procedure that you can choose, so choose wisely.