Windows 7 is infamous for some security issues that can mess up the performance of your PC. Experienced users have reported various errors, including the error code 80070490. In this article, we will explore some step-by-step solutions for this malfunction. But before taking part in any of them, we urge you to remember and back up all your important data. Of course, our fixes will not harm your computer. However, they will set in motion a process of upgrades and cleanings that was long overdue, since you are experiencing the error code 80070490.
Unfortunately, this particular error code (80070490) has a high variety of causes.  Since they differ so much, it's hard to determine the exact culprit the right way. However, it is possible that you might have to try a couple of fixes before you will actually find the right one for your system. We hope that this guide will help to fix Error 80070490 in Windows 7.
The following instructions are specific to the problems concerning Windows 7 and Windows Vista because the troubleshooting process is mostly the same for these two operating systems. Note however that if you are trying to fix the issue and you have an upgraded Windows system, these fixes may not be available to you. But here is a tip – if you are experiencing this error while trying to upgrade to a fresher Windows system, the options are very different from what we are about to tell you. So, for convenience's sake, try searching for different fixes during the installation of the new system. In this guide, we will concentrate on the methods pertaining only to Windows 7.
How to fix Windows 7 Error 80070490?
Solution: The 80070490 update error code can occur when your Component Based Servicing (CBS) manifest is corrupted or damaged. This is a part of your computer's Registry that keeps all the files in place and identifies the components necessary to run a program. The solution can be met if you follow this list of methods, as one of them should be able to repair the damage.
Method 1.
Use the System Update Readiness tool. This is a tool that is provided by Microsoft for free to users who are experiencing the issues that you face. Although the abilities of this tool are quite limited, it can verify the integrity of resources. Also, it can detect corrupted registry data. It can check if your system needs any system updates and install them upon command.
Method 2.
Scan your system files. If you don't know how to do that, follow these instructions:
      Step 1. Use the Windows key + R shortcut to open the Run box.

      Step 2. In the Run box, type in 'cmd' to open the Command Prompt.

      Step 3. Type in 'sfc /scannow' into the Command Prompt. Remember that there is a space between 'sfc' and '/'.

      Step 4. Hit Enter. The scanning will now begin. 

      Step 5. Wait for a message that will tell you if your CBS is corrupted.

      Step 6. If you get the message, continue running the command Dism /Online /Cleanup-Image /RestoreHealth.

      Step 7. Once the process is done, you should not have the error appearing again.
Method 3.
Install a special registry cleaning tool, such as Auslogics Registry Cleaner. This free program will schedule scans of your system so that any kind of malfunction will not come to you as a surprise. Auslogics Registry Cleaner will clean, repair and optimize the registry of your computer, and it will do that all in background mode, so you are free to continue your work.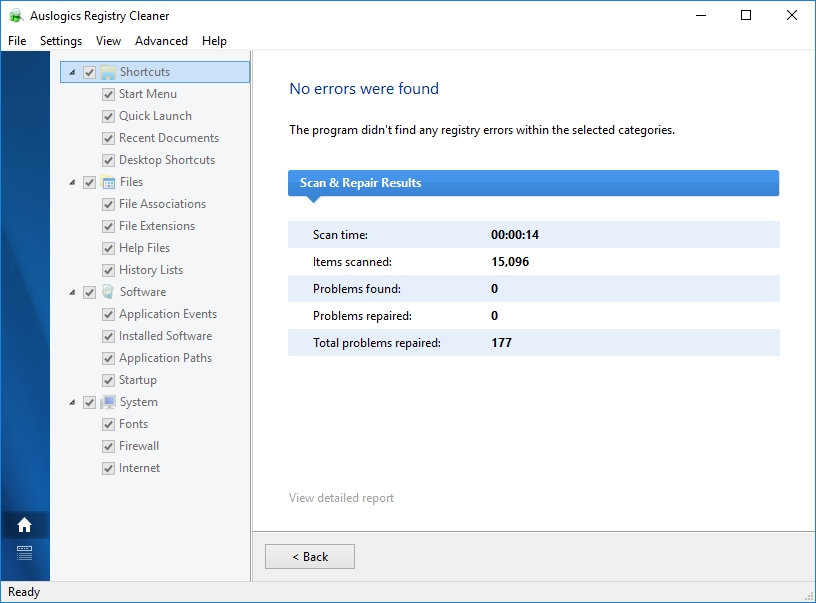 Method 4.
If all else fails, you always have the option of repairing Windows by reinstalling the operating system. To do that, follow these steps:
      Step 1. Restart your computer

      Step 2. Use the system DVD and wait for the installation to begin.

      Step 3. If it doesn't, go to "Start" and enter "G:\setup.exe". The location depends on what your DVD driver is called.

      Step 4. Progress with "Install Now" and then select "Go" to obtain the latest updates.

      Step 5. The prompts will guide you through the process of installation.
Method 5.
Depending on what type of action you were doing when you got the error code 80070490, you can try uninstalling your antivirus and see if the issue goes away. Some antiviruses can cause malfunctions, so be advised and see if that is the case with your computer. If you find out that the error is gone, don't forget to enable the antivirus after you've done the necessary troubleshooting or replace it with another antivirus altogether.
With such a broad variety of different errors that Windows 7 can bring into your life, we advise to carefully consider the options that are described above and choose the solutions that are more relevant to your needs and that will answer all your concerns.