You should know the Error 1962 – No Operating System Found message has been widely reported by individuals using Lenovo PCs. Regardless of this, we would prefer to assume that there are users of other brands who might encounter this error or something similar.
Error 1962 tends to show up in one of the following scenarios:
On an affected system during normal boot-up
When a user attempts a reboot
During the application of a Windows update or after its completion. We believe that this action simply coincides with the error message and Windows update might not be at fault.
This error appears to be very frustrating, as the only reasonable course of action undertaken by the users who experienced it involved rebooting or restarting their system only to be confronted with the same error message again.
Some users stated that they were eventually able to boot their system normally and get into the desktop screen after the error message was presented during boot-up. This category of users consisted of those who were able to get to their computer's BIOS screen.  What is hardly inspiring about this report from those users is the fact that they had to wait for some couple of hours before they could use their system.
There were also other reports about the randomness of the error's occurrence. While the error message was displayed to some users in relatively long cycles like a few days (3-4), it bothered other users in relatively small cycles like a few hours.
In addition, a unique set of users were receiving the error messages in no fixed cycle or period.
Causes of error code 1962; error message – No Operating System Found
Most error messages result from the actions or operations of either system programs or third-party software. Error 1962 is completely different in this aspect. You can almost rule out the possibility of it being caused by any program or software.
These are the likely causes of error 1962 – No Operating System Found:
 Firmware issues (as observed by the users whose PC's brand is Lenovo)
 Poor or damaged hard disk drive
 Faulty SATA cable
How to fix error 1962 – No Operating System Found?
The first 2 solutions address the error when it is being caused by firmware-related issues, and the third one is for cases where a hardware problem is responsible for the error message. The final solution is there for a good reason too.
In this list, there is a solution for everyone regardless of what caused the problem or the severity of the issue.
If you cannot attempt a particular solution here for some reason or you simply prefer not to, kindly skip that method and move to the next one.
Also, if a specific solution fails to solve your problem, skip it and attempt the others.
Use Automatic Repair or Startup Repair:
Insert a bootable Windows installation drive into your system. This drive is usually in form of a Windows DVD. You can also create bootable Windows media, using a flash drive
Boot your system from this drive; you will be prompted by a message asking you to press any key to boot from this drive
Choose your language preferences and move on by clicking Next
Click on Repair your computer. This option should be located at the bottom left corner of your screen
Select Troubleshoot from the available options
Under the Troubleshoot screen, click on Advanced options
Under the Advanced options screen, select Automatic Repair or Startup
Now be patient and let Automatic Repair or Startup do its work
After the completion of this work, restart your PC and see if the error message appears again
Alter boot order:
This fix should work for you only if your error is a result of your system trying to boot from a wrong source or from a source that does not exist. This problem is easily resolved by simply setting your Hard disk as the highest priority in the boot sequence.
To perform this fix, simply follow these instructions very carefully:
Switch on your computer by pressing its power button as usual. When it comes on, press the Delete key or the F1 or F2 or F10 key multiple times. The exact key to press varies depending on your PC's brand and/or its model. If you are successful with this step, you should be taken to BIOS setup
In the BIOS setup screen, find Boot tab or Boot order
Ensure that your Hard disk drive (HDD) or Solid state drive (SSD) is set as the top priority in the boot order or sequence. To modify the current option, follow the available instructions on the screen
Now navigate to the Startup tab and make the following changes if they are not there already:
Set CSM to Enable
Modify Boot Mode to Auto
Boot Priority should be set to UEFI first
Set Quick Boot to Enable
The value for Boot up Num-lock Status should be On
Follow the on-screen instructions on saving the changes you have just made. Press F10 if no instruction is available to save and exit. Restart your PC.
If your system manufacturer is Lenovo, these instructions should suit you better:
Switch on your PC and allow it to boot normally. As expected, it will eventually arrive at the screen where you get the error message (error 1962- No Operating System Found).
Press and hold the CTRL, ALT and delete buttons together. Your system should reboot. Press the F12 key multiple times to enter the BIOS setup
Press Enter when you see the Setup written box
Select Startup, which is located at the top of the window
Select CSM. Select the Enabled option
Scroll down a bit. Navigate to Boot Priority. Press the Enter key
Change the value available there from Legacy First to UEFI first
Now hit the F10 key. Select Yes. Restart your PC.
If you attempted the above fixes but they failed to resolve your issue, then it is time you examined the solutions needed when the error is due to hardware-related problems.
Check hardware components:
Hard disk drive
First, remove your hard drive from your PC and connect it to a normal and trusted system. If it detects your hard drive, sees your files and folders without any issues, then your hard drive is probably fine.
On the other hand, if your hard drive responds slowly to actions or the system you are using experiences difficulty in accessing files and folders, then your problem with the error 1962 might be connected to your hard drive being faulty or bad.
You should use an excellent disk defragmenter like Auslogics Disk Defrag Pro to defragment your hard drive. This awesome program will defragment files that cannot be accessed during normal system operations. It also intelligently optimizes the placement of files to allow for faster data access.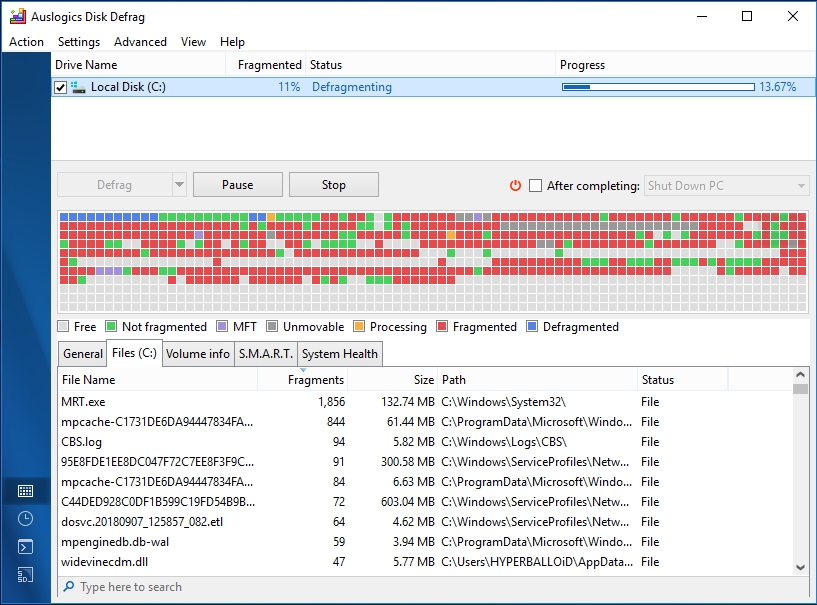 The entirety of the operations performed by Auslogics Disk Defrag Pro results in your hard drive working consistently fast and operations going smoothly.
If defragmenting your hard drive failed in eliminating the faults within it, then it is likely that it cannot be fixed by any known software procedure. Replacing your hard drive becomes the only solution. This would set you back some cash, and you would also lose the valuable data contained in the faulty hard drive unless you use very advanced tools to recover it.
SATA cable
The other hardware component you should check is your SATA cable. That is especially relevant for those with Lenovo systems.
The SATA cable is the link between your computer's hard disk drive and your system's motherboard.
A faulty or defective SATA cable might be causing the error 1962. You can get another SATA cable from a PC in perfect condition and use it on your own computer to find out if your cable is bad.
SATA cables are fairly cheap and easy to buy online. Alternatively, you can walk into a repair or service center and have them replace this cable for you.
Restore your PC or reinstall Windows:
Now, if you are more than certain that you received the error 1962 message not because of a faulty hardware component, then you need to use an ultimate solution for software-related issues.
Depending on the problem, you can either restore your PC to another point in time or completely reinstall Windows. That point in time is usually any period in the past where your current problem did not exist.
In theory, you are not supposed to lose all data when you use System Restore. You are expected to lose only programs, files, settings, and any data added after the restore point was created.
System Restore is available as a program built into Windows, but since you cannot even access your desktop screen due to the error, you will need Windows installation media to perform the restoration. Follow these instructions:
Insert the Windows installation media into your PC and boot from it
Click on Languages preferences. Do the necessary and click on Next
Click on Repair your computer. This option should be located at the bottom left corner of your screen
Select Troubleshoot from the available options
Under the Troubleshoot screen, select Advanced Options
Click on System Restore. Windows should present you with instructions on restoring your system. Follow these instructions
Restart your PC after the completion of the restoration. You should no longer see the error message
If for some extremely strange reason System Restore failed to work for you or you just could not use it as expected, then you must install a fresh copy of Windows.
This option is your last hope for solving Error 1962 – No Operating system found, but we prefer that you did not get to this point.