"It does not matter how slowly you go as long as you do not stop."
– Confucius
Visual Concepts have been delivering exceptional basketball games in recent years, and experiencing them has been nothing short of extraordinary
In fact, their dominance became so prevalent that they literally knocked out EA's NBA live series out of relevance although EA launched a new entry in the series recently after two long years. With NBA 2k 18, Visual Concepts has made a number of changes which don't quite gel with the overall product, as the game fails to reach the great heights achieved by its fantastic predecessor. This isn't to say that MBA 2k18 is a bad game. Actually, far from it. But it includes a number of questionable practices regarding microtransaction. Look, generally speaking, microtransaction is not a bad thing, as long as it adds value to the game and is not overdone. But in the case of NBA 2k18, microtransaction is so far stretched that it totally throws the balance out of the playing court. It is mostly found in the game's My career mode, which involves the player character beginning at a base rating of 60.
One of the goals of the My career mode is to be the absolute best player out there, and the path to reach that pedestal is by increasing your skills across various categories. For starters, once you start playing with your favorite team, you will be rewarded with virtual currency. These are enough to unlock some of the earlier skills. However, once you look at unlocking some of the latest skills, these require literally thousands of points. So, you're either looking at grinding through tons of matches or using microtransactions to get the number of points and increase your rating. This emphasis on microtransactions also extends to customization. If you want a particular hairstyle, prepare to shell out that virtual currency, you want a shiny tattoo, kindly pay for that too. It also applies to player's shoes, clothes, and even animations.
You need to have a ton of virtual currency either by grinding or by paying with real money. Virtual currency packs range from 5000 coins to 450,000 coins, and this will set you back from as low as $2 to $100.
Now, virtual currency isn't a new concept for the series
It's been here since NBA 2k13, but it's absolutely ridiculous to see this become a kind of forced feature in NBA 2k18. Especially with the new mode that the game includes. According to user reports, it will take over 200 matches to achieve a player rating of around the mid-80s. You might want to adjust your expectations if you're aiming for that golden 99 rating should you wish not to spend your hard-earned money on microtransactions. However, if you can look past these unwanted practices, NBA 2k18 provides a genuinely entertaining basketball experience, and one of the ways it does this is through its vastly improved presentation and body animations. The top-notch presentation isn't exactly alien to this franchise, and we can see that in the previous NBA 2k17 game. But visual concepts have taken it to an altogether different level. Shaquille O'Neal and Kevin Garnett make an appearance as guest commentators, while the on-field commentary team is simply exceptional and dynamic, making it perhaps the best iteration this series has seen. You could really see that Visual Concepts are pushing the immersion factor when they include minor details such as on-site interviews and players speaking about their personal experience with playing basketball. These are intricate details, but they go a long way in augmenting the immersion factor. However, the general music is lacking this time around, unlike NBA 2k17 which had a certain flow to its music, NBA 2k18 music is forced in without context. It almost feels like the developers thought this particular track sounds catchy and just put it in there without any context.
The graphics, for the most part, is pretty amazing, and you have to look twice before realizing that the characters are just 3d models. This is backed up by some pretty amazing cloth and hair simulation. However, facial animations are largely disappointing. The game also suffers from clipping issues, but they're not something that'll detract from the overall experience. Gameplay wise, most of the stuff you've seen in NBA 2k 17 has made the transition quite well in NBA 2k18. Gameplay feels really smooth thanks to a solid 60 frames per second experience and fluid animations. Passing and dribbling feel solid whereas taking shots feels much more dynamic. Ball physics has been largely improved upon, and balls no longer feel like they're attached to the player's hands, and his head behaves accordingly with the surrounding environment. Defense is a bit harder this time around, but that's alright because it was way easier in the previous version. So, from a pure gameplay perspective and on-field game action, the series latest version delivers a thrilling experience once again.
MyGM and Myleague make a return in NBA 2k18, and they are largely the same, except the former which allows you to take your custom character and put them in the shoes of a manager. From the top level, it feels like an extension to the my career mode because MyGM takes place after your character's career ends due to an injury. Unfortunately, my GM falters in its presentation, the lack of voice-overs, and some weird dialogue choices. You'll still be developing your dream team by finishing challenges, but largely the same experience as before, except for the unwanted text-based story mode that we mentioned earlier.
NBA 2k18 also introduces neighborhoods, a kind of social space where you and other players hang out in a semi open-world setting. The world is filled with shops where you can buy new hairstyles, tattoos, clothes; in short, this mode ties in with the My career, My Park & Pro-am game modes. Unfortunately, these locations are placed at long distances from each other, and it was pretty painful to walk all over again. Visual Concepts introduced the Neighborhoods feature. Although the idea seems to be derived from online games such as Destiny's Tower, it is really intriguing to see where they can take this concept in the next iteration.
Playing the game online with your team generally works fine, but you may witness a bit of lag here and there. You will not find any issues with matchmaking, and overall there's a decent experience. In the end, NBA 2k18 feels like Visual Concepts are trying too many things at once. MyGM story mode and Neighborhoods have great potential, but what we got instead is an unpolished experience. The game microtransactions are disastrous and make the career mode an absolute grind. Ultimately, the core of NBA 2k18's gameplay is still intact, and if you don't mind the microtransactions in the My career mode, you're going to have a blast.
Now that we have told you what we think about NBA 2k18, let us look at the issues that most of the PC players have been facing while playing this game. All of these errors greatly decrease gaming experience. Here are some of the reports users have sent to us and other forums:
NBA2k18 will not launch
This issue has been reported by many players. It was more frequent after the first update was launched. Users were unable to start the game. To fix this, you need to wait for about half an hour and try again. It will eventually launch.
NBA 2k18 career crashes
This can be very frustrating. Career mode is one of the most interesting parts of the game. It crashes just when you are about to start playing the game.
Black screen problems
Black screen issues are also very common when it comes to NBA 2k18. These are graphics-related issues, and you should check if all your drivers are installed.
Low FPS issues
Frame rate problems occur in most games, and it takes the developers some time to fix the issue. This problem can be worse on PCs if you do not have the recommended hardware to run the game.
NBA 2k18 does not detect the Xbox One controller
Xbox One controller is a standard gamepad for PC gaming. Windows automatically detects and maps out all the buttons for you, instead of you doing it manually for each game as with other controllers. But for some reason, users have reported that NBA 2k18 does not detect the Xbox One controller. Some users say other games, except NBA 2k18, will detect the gamepad.
NBA 2k18 freezes
This is a common error with PC gaming. Especially on Windows 10. Microsoft is yet to stabilize the operating system and make it more welcoming to PC games and even third-party apps. When the game freezes, your only option is to restart the game and continue from where you left off.
We will now provide you with the solutions to the issues that we listed above. Make sure you go through all of them until you find the one that fixes the problem for you.
Solutions to NBA 2k18 issues
Install the latest Windows updates
Install the latest graphics driver updates
Reset your graphics card software
Update DirectX
Verify the integrity of your game files
Repair your registry
Restart your network
Disable background apps
Solution 1: install the latest Windows updates
Microsoft releases updates every 6 months for Windows 10. Make sure you install them. This is because these updates contain fixes to bugs within the operating system. Some of these bugs may be the reason why your NBA 2k18 is having issues or won't start. To check for updates, use the following steps:
Press the Windows logo key + I on your keyboard to open the Settings app
Click Update and Security from the available options
Go to the Windows update tab and click Check for updates
Windows will now find and download the available updates for your system
Hopefully, this will contain the fix to your problem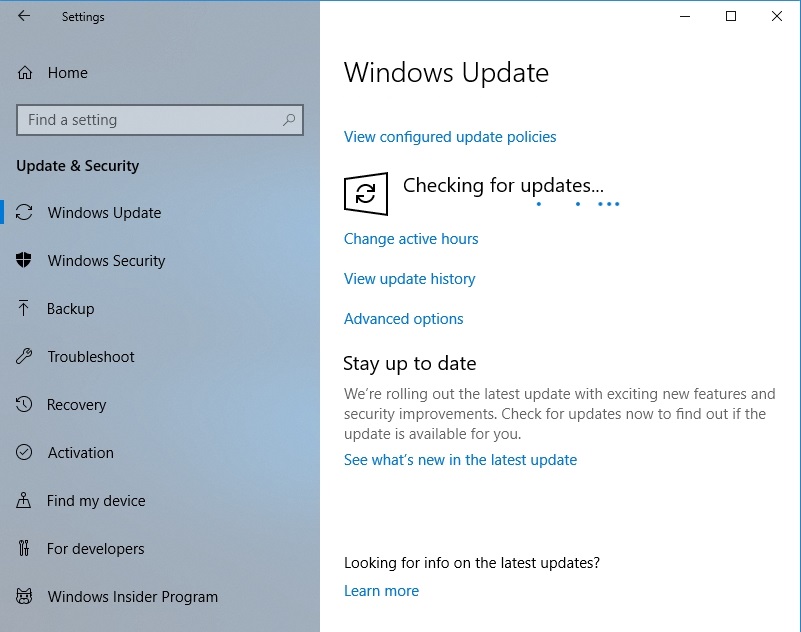 Solution 2. Install your latest graphics driver updates
Your graphics drivers are one of the most important tools for gaming. If your graphics drivers are out of date, you won't be able to play most games. You also need to optimize your graphics settings for best performance.
You can check your graphics card client to download and update your graphics card.
Here are some methods with which you can update your graphics drivers:
This tool makes updating your drivers very easy. You will be able to install all the missing drivers on your PC with just one click. It will scan your computer for missing or outdated drivers and download the manufacturer-recommended versions. You will not have to deal with issues like driver incompatibility or downloading the wrong driver. It sorts all that and downloads the best drivers for your devices.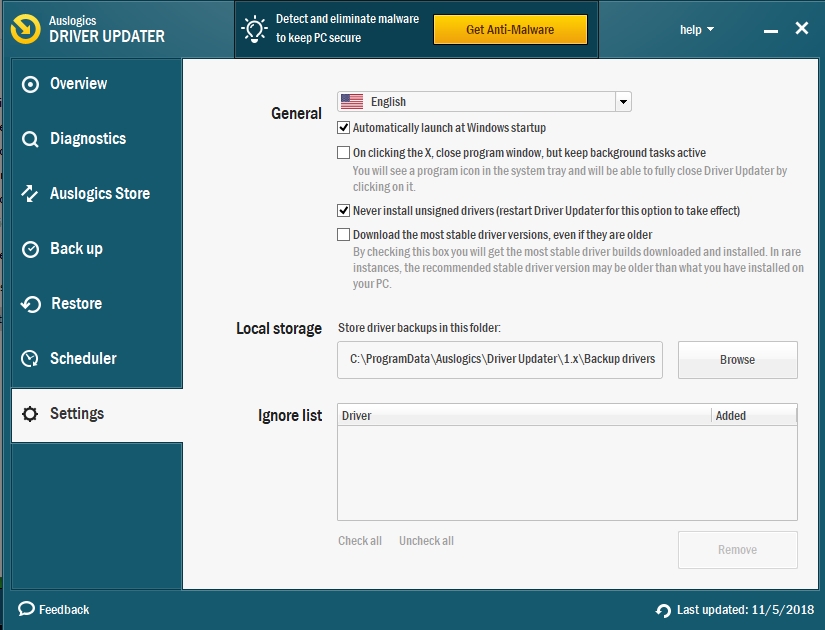 Method 2. Download the driver from the manufacturer's site
This is a safe way to get the best driver because you are downloading it directly from the manufacturer's site. But this also has a downside because you are liable to download the wrong driver. This may happen if you do not know the exact name and version of the device whose driver you want to update. Manufacturers have created clients which help users to get the right drivers for your devices without worrying about downloading the wrong driver. The client will direct you to download the best driver for your device.
Method 3. Update your driver, using the Device Manager
This is a built-in tool that shows all the devices which are installed on your PC and if they are functioning properly. Here, you will be able to update the drivers for all your devices. To do this, use the following steps:
Right-click on the Start or Home button and select Device Manager. This will open the Device Manager panel
Right-click on the device whose driver you want to update and select Update driver
Now, select the option which prompts you to download the driver from the internet
Windows will now download the best driver for your device
Solution 3. Rest your graphics card software
Most graphics cards come with clients which you can use to change their settings, depending on the game you are playing. You can try to reset the software and check if it solves the issue. If you are using an NVIDIA graphics card, here is how to reset it:
NVIDIA Control Panel
Right-click anywhere on your desktop and select NVIDIA Control Panel
Navigate to Manage 3D Settings and choose Restore Defaults
And here is how you can reset an AMD graphics card:
AMD Catalyst Control Center
Right-click on your desktop and choose Catalyst Control Center
Navigate to Preferences and click Resort Factory Defaults
Solution 4. Update DirectX
DirectX is an API tool that lets games communicate directly with your computer graphics and audio hardware. You will be able to download the latest version from the Microsoft official website.
Solution 5. Verify the integrity of your game files
This process will help you fix most of the issues which are disturbing your NBA 2k18. Here is how to verify the integrity of your game files:
Restart your computer and launch Steam
Navigate to the Library tab where all your games are located
Right-click on NBA 2k18 and select Properties
Go to the LOCAL FILES tab and click Verify integrity of game files
This process will remove any corrupted file from your game's installation directory and replace it will a functioning one
Launch your game when the process is complete to check if the problem is resolved
Solution 6. Repair your registry
Changing values in your registry can be very risky and may cause permanent damage to your system. We advise you to use Auslogics Registry Cleaner. This tool will clean your registry and eliminate all the lags and crashes of your games. It will also delete all the junk files in your hard disk drive which have been accumulating over the years to free up some space.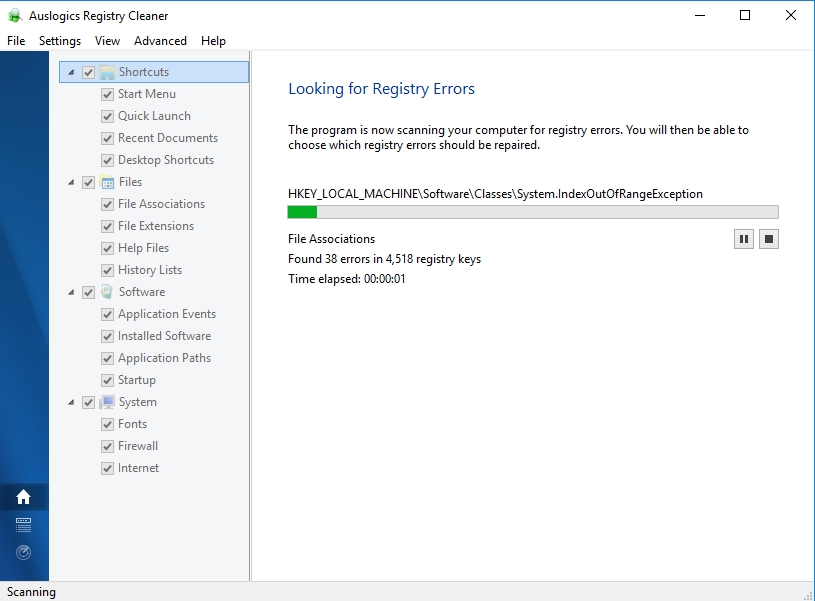 You can also use the System File Checker. This built-in tool will check your system files for any corruptions which may be causing your game not to function correctly. To run this tool, use the following steps:
Right-click on the Start or Home button and select Command Prompt (Admin). This will let you run Command Prompt as an administrator
In the Command Prompt window, input sfc /scannow and press Enter
Restart your PC when the process is completed
Solution 7. Restart your network
Network issues may also be the reason why you are experiencing issues with your game. Restart your network and make sure that you are using a wired connection. Here is how to restart your network:
Click the Start or Home button and select the gear icon to open the Settings app
Click Network and Internet
Under the Status tab, go down and select Network Reset
Select Reset now. You will now need to set up your network once more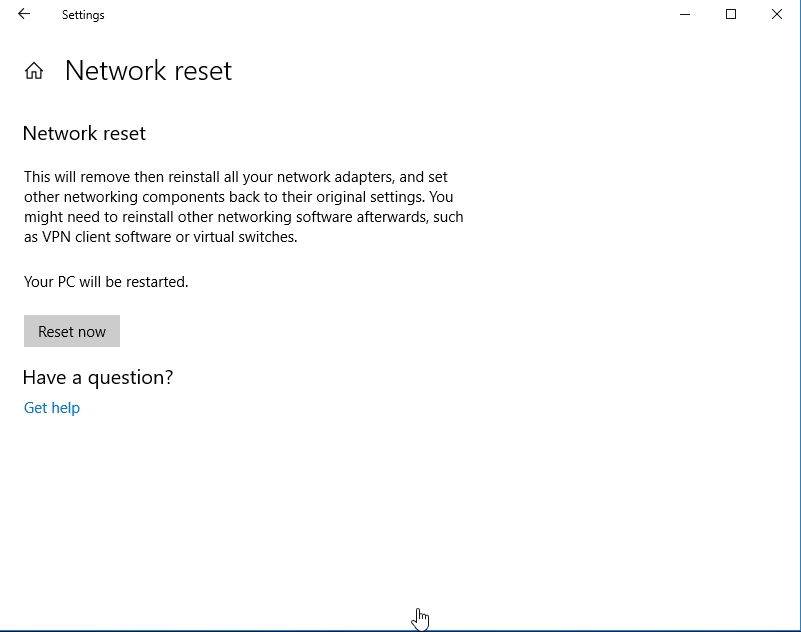 Solution 8. Disable background apps
This solution is very important, especially for people whose computer hardware does not meet the recommended requirements to run the game. Disabling background apps will free up some resources which NBA 2k18 needs to run properly.
Right-click on the Start or Home button and select Settings
Select Privacy in the Settings app
Now, scroll down to Background apps and turn it off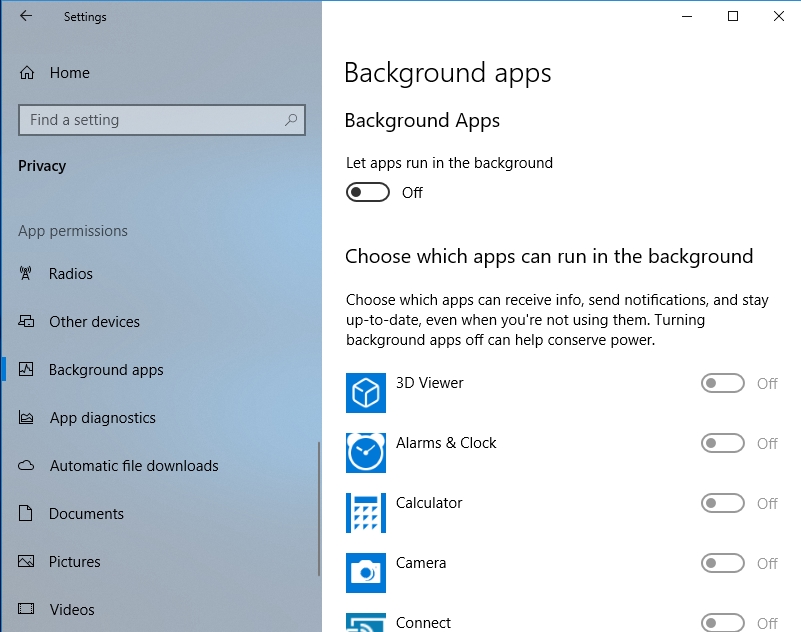 We hope that this article has solved your NBA 2k18 issues. Share it with others who are experiencing similar problems.
We appreciate your ideas and comments.
We are ready to answer all of your questions regarding the above topic.