"Never stop dreaming, never stop believing,
 never give up, never stop trying, and
 never stop learning."
 ― Roy T. Bennett
The incompatibility of games has always been an issue on Windows operating systems. Windows 10 is not an exception. In fact, it is even more so on Windows 10 because it is a new operating system and game developers have a hard time keeping track of the new updates and features produced by Microsoft.
Today we are going to be addressing the issue of Assassin's Creed IV: Black Flag not working on Windows 10. To be honest with you, this is one of my favorite RPGs across all gaming platforms and I can understand how you feel when you are unable to run it on your Windows 10 computer. The Assassin's Creed franchise is very iconic. It has kept gamers entertained for many years.
It this article, we are going to show you how to fix issues with the Assassin's Creed 4: black flag game. So, do not worry – you are in the right place. First, you will have to run the troubleshooter for Windows apps and install any pending updates.
Here are some of the most common issues users have reported about Assassin's Creed Black Flag and we will be providing their solutions:
Assassin's Creed Black Flag won't launch – this is one of the most popular complaints and for this, you will have to start the game as an administrator or use compatibility mode to run the game.
Assassin's Creed Black Flag crashes on Windows 10 – this might be as a result of your drivers. You will have to update your graphics card driver to resolve this problem.
Assassin's Creed Black Flag is not responding – for this, you will have to check if other programs are not interfering with the normal functioning of the game. Especially your antivirus.
Assassin's Creed Black Flag stopped working – here third-party apps may be the culprit if the game suddenly stops and does not respond. The best course of action in this case is to remove the app.
Solution 1. Check your anti-virus
We all know the importance of antivirus software to your computer system. But if it is conflicting with your game, then we need to take actions which will resolve the problem. This usually occurs when you are using third-party antiviruses. The best course of action is to disable the antivirus. Windows Defender will still be active, so do not be scared that your computer will be left unprotected. If after this, the problem is still not resolved, then you will need to temporarily disable Windows Defender. Alternatively, you can change your antivirus software. We recommend you to download and install Auslogics Anti-Malware. You will be able to browse safely, enjoy protection and play your game without any issues.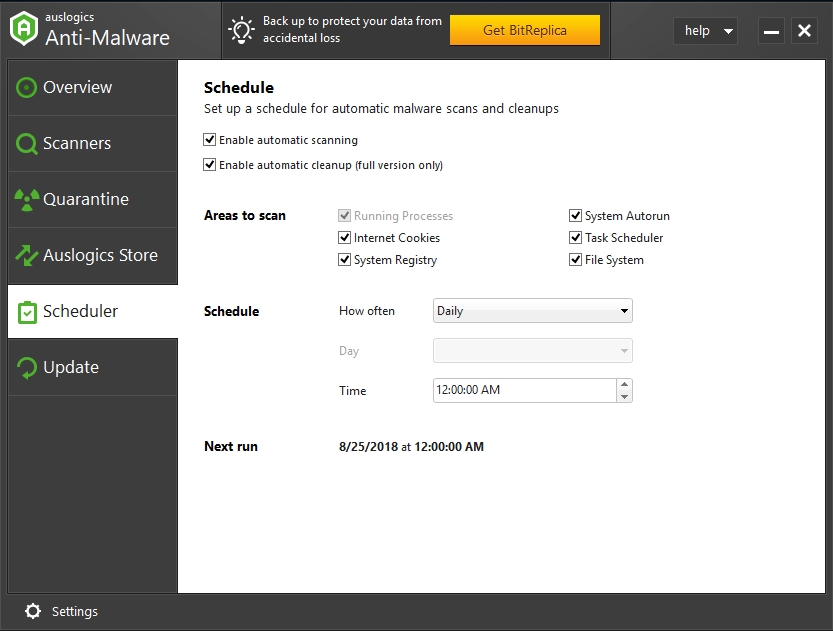 Is your computer running slow or suffering system glitches? If so, it may need maintenance. Try running a dedicated
PC optimization tool
to check the health of your PC and apply the necessary fixes.
Solution 2. Use compatibility mode to install your game
Compatibility mode will enable the game run smoothly like on another version of the Windows operating system
Download the game from the internet
Right-click on the .exe file you downloaded and select Properties
In the next window, go to the Compatibility tab and check the Run this program in compatibility mode for box. Now, select a previous version of Windows from the list provided.
Click Apply and OK to confirm your changes
Solution 3. Make sure that the game files are not missing or corrupt
If any of the game files is missing or corrupt, then the game will not launch. You will need to check that all of the files are functioning properly, using the following steps:
Launch Steam and open the game library
Right-click on Assassin's Creed from the list of games and select Properties
Go to the Local Files tab and select Verify integrity of game files
This process will take some time depending on the specifications of your computer
Try to run your game when the scan is done
  If the issue is not still resolved, then go to the game's directory and delete these files:
AC4BFSP.exe
DataPC.forge
DataPC_patch.forge
Check the integrity of the game files once again and try launching the game to see if it works
Solution 4. Uninstall any problematic apps
There are some apps which can cause Assassin's Creed Black Flag not to run. For now, we have not yet established why this happens, but users have reported that after uninstalling these apps, their game started working properly. Here is a list of some the apps: Samsung Link, ObjectDock, Tweak7, WindowFX. Use the following steps to remove these apps:
Click on the Start or Home button and type 'control panel' in the search box
Select Control Panel from the list of options available
Click on Uninstall a program. This will open the list of programs installed on your computer.
Look for any of the programs listed above and select Uninstall
The wizard will guide you through the uninstallation
Check your game to see if it has solved the issue
Solution 5. Reinstall the game to your C: drive
In order to save hard disk space for system files, Windows and third-party apps, users tend to install their games on another drive. This is not usually a big issue, but in this case, Assassin's Creed Black Flag will not play when installed on a drive other than drive C. So, make sure that your game is installed on the appropriate drive and check if the problem is resolved. This process may be a little bit difficult, but if that is what it takes to play the game, then we advise you to do it.
Solution 6. Replace the DLL files
In order to run properly, Assassin's Creed Black Flag needs some DLL files from Windows. When these files are missing or corrupt, the game will encounter some issues. It has been noted that when XAudio2_7.dll file is missing or corrupt, the game won't start. In this case, navigate to C:\Windows\system32 and create a backup of the file by copying it to the desktop. Now, navigate to the installation directory of the game and find the Launcher folder. You will find the XAudio2_7.dll file there. Copy this file to C:\Windows\system32 to replace the one that was previously there. Check if your game issues have been resolved.
There are also other files that can cause Assassin's Creed Black Flag issues on Windows 10. Here is a list of some of them:
D3DCompiler_43
D3DX9_43
xinput1_3
To fix this problem, you need to go to the C:\Windows\system32 and C:\Windows\syswow64 directories and back up these files to your desktop. Now, navigate to the game's installation directory and look for the x86 versions of the files listed above. Then copy them to C:\Windows\system32. Do the same for the x64 versions of the files, but they need to be copied to C:\Windows\syswow64. Your Assassin's Creed Black Flag problems should be resolved after this.
Solution 7. Update your graphics card driver.
All games use a considerable amount of your GPU. So, if your graphics driver is outdated, the game will not be able to access the GPU. This leads to the problems you encounter when trying to run the game. It is important for every gamer to have updated drivers, especially the graphics card drivers. There are several ways by which you can do this:
Download and install Auslogics Driver Updater. This tool will scan your computer for all missing and outdated drivers and install the manufacturer-recommended versions just in one click. It saves you lots of time. 
Use Device Manager to update your graphics driver.
Press the Windows key + X and select Device Manager from the pop-up menu.
Double-click on Display adapters to view the display device installed on your computer.
Right-click on it and select Update driver software.
In the next window, select Search automatically for updated driver software.
Windows will now download and install the latest driver for your device. 
Download the driver manually from the manufacturer's site. With this method, you will need to know the version of the device you are using to be able to download the correct driver. Note that if you download and install the wrong driver, your device will malfunction.
Solution 8. Delete your save game files
When your save game files are corrupt, you won't be able to load a previously saved game. That is why your game crashes or does not respond when you try to open the saved game. To fix this problem, you will need to remove your saved games from C:\Program Files (x86)\Ubisoft\Ubisoft Game Launcher\savegames\<User ID>\<Number> to another location. But the downside to this is that you will lose all your game progress.
Solution 9. Start the game as an administrator
Running the game as an administrator may help you fix the problem. All you need to do is to right-click on the game's shortcut on the desktop and select Run as administrator
Solution 10. Check your firewall.
Assassin's Creed Black Flag may not launch because your firewall is preventing it from doing so. When you launch your game, you will see a pop-up message from the firewall. In the window, select Allow to permit Assassin's Creed Black Flag to bypass your firewall. You should be able to play the game after this. It is also advisable to temporarily disable your firewall when you want to play the game if the first solution did not work.
We hope that this article has solved your Assassin's Creed Black Flag problem. Share it with others who encounter similar issues
We appreciate your ideas and comments.
We are ready to answer any of your questions regarding the above topic.