The latest version of Windows has many tricks up its sleeve, and the incredibly fast boot setup is one of them. Therefore, if you have a PC running Windows 10 but you find yourself waiting for it to start up, then something is seriously wrong.
In this guide, we will examine some reasons due to which a Windows 10 device might boot slowly and propose appropriate fixes to the issue. Well, if you ended up on this page to find out how to fix slow startup time in Windows 10, then we are glad to tell you that you are in the right place. If you are here to learn how to fix slow boot in Windows 10 after Creators Update, then all is also well.
As far as we can remember, users managed to achieve ridiculously fast bootup times on older versions of Windows like Windows 8 or Windows 8.1. If we are to be honest, improvements in Windows 10 simply took things a few levels up.
If we were to rule out software issues as the causes of the problem, then we would say that a slow hardware component—usually the Hard Disk Drive (HDD) or Solid State Drive (SSD)—has something to do with the loss of speed.
Then again, some users might be experiencing unique cases or struggling with other strains of the slow startup problem. Here are some of them:
Windows 10 slow boot issue is accompanied by a black screen

PC booting up slowly after a user downloads and installs Windows updates

Slow boot scenarios that users experience even in Safe Mode
There are probably other unique cases of the same or a similar problem, but this list should do for now.
Why do I have slow boot even in Safe Mode on Windows 10
?
In Safe Mode, Windows loads up only the operating system with the minimal number of drivers it needs. Therefore, users find it a whole lot easier to diagnose or solve problems in the resulting control environment since third-party interference is non-existent.
If you are experiencing slow startups with your PC and Windows still boots slowly even in Safe Mode, then there is a very high probability that your problems are hardware related. A faulty hardware component is what you should check. Start with your hard drive, then move on to your temporary memory (RAM), and so on.
If you detect that any hardware part is damaged, then you might have to run more extensive tests to verify the level of damage. In the end, if you find out that the issue affecting it cannot be solved through software procedures, then you have to replace it.
How to fix the slow bootup problem on Windows 10 devices?
All you have to do is go through the solutions below, starting with the first procedure on the list until you arrive at the one that proves useful in getting rid of the problem. We have provided fixes for almost every variation or strain of the problem, so if there is any consolation for your work, it is that the chances of you going through all of them with your issue remaining unresolved are ridiculously low. Here we go.
Disable some startup programs:
If too many programs are set to start with Windows at bootup, then your PC will start up slowly due to the volume of data or number of processes it has to execute. It is easy to see how such a setup demands more time than usual. Therefore, if you want to reduce your PC bootup time, then disabling some of the applications that require many resources at startup is a good start.
There is no need to get all worked up about the side effects associated with you disabling some startup programs. We believe that you will always find some useless or unnecessary programs you never expected to be there. You will lose nothing by removing such applications from the list.
Follow these instructions:
Open the Task Manager program. There are numerous ways of doing this, but on Windows 10, we believe this is the fastest of the lot: right-click on the Taskbar present on your desktop screen and select Task Manager from the short list of programs and options that appear
Nevertheless, some folks might argue that using this combination of buttons is a faster way of getting the same result: CTRL, ALT, and Escape keys
After the Task Manager program window comes up, navigate to the Startup tab. There, you will see a list of programs that your system starts up with Windows 10. Windows will also show you how much the application affects Windows booting through the information under Startup Impact.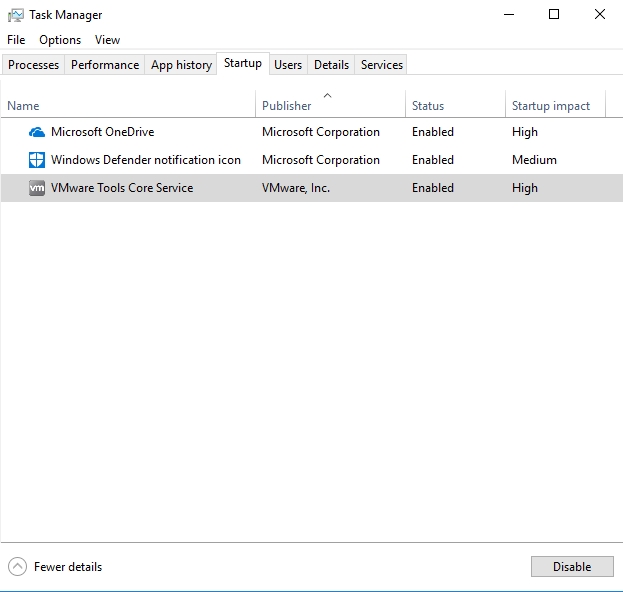 The value there can vary from low (which sometimes has little to no effect on Windows speed) or high (which uses up considerable system resources to slow down the booting process). Medium is the one in between
Take note of the applications you do not need running at startup. To disable an app, all you have to do is right-click on it to highlight it, then select Disable from the short menu list that appears
The most important thing is that you choose the correct apps. We also hope that you will get rid of a good number of applications with high as their Startup impact value so that you will see the effect of the procedure on your bootup time.
Enable or disable Fast Startup:
We are unsure of which direction the operation involving the fast startup feature should go. Some users have reported it to be the exact fix they needed to make their Windows 10 PC boot faster; others have fingered it as the functionality that was causing their device to start up slowly and started seeing improvements after they disabled it.
Unsurprisingly, this feature is enabled by default on systems running freshly installed versions of Windows 10. However, if you are coming from a previous version of Windows (upgrade or update), then things might be different on your system, especially if you worked on your power settings sometime in the past.
You will go through the steps below to check the status of the feature on your computer. If you realize that it is disabled on your PC, then you must enable it and see how things go. On the other hand, if you find out that the feature is enabled on your slowly booting computer, then you should try disablingbit and look out for changes that its absence might bring.
In either scenario, if things go wrong, then you can always use the same instructions to reverse what you did. Here you go:
Press the Windows button on your keyboard or click on the Windows Start icon that is always visible on your desktop screen. Input the following keywords into the text box present to do a quick search for them:

control panel
From the results list, click on Control Panel (Desktop app) to launch the needed utility
After the Control Panel program window comes up, click on Power options from the menu list you see. The Power options screen should come up now and there, on the left pane, you will see a couple of links. Click on Choose what the power button does

Under the Define power button and turn on password protection menu and description, you see the Change settings that are currently unavailable link, which you must click on to continue
Under Shutdown settings, you will see Turn on fast startup (recommended). If you want to turn on this feature, then tick its checkbox. If you intend disabling it, then untick its checkbox
Once you have done the right thing, click on the Save changes button. Exit all program windows you opened. You are now free to restart your PC. You will do well to observe if there are noticeable changes in your PC's boot up speed or time.
Delete all the files in a specific folder:
Some users reported that they had been able to fix their slow bootup computer problem on Windows 10 by simply emptying the contents of a particular directory. We are still unsure of how this procedure works to improve startup times, but we could not justify leaving it out on the list of fixes. Follow these instructions at once:
Open the File Explorer program. Its icon is usually on the taskbar on your desktop screen so you can check for it there and click on it to launch the needed application. If you could not find the object, then you might prefer this method of doing the same thing: Press the Windows button on your keyboard, then tap the letter E key

After the required program window comes up, you must navigate through the following items: C:\Windows\System32
At your current location, you will see many system folders. Check for the one titled "WDI". Once you have found it, click on it to see its contents. A small window or dialog box might come up to request confirmation for the action by stating "You don't currently have permission to access this folder"
Click on the Continue button there to gain access and move on. Once you are in the WDI folder, you must select or highlight all the items you can see (a combination of the CTRL button and the letter A key does the trick)
Right-click on the highlighted items and select Delete from the list of options that come up. You can check if the deleted files ended up in your Recycle bin. Get rid of them there too if you do not mind
Now it is time you exited the programs you have running. Reboot your PC and find out what has changed
Update all your device drivers:
We would be surprised if you knew little about drivers being the link between the hardware components available on a device and the software running on it. In other words, drivers enable communication between your PC and the operating system on it.
Therefore, if your system is booting up Windows slowly in a consistent manner, then there is a good chance that issues involving drivers have something to do with your problem. If you see a black screen in scenarios where your PC startup is slow, then your graphics drivers are probably the problematic ones, and you will do well to check them.

Unfortunately, for other users who did not see any black screen, it is a lot more difficult to pinpoint which exact driver is causing the problem. To be fair, there are so many of them, and this only reinforces the fact that an update of all device drivers on a computer is the ideal solution if users are to attempt any fix that has something to do with drivers at all.

Updating a single driver is no simple procedure, though. Users first have to identify the driver that is old or outdated, and this task on its own is far from straightforward. If we assume that users somehow manage to identify the missing driver, then they will move on to searching for its replacement only to realize that this part of the procedure is even more difficult than the first one they struggled with initially.
To this end, we implore you to download and run Auslogics Drivers Updater. It will help you carry out all the procedures or operations you would have had to carry out alone had you decided to do things the manual way. With this superb app, you can employ the automatic method of updating drivers, and this is the fastest, safest, and the most efficient way of getting the job done.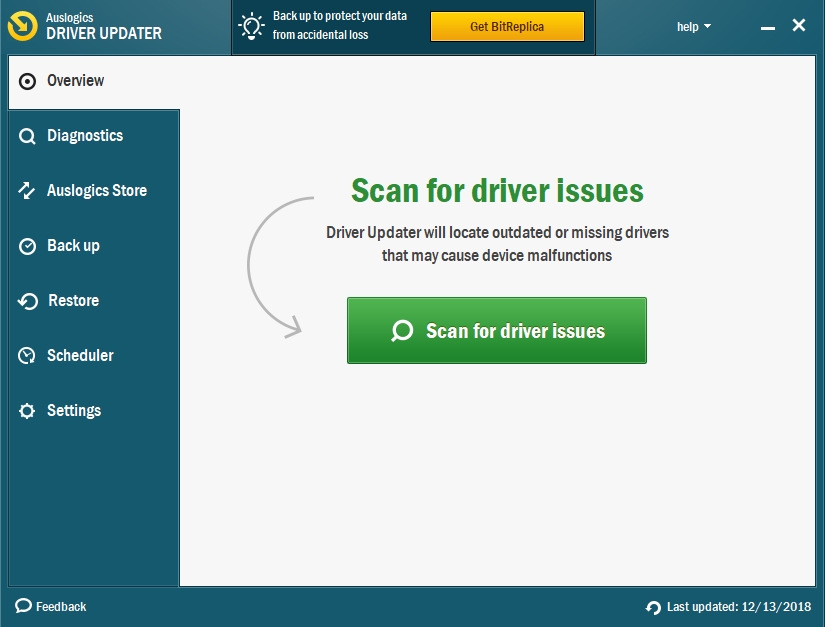 After you download and run the program, it will run a scan on your device to identify the missing, corrupted or outdated device drivers, and you will see a report on the identified issues. Finally, you will see the option or button you must click on to update a driver to its latest manufacturer-recommended version.
In general, if you are looking to update multiple or numerous drivers, then the recommended program is possibly a lifesaver. In fact, you can use it to update all the device drivers on your computer without any trouble. Things do not get more comfortable than this.
Adjust Windows for best performance:
This fix would prove valuable to users whose slow bootup problem is caused by the presence of specific parameters on their device or a unique configuration that prevents Windows 10 from running as smoothly as it should. Follow these instructions:
Press the Windows button on your keyboard, then tap the letter X key to bring up the Power User menu. Now you should see a list of programs and options from which you must select Control Panel to open the needed app

After the Control Panel program window shows up, click on System. On the left pane, you will see a couple of links. Locate Advanced System settings. Click on it. A new window (System Properties) should come up now
Under the Advanced tab, look under the Performance menu and its description to find the Settings button. Click on it. A new window (Performance options) should come up
Under the Visual Effects tab, select the radio button for Adjust for best performance. Click on the OK button to save the changes you have just made. Close the windows you opened and restart your PC.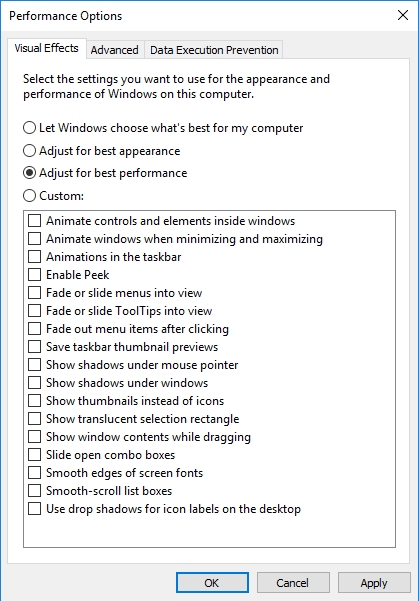 Other things to try
If at this point you are still struggling with slow startup problem on your Windows 10 PC, then you must check out our list of other things to try. Although we included the additional solutions in fewer details to keep the length of this guide in check, they are very much similar to the detailed fixes you went through earlier in terms of potency.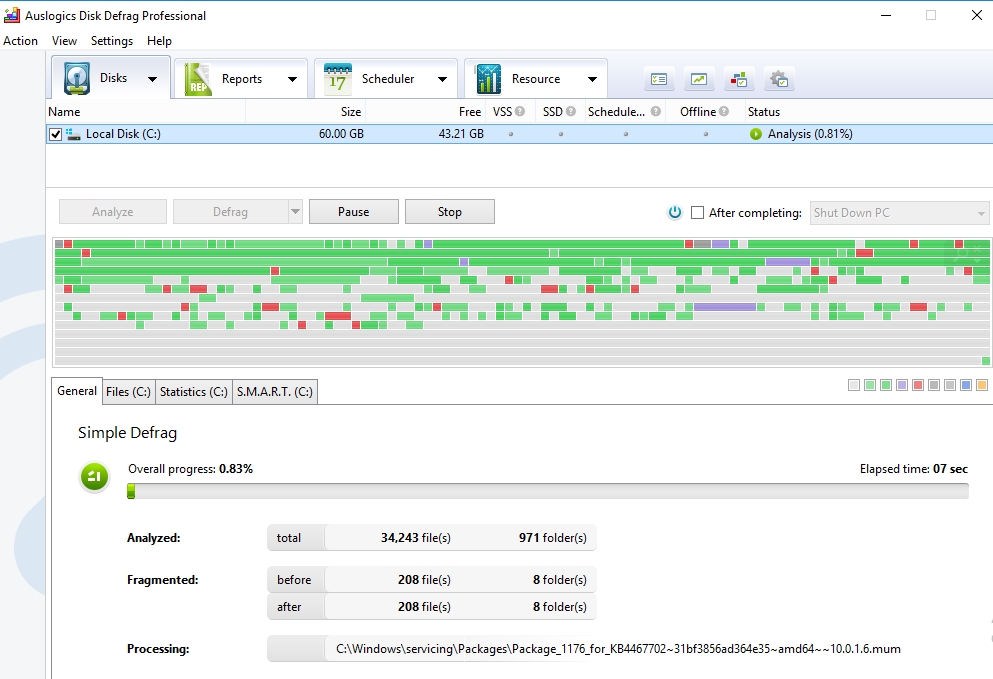 Alter your BIOS settings to improve the bootup time. This fix applies only to users who know what they are doing in precise terms.

Run the Windows Update troubleshooter to fix the problem, especially in cases where it is caused by outstanding Windows updates or corrupted update files. You will have to search for the tool you need on the web, though.

Update your BIOS (Basic Input/Output System) or PC's firmware to the latest version or iteration available and see how things go.

Download and install all the latest Windows updates. Ensure that your computer has all the available updates. At the end of the procedure, you must restart your PC numerous times before you begin checking for improvements in startup time

Install the latest version of the Intel Rapid Store Technology driver if you do not have it already. This fix is another solution that has something to do with drivers.

Decrease the Boot Menu timeout. This fix applies to users who have more than one operating system installed on their device.

Purchase a Solid State Drive (if your system is still equipped with a hard disk drive). SSDs are costly, but they are valuable investments that will improve your PC's bootup speed.
If you are reading this, then we have good reason to believe that your struggles defined by your Windows 10 PC booting slowly are over.