Files with the .sys extension are usually Windows operating system files. Cng.sys is no exception. It belongs to the class of Microsoft Windows Kernel files, and the CNG part of its name is an acronym for Cryptography Next Generation.
Sometimes this file goes missing, and this problematic event brings other issues of its own. If you can verify that the Cng.sys file is not on your system, then there is a good chance that other essential items or data are missing too.
Why does the cng.sys file go missing?
External influences are often involved in the operations that cause the removal of the Cng.sys file. They sometimes do the job directly themselves. Other times the fallout from their activities is responsible for the missing file problem. Here are some of the influences we mean:
Viruses or malware
Conflicts between drivers or programs
Corruption involving system files
Hardware failure too sometimes might have something to do with the Cng.sys missing, but the probability of such an event occurring is incredibly low.
If by chance you came across the Cng.sys file and ended up on this page because you wanted to know what it is, then we must tell you that the item you saw is a typical system file. It poses no threat to your computer contrary to what you think or what you might see online.
As the file is a critical component of Windows if you stop it from loading or working, then your action might cause other errors to come up, and you will most likely find it even more difficult to get rid of the new errors—you will struggle to restore your system to normalcy. If you go a step further in a negative sense to delete the Cng.sys, then you are seriously looking for trouble.
If you came here to find out how to fix Cng.sys missing issue, then you can rest in peace knowing that you are at the right place. We will provide a good number of fixes that users can try out to fix the problem.
As the Cng.sys error can come up due to various reasons, the procedures that will get rid of it must differ from one another too. Other factors—like the make and model of the affected computer, the time when the error came up, and so on—might also come into play.
How to get rid of the cng.sys error on Windows 10?
Go through these solutions starting with the first on the list until you arrive at what works for you. It is highly unlikely that your problem involving the Cng.sys file will persist after you attempted every fix here.
Restore the earlier version of Windows:
If you started seeing the error message involving Cng.sys not long after you upgraded to Windows 10 from an older version of Windows like Windows 8.1 or Windows 7, then this procedure is your best bet in resolving the issue at hand. Nevertheless, note that a return to the previous build is only possible if 10 days have not gone by since you performed the upgrade.
The same fix applies to users who after downloading and installing the latest Windows updates started to struggle with problems that have something to do with the Cng.sys file.
Follow these instructions to roll back to a previous version or build of Windows:
Press the Windows button on your keyboard or click on the Window Start icon that is always visible on your desktop screen. From the programs and options that appear, click on Settings.
After the required program window comes up, click on Updates and Security. From the options on the right pane, click on Recovery.
Click on the Go back to an earlier build tab. Click on the Get started button. Click on the Next button. Follow the instructions as they appear on your screen to initiate the procedure.
Perform any action that Windows demands of you. When Windows completes the process, your system will be running the version of Windows you came from in the first place, and the problems associated with the Cng.sys file should be no more.
Download and install every update:
Sometimes the manifestation of problems involving the Cng.file is a result of the lack of Windows updates. There is a good chance that Microsoft has gotten rid of the bugs or inconsistencies in its operating system that lead to the issue, but you are still struggling with the problem because your PC has not installed the patches or bug fixes available from some updates.
Windows 10 is supposed to download updates automatically, in theory at least. Nevertheless, exceptions always exist to a rule or setup like this. Well, it hardly matters now as you are going to check for and download the available Windows updates manually. Here are the instructions you need to follow:
Press the Windows button on your keyboard, then tap the letter I key to open the Settings app. After the program window shows up, click on Update and Security.
From the list of options you see on the right pane, click on Windows updates. Click on the Check for updates button under the Windows updates menu and its description. Your system will now communicate with Microsoft servers to see if there are any updates available for you.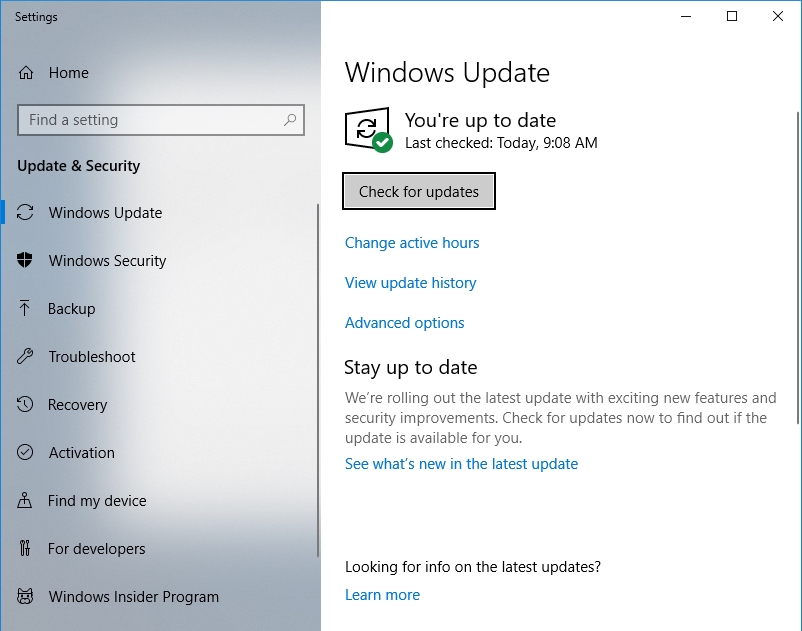 If Windows found nothing for you to download and install, then you will see a message stating that you have all the latest updates, and if such an event occurs, you have to move on to other fixes.
On the other hand, if Windows found something that your PC lacks, it will present it for you to download and install. After you download and install all the updates, Windows will prompt you to restart your computer. You might have to do it yourself if a message or notification about the reboot fails to appear.
After your system restarts, allow Windows to settle down, then check if your troubles with the Cng.sys file are over.
Run the Disk Cleanup utility:
Sometimes the Cng.sys errors disturbing you only exist because of the inconsistencies in the data stored on your system or some corruption events that affected them. The built-in tool for cleaning the primary storage space on Windows might be able to help you by getting rid of the unnecessary stuff and optimizing the critical part of what is left.
Here are the steps you need to follow to run the Disk Cleanup utility on Windows 10:
Press the Windows button on your keyboard or click on the Windows Start icon that is always visible on your desktop screen. Input the following keywords into the text field present to do a quick search for them: disk cleanup.
From the results you see, click on the Disk Cleanup app to launch it.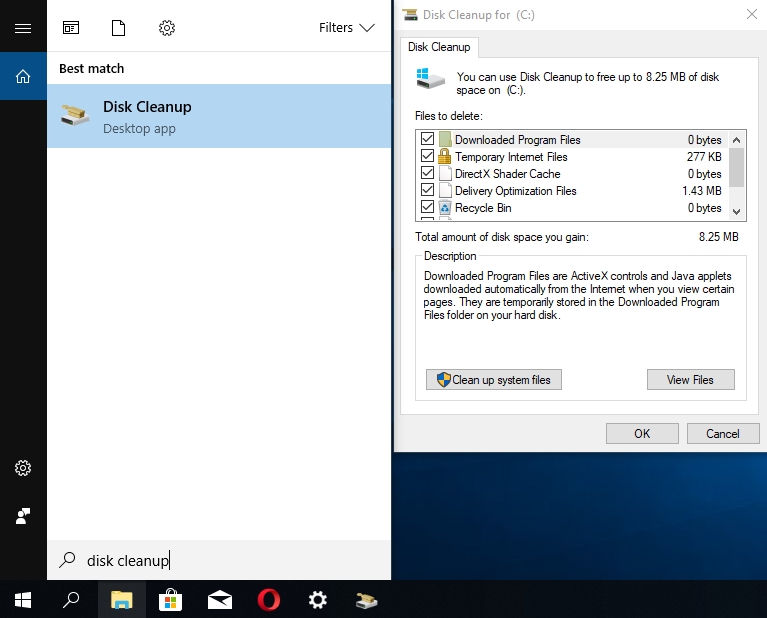 After the Disk cleanup drive selection box program window comes up, click on the OK button there to allow Windows calculate or evaluate the disk space available.
Open the Properties window. Navigate to the Tools tab. Click on the Check button under Error checking and its description. Tick the checkbox you see and run the tool. You will need to wait for some time while Windows carries out the necessary operations. Be patient. Do not terminate the process unless you are sure that it has reached its completion.
Verify that the problems associated with the missing Cng.sys file are no more. Otherwise, you must restart your system and check again. Move on to other fixes once you have checked well enough to find out that nothing has changed.
Do a Startup repair:
If you are experiencing severe blue screen errors involving the Cng.sys file, then a more advanced approach is needed to tackle the problem when it is in this form. After all, Blue Screen of Death errors are notorious for causing computers to shut down abruptly or reboot themselves without warning.
BSOD errors can come up for a wide variety of reasons or events, but we would like to assume that if the error has something to do with the Cng.sys file, then software issues involving hardware are in play. For example, a recent connection of new computer hardware that adversely affects your PC might be to blame.
The Startup repair feature comes in handy given the conditions we described. Follow these instructions to use it:
Restart your restart (or shut it down and turn it on again). Before Windows starts booting, tap the F8 key on your keyboard continuously (as many times as possible) until you arrive at the Advanced startup menu.
From the options you see, go with Repair your computer. Click on Startup repair. From here, you have to follow the instructions as they appear on your screen to initiate the procedure and ensure its success.
If you did everything correctly, but the procedure you just executed failed to get rid of your problem, then you must return to the Advanced Startup Options menu you arrived at using the instructions in the first step above, but this time, you must navigate through its menu to select the Disable automatic restart on system failure option. This change might just be what you need.
Perform a comprehensive scan for viruses and malware:
If the fixes you applied above failed to resolve your problem, then their failure might indicate that your issue is a result of different things at play entirely. Here, we are referring to the activities of viruses and malware.
Open your antivirus and run a thorough scan on your computer to identify any suspicious or dangerous item.
If your antivirus or primary security program found nothing but you remain unsure of things, then we implore you to download and run Auslogics Anti-Malware:
Perform another thorough scan, using the recommended program, to increase the chances of your system detecting threats. Quarantine any suspicious items or get rid of them immediately. Restart your PC to let the changes from the operation become active.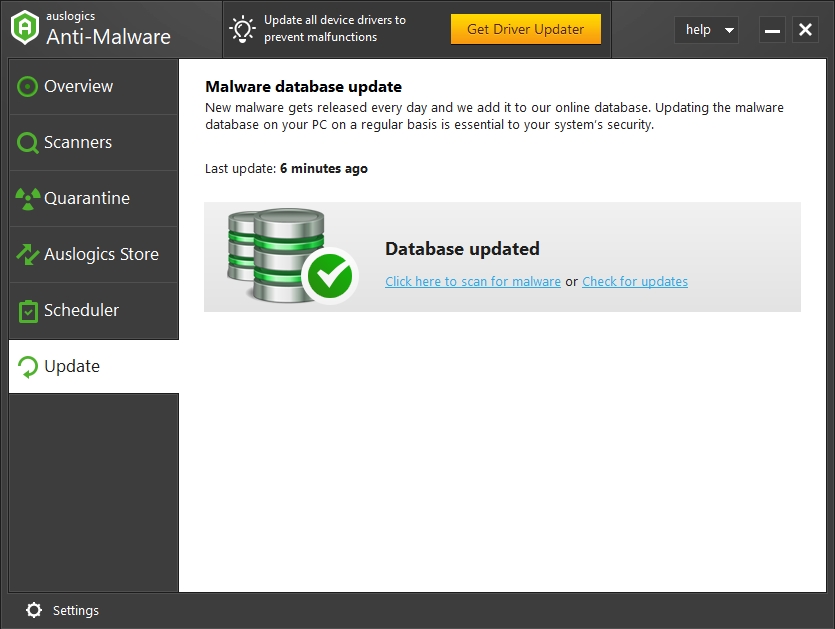 If at this point you are still struggling with the Cng.sys missing file problem or similar issues, then you must check out our list of other things to try in fewer details:
Restart your system in Safe to find out if your problem is a result of external influences or third-party programs. If everything works fine in Safe Mode, then you will know what to do.
Run the SFC utility; Run the DISM tool. This way, you get to repair corrupted files or restore lost data, and you might finally stop seeing the error messages involving the cng.sys file.