PC tune-up utilities are a dime a dozen these days. They offer broadly the same service — optimizing your PC for speed, performance, and stability. However, even as they make the PC noticeably faster, not every service is as good as its developers claim.
While the various built-in system maintenance and troubleshooting tools on Windows can be used for most of the functions these tools perform, PC tune-up utilities offer more convenience.
We have made a roundup of 4 popular PC cleanup tools that are all capable of boosting your PC. Having tested them out, they show no side effects and even come with extra features that users might like.
All of the PC optimization tools listed here have free or trial versions
Premium features that can be unlocked offer advanced options like scheduled tasks and disk defragment.
Outbyte PC Repair – Remove junk files, boost performance, and eliminate leftover items
Pros: all-in-one approach to system cleanup, inbuilt uninstaller, 7-day free trial
Cons: cannot pick and choose which PUPs & Malware threats to delete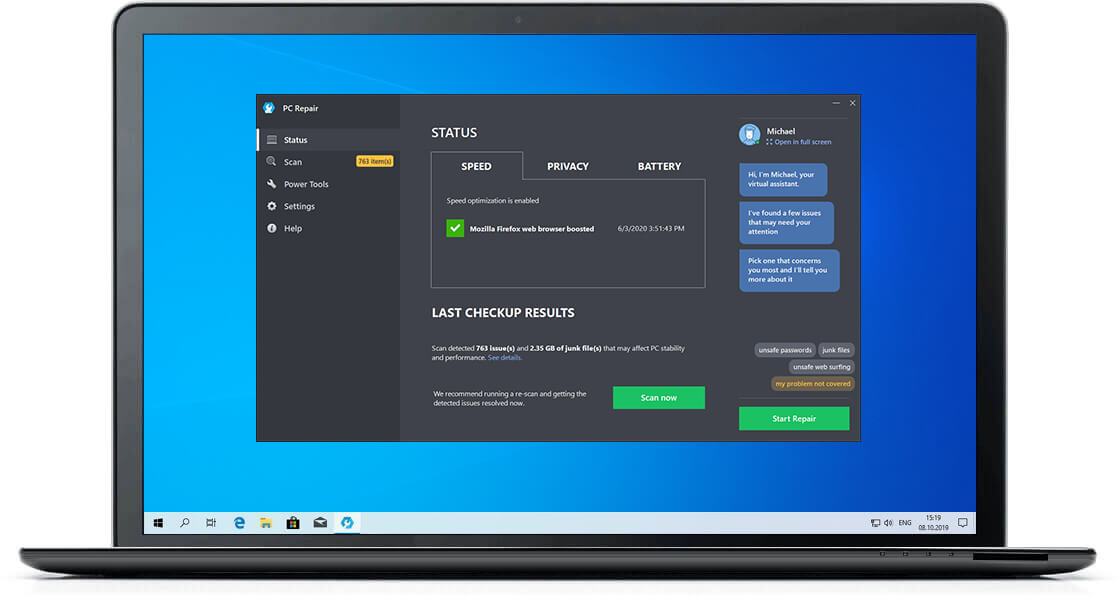 Outbyte PC Repair foregoes choice for convenience. Novice users will find the one-click scanning and repair feature a nice change of pace from the conventional PC cleanup utility. With one button, you can delete unnecessary system and user files, plug security holes, block objectionable websites, clear browser cache, and cookies, and check system logs for application crash reports.
Is your computer running slow or suffering system glitches? If so, it may need maintenance. Try running a dedicated
PC optimization tool
to check the health of your PC and apply the necessary fixes.
While Outbyte software possesses all the bells and whistles of traditional PC tune-up utilities, it can also boost applications, especially web browsers, games, and Microsoft Office products. Its privacy features like safe search, app data collection, and transmission blockage, and daily browser cleanups shied user information from prying eyes. Meanwhile, the power saving option can automatically switch on power-saving mode and also pause resource-intensive services when the computer is unplugged from a power source.
The tool doesn't let you choose individual folders to scan or individual files to delete after scanning. However, you can use the built-in uninstaller to safely remove both system and user apps along with their leftover items.
This tool is available for Windows 10, 8.1, 8, 7, and Vista, making it useful for those using old and junked up PCs on an older operating system. Scanning is available with the free version but you can unlock advanced features with either the single-PC license priced at $29.95 or the 5-PC license which goes for $38.95.
IObit Advanced SystemCare – Great choice for automatic cleanups, disk defragment, and resource monitoring
Pros: clean interface, one-click options
Cons: file selection disabled, bloatware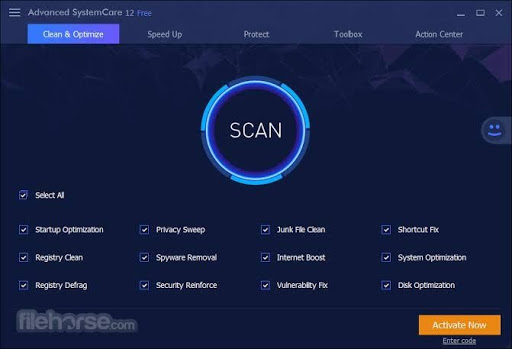 IObit Advanced SystemCare scores points for a well-designed interface that is easy to use and navigate around. The buttons for the core options jump right at you. You can easily access the files and folders' cleaning tool from the dashboard and also solve issues on your hard drive, all with the free version.
You can get by with just a free copy if you want a tool that simply cleans out junk files, along with unnecessary startup processes, temporary files, broken shortcuts, broken registry entries, and browser tracking cookies, in a convenient manner.
With the premium version that costs $20 for three PCs, you can defrag your hard drive, clean system memory of unused programs and processes, and monitor your RAM and CPU usage through a custom widget on the desktop.
Beware — IObit Advanced SystemCare Free will install additional software unless you choose custom installation. If you are able to sidestep that, you will come to appreciate its raft of features and 24/7 customer support service.
Piriform CCleaner – A convenient app for Windows PC optimization, protection, and speedup
Pros: more options, more controls, has a mobile version
Cons: much of what it offers can be done manually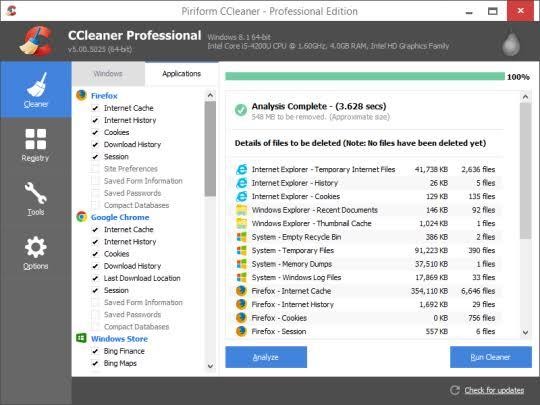 CCleaner has been known for a long time and the latest installment of this famous PC cleanup utility does not disappoint. You can choose which drive to scan, which is already a nice feature in and of itself, and select which of the discovered junk files to delete or keep.
Piriform CCleaner basically gives you a faster and more picturesque way to use inbuilt Windows utilities. Not to mention more customization options. With this app, the process of tuning up your PC is simplified so you don't have to run around enabling and disabling different settings and opening and closing multiple menus in different system locations.
With the browser cleaner, you can eliminate temporary internet files, history, cookies, download history, and form history from popular web browsers like Chrome, Firefox, Edge, and Internet Explorer. You can even use the one-click option to clear the Recycle Bin, recent documents, temporary files, log files, clipboard, DNS cache, error reporting, memory dumps, etc.
The free version gives you every basic cleanup option you need. However, you can unlock extra features for $19.99 (one PC) or $30 (3 PCs). For this value, you get better privacy protection, scheduled cleaning, more speed boosts, automatic updates, and an automatic software updater, among other perks.
Ashampoo WinOptimizer — Underrated digital toolbox for optimizing Windows 10
Pros: lots of features, customizable cleanup, automated and scheduled scans
Cons: could be daunting for novice users, less impactful on older Windows versions, duplicates some options in Windows 10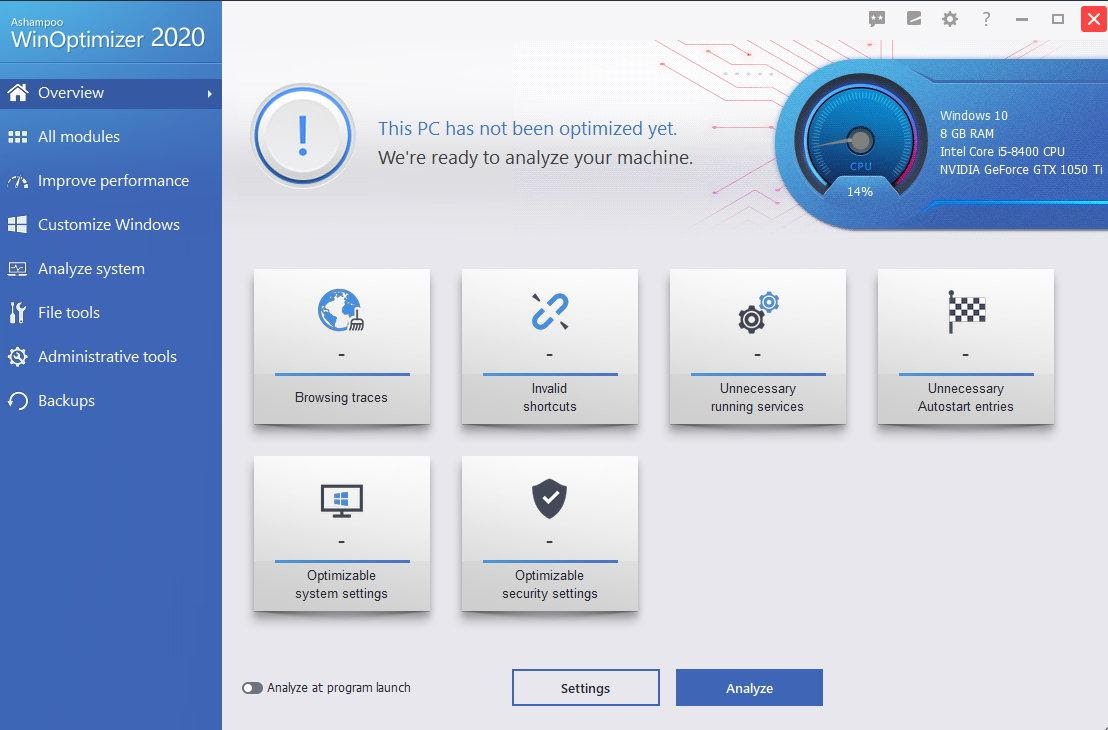 This tool claims to clean your system like shampoo and its performance is not far off that description. The included ADS scanner checks for and blocks potential routes of browser hijacking software, the One-Click Optimizer runs all the optimization tools automatically, the privacy control and anti-spy tools let you manage the data collected by Windows, while the Task Scheduler lets you set intervals for automatic maintenance.
Ashampoo WinOptimizer has additional tools with interesting names. Disk Doctor finds and fixes errors in the hard drive, File Manipulator splits files into multiple parts for secure transfer, and Duplicate Finder looks for and deletes extra copies of files on the hard drive or connected device.
You can pretty much do everything the tool offers by yourself but that often requires launching PowerShell or Command Prompt. Ashampoo WinOptimizer offers a convenient and centralized optimization experience for $20.
Let us know which software you liked the best in the comments.